Whitney Hunt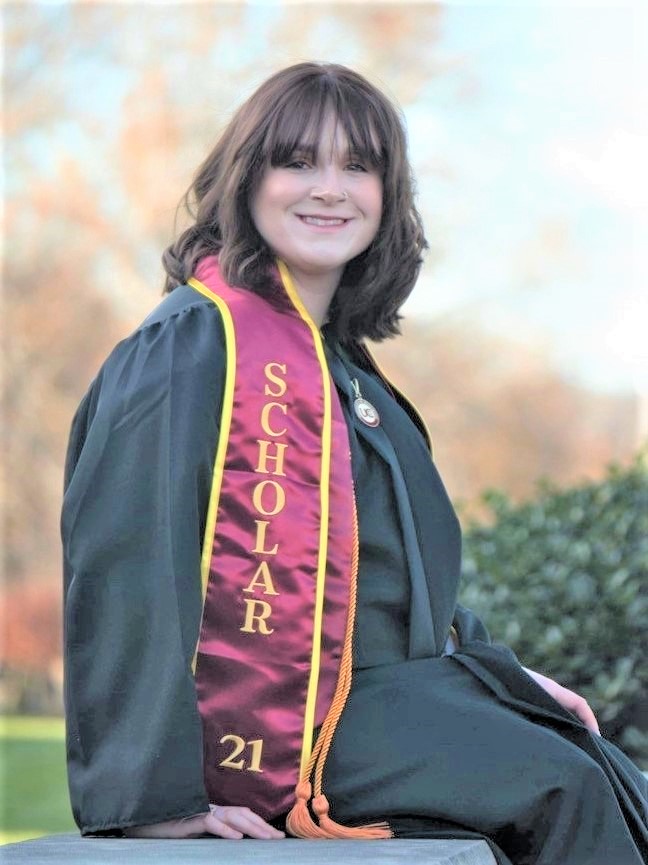 Whitney was raised by her grandparents in southern West Virginia and graduated from James Monroe High School in 2018. As a political science major, Whitney was attracted to UC because it offered the enticing benefits of the city location and ability to provide connections to several local law offices. Plus, it was under a three-hour drive to her hometown and family. "My grandparents are really important to me, so I wanted to stay closer to home. They've been a strong example that hard work pays off. Their generosity, combined with my scholarships, means I will graduate debt free and it's one of the greatest gifts they could ever give me."
Whitney has been on campus for the past three and a half years and made the most of her time. Whitney is double majoring in business administration and political science and accomplished both while maintaining both Honors College and Innovation Scholar status. She even served as president of the Innovation Scholars during the 2020-2021 academic year and helped to grow the marketing and recruiting strategies for the program while in that role. She also earned her Lean Six Sigma Black Belt certification this past April.
Academics were just part of her schedule, however. She also worked in various positions such as Adobe Brand Ambassador, Claims Specialist for Workforce West Virginia, and what started as an internship, became a permanent position as Content Writer for West Law Firm LC. Her experience with West Law Firm LC is part of what inspired her to start her own business.
Moldavite Marketing is Whitney's business that provides strategy creation, formulation and implementation of her client's marketing goals. "I've enjoyed the process of starting my own business and it would not have been possible without the knowledge, connections, and opportunities that Dave Ramsburg and Terry Cyfers shared with me as part of the Innovation Scholars program."
So, what's next for this impressive graduate? She's coming back! Whitney will soon start work on her master's degree in business analytics and applied artificial intelligence, and work as a graduate assistant in the admissions office.
Fun Facts about Whitney
Favorite Ice Cream: Mint Chocolate Chip
Favorite Movie: anything Star Wars
Favorite Homecooked Meal: Veggie soup at her grandparent's house
Favorite pastime: Taking care of her plants. "One is a jerk because he requires water every 48 hours."