Joe and Jeannie Scheirman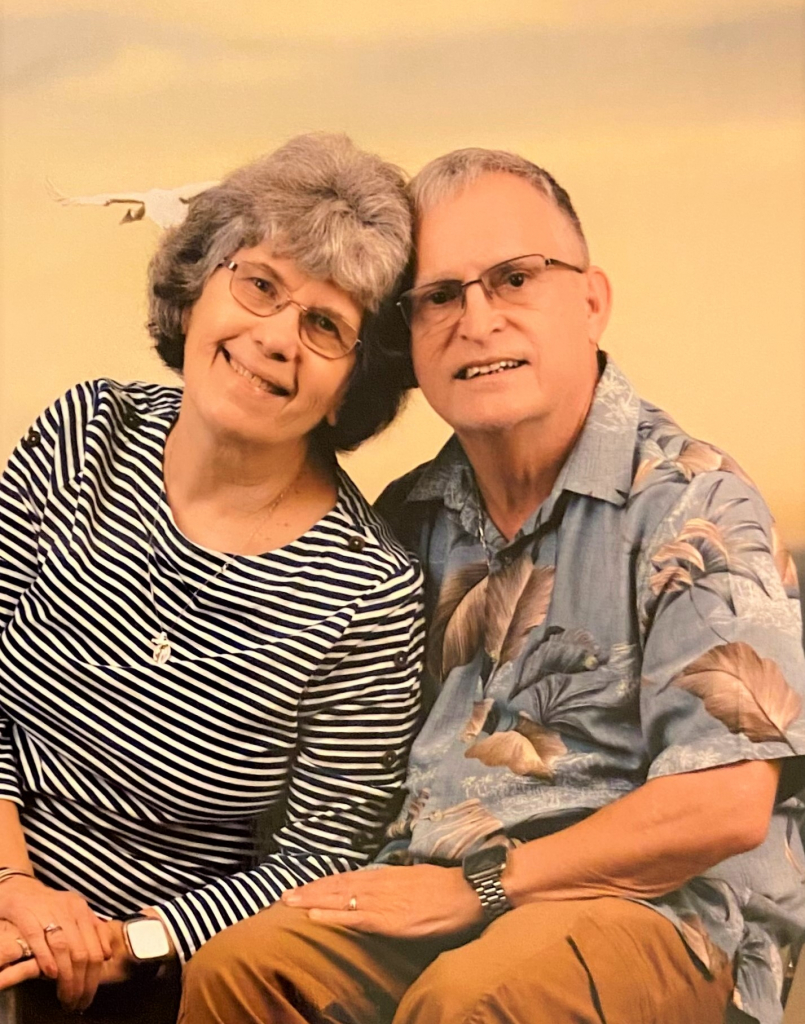 A blind date and magical first kiss started Joe and Jeannie Scheirman's love story that would result in a marriage ceremony held in the chapel of Riggleman Hall.
The couple remembers their Morris Harvey College experiences fondly.  They are both Charlestonians and their time on campus overlapped, however, they would not meet until after their graduations.
Joe, a sociology major, enjoyed playing on the young MHC soccer team.  It was only the third year for the soccer program and the first attempt at the sport for Joe.  Even though he only played one year, it was a highlight of his college experience.  "It was an opportunity to travel the state, make new friends, and be part of the first winning soccer season for the college," he said.  After a successful freshman year season, MHC provided another opportunity for Joe, a new job!
With the help of advisors, Joe found an above minimum wage, full time job as a clerk at the White Cross Drug Store in downtown Charleston.  The name of the store changed from White Cross to Revco to CVS and Joe's title advanced from clerk to assistant manager.  He worked forty-hour weeks at the drug store, maintained the twelve-credit hour minimum, and took summer classes throughout the rest of his college career to ensure he graduated in four years.
His post graduate career includes time as a Charleston police officer, Administrative Assistant to Kanawha County Circuit Court, overseeing the judges' clerks, and 37 years in the Army Reserve. He was never deployed overseas due to a multiple sclerosis diagnosis, however, he retired as a Brigade Operations Sergeant Major for the 80th division out of Richmond, VA.
His lovely wife, Jeannie, graduated from MHC in 1974 with a bachelor's degree in early childhood education.  "When I was a little girl, Mom and Dad would take us on a drive down the boulevard and we would look across the river and see the original buildings and they would say, 'That is going to be a really good school when you are ready to go to college'."  The seed planted as a child combined with her father's heart attack during her senior year at Stonewall Jackson High School, meant her decision would be to stay close to home and attend Morris Harvey College.
While at MHC, Jeannie was part of the debate team. "I thoroughly enjoyed the debate team; we got to travel and represent MHC and it prepared me a lot for teaching by helping with my speech and communication skills," she said.  Jeannie referred to the education department as a small family.  She remembers the professors taking personal interest in their student's success and always making them feel loved.
Jeannie graduated and went straight into a teaching career.  She started in a kindergarten classroom at Ruthlawn Elementary School, Charleston, WV in the fall of 1974 and remained in that school for her entire career.  She moved from kindergarten to third grade, and then to avoid having their own son in her class when he was heading into third grade, she requested a moved to fifth grade. She stayed with fifth grade until she retired in 2008.
Now that we know a little about these two alumni, let's let Joe and Jeannie tell their love story.
"You've heard people say, 'It was love at first sight', but this really was. I was working shift work at the police department and my first wife had passed away, so I worked overtime and was trying to keep busy with my job.  One time, I even worked 24 hours straight just to keep my mind occupied. Then one of my police buddies offered to set me up on a blind date and he gave me Jeannie's phone number. I was working early evening shifts which meant I didn't get off work until 10:00 pm.  I waited a few days to call but when I did and asked her for a date, she said, 'yes'.
"So, I picked her up shortly after 10:00 pm, still dressed in my uniform, and we went to Gino's in South Charleston. We enjoyed our pizza and when I took her home, I kissed her while standing on the porch and knew with that kiss, she was the one."
Jeannie added, "He took my chin, kissed me, and it was magical." They started dating in the fall of 1975 and got married on February 14, 1976, in the chapel in Riggleman Hall.  They were married by Rev. William Albright, one of Joe's favorite professors.  (Morris Harvey College was established as a Methodist school and services were still held on Wednesday mornings at this time.  The chapel was later converted to the president's office.)
The Scheirmans have three children, Jeff, who passed away in 2001, Jennifer, and Jo Ellen. "Joe and I were never great swimmers so we made it a priority that our children would be.  All three of them took lessons and became members of swim teams that practiced in the pool at UC, so we always felt at home being back on campus."
During retirement, they enjoy watching their five grandchildren play sports, traveling on cruises, walking on the beach at Isle of Palms, reading, and staying active in their church life. Joe is also a member of the Knights of Columbus.