Edward Morris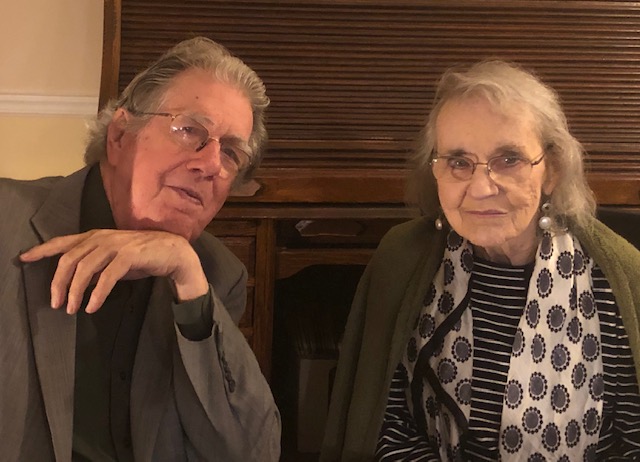 Edward Morris is a talented author, playwright, poet, entertainment journalist and a former editor for the Writer's Digest and Billboard. He grew up in Elkview, WV and attended Morris Harvey College from 1954-1958. Even during these years, his writing and editing skills were on display as the editor of the weekly student newspaper, The Comet. He graduated in 1958 with a bachelor's degree in English and continued his education at Ohio University the following year, earning his master's degree in journalism.
Edward was a very shy student in high school and had given a lot of thought to becoming a forest ranger.  Although he had earned a scholarship to West Virginia University, he was a homebody and decided staying closer to home would be the better choice.   The late plan change meant his mother would need to come up with $150 for the first semester tuition.  She did just that and he hitch hiked from Elkview to Charleston everyday for the next four years to complete his degree.  Both of Edward's brothers would follow him to Morris Harvey – David Morris graduated in '62 and Roger Morris in '66. "Morris Harvey was good to all three of us, we all had scholarships of some kind. It prepared us to go on to graduate school and have successful careers," shared Edward.
Edward met his wife of 61 years, Norma, in 1958 while working on his master's degree at Ohio University.  She was a secretary for the journalism school and typist on the side. He hired her to type his thesis and they fell in love during the late hours she spent typing for him.
They were married on February 6, 1960, in the chapel of Morris Harvey College by the alumni director, Winton Houck.  The decision to have their wedding ceremony in the chapel in Riggelman Hall (the room that now houses the president's office) was partly driven by economics – the chapel and minister were free.
The wedding was small, and they headed to Chillicothe, OH that evening for the honeymoon. "One of the most memorable parts of the evening was the car.  We didn't have a car growing up, so I had not learned to drive yet.  But when I graduated from Ohio University and we were getting married, I thought Norma deserved to have a nice car.  I couldn't drive it and I went in debt to get it, but I bought a 1955 Jaguar Sedan.  It was black with red leather interior and a walnut dash.  Norma is the one who taught me to drive."
It wasn't until ten years after the wedding that Norma would return to campus as a student.  When Edward's job brought them back to Charleston, she attended MHC as a music major.
Both Edward and Norma had successful careers in journalism that moved them to Nashville, TN.  Edward has had multiple books published and his articles have appeared in TV Guide, Saturday Evening Post, Hollywood Reporter, The Journal of Country Music, and Music City News just to name a few.  He has been honored as the Charlie Lamb Journalist of the Year and the IBMA Print Journalist of the Year.
Norma worked as a publicist in Nashville for artists including Merle Haggard, Waylon Jennings, Ralph Stanley, and Steve Wariner.  Prior to her work as a publicist, she had a career as a college textbook editor and author, and as a photographer.  She had her work published in People, TV Guide, Writer's Digest, and more.
The couple shared three children, six grandchildren, and five great-grandchildren, all of whom live in the Nashville area and visit Edward often.
In her later years, Norma battled with Alzheimer's and Parkinson's disease. One of Edward's published books, Stardust: An Alzheimer's Love Story, is a collection of Facebook blogs he shared to document their life as Edward cared for Norma during the final stages of her illness.  Norma passed away on August 20, 2021, and the following is an excerpt from the book that is a description of Edward's thoughts on funerals and the final loving words he wrote about Norma.
"When we decided Norma's body would be buried instead of going to medical research, the children and grandchildren thought there should be some ceremony to go along with the burial.  I had not attended a single funeral since I was a kid because it seemed to me funerals were designed to pile grief upon grief – to make people weep even more than they normally would in the wake of a loved one's death.  But clearly the family had as much right to observe Norma's memory in their way as I did in mine.  So, I told them that I would be happy with whatever services they came up with as long as they gave me a pass from taking part."
"Because I didn't go to the funeral, Erin (daughter) asked if I would write something for her to read on my behalf.  Here's what my heart came up with:
"Norma was born to be the designated driver – for the world. If you needed a safe ride home or a project delivered on time, you gave Norma the keys. Doing things well and smoothly was native to her soul. No drama for her. She did not shout, pout, sulk, curse, whine, or gossip. She used her elegance like a can opener.
"Hers was a mindset that scorned amateurism. Although she had once played piano well enough to be featured in college recitals, she would not touch a keyboard in later years – even for family entertainment – because if she couldn't play masterfully by her own exacting standards, she wouldn't play at all. It was that way with every skill she undertook. 
"This impressive array of prudence and precision might have added up to stuffiness in a lesser personality – but not in Norma's. Until her brain was invaded, it sparkled with insights and discoveries. She could read a room and spot the phonies while the rest of us were hanging up our coats and looking around for the bar. And – as many of you who knew her soon discovered – she was a coiled quip waiting to strike.
"As far as I know, the only madly impulsive thing Norma ever did was leave her first marriage when she was just 20 years old to marry me at a time when I had no money, no car, no driver's license, no position, no stature and no prospect of any greater achievement than making the rent.  In a wild gamble, this divine creature- this perfect woman- risked everything on me. How could I not love her forever?"
The rest of the book is filled with short blogs that describe what caring for Norma entailed and how their unconventional story made a beautiful life for the two of them.
As we approach what would have been their 62nd wedding anniversary, Ed says, "I am not doing anything I have to do, I am just writing the things I want to."