Dr. Mindy Smith
Profile: Dr. Mindy Smith D.E.L., M.B.A., M.A., RT(R)(M)RDMS(B), Dean of the Bert Bradford School of Health Sciences, Class of '02, '08, and '18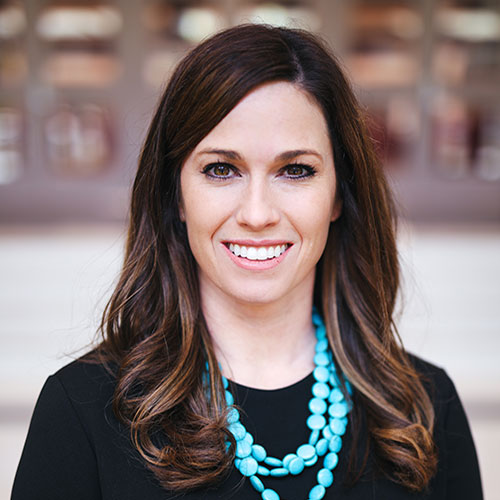 Dr. Mindy Smith was named the new Dean of the Bert Bradford School of Health Sciences in July, but her Golden Eagle experience started back in August of 1998.  She has a deep love for the University of Charleston and is excited to continue her work at the institution in this new role.
As we start down the timeline to all the letters behind Mindy's name, we will begin with her high school graduation from Buckhannon Upshur High School in Buckhannon, WV in 1998.  "I wasn't sure what I wanted to do, I had not found my passion yet, but I was inspired by the family I was babysitting for," shared Mindy. "I looked at what Kay had done and thought it could work for me, too." Mindy is referring to Kay Ling, UC class of '86, and her husband Bradley Ling, UC class of '87.
Kay had this to say about Mindy and her own experience at UC, "her mother was a nurse and Mindy wanted my perspective on how becoming an "Xray Tech" was different than nursing. I felt, from my experience, becoming a radiographer had many facets and opportunities. Also, it offered rewarding experiences while providing care to a wide variety of patients at many levels.
"My time at the University of Charleston had opened my eyes to cultures and made me a more well-rounded individual both personally and professionally. I encouraged Mindy to seek that vision in her career path.
"Her accomplishments are more than most can dream of, and I am so very proud to have made some small difference in her life. She is highly motivated and a well grounded individual. Her smile and enthusiasm for personal interaction with students and staff are surely an asset to the college.  I wish her every happiness and know she will leave her mark there for future students of the Radiology program."
With Kay's encouragement, Mindy explored the possibility of attending UC. Besides the fact that it was the only school in the state to offer a bachelor's degree in radiology, she fell in love with the campus and bravely moved to Charleston as a 17-year-old freshman.
Her undergraduate years were filled with education but also a lot of fun.  Mindy was a member of the cheer squad and the Delta Phi Delta sorority.  "I loved being part of the sorority and all the activities of Greek life," she said as she turned around and pulled her original pledge book off a shelf in her office.  "I enjoyed the formals and leadership conferences, but I also appreciated the diversity of the sorority. It is just another example of the accepting community UC has as part of its culture."  Mindy continues to have a close friendship with members of her sorority and other Greek organizations.  They even had regular Zoom calls during the pandemic shut down this past year.
Mindy graduated from UC in 2002 with a Bachelor of Science in Radiologic Science degree which included a professional certification as a Registered Technologist in General Radiography.  She would also earn a certification in Mammography in 2005.  After graduation, she worked for St. Francis Hospital and Charleston Area Medical Center (CAMC) General Hospital in Charleston as a radiographer, sonographer, and mammographer.
In January of 2005, Mindy found herself back at UC, but this time in the role of professor.  UC was searching to hire a clinical professor who had certification in both sonography and mammography, and she was one of few who were qualified.  After only one semester of teaching, she stepped into the role of Clinical Coordinator, a title she held through 2011.
As if working full time was not enough, Mindy also managed to complete two master's degrees during her time as Clinical Coordinator.  "I knew the master's of education would be beneficial to what I was already doing, but I had a goal to become Program Director which would include the task of managing budgets, so I also wanted my MBA," said Mindy.  She graduated with her second UC degree, a Master of Business Administration, in 2008 and in 2011, earned a Master of Arts in Education from Marshall University.
Mindy's next promotion would be to the leadership role, Department Chair of Medical Imaging.  Four years into this new post, she again decided to further her education and completed her third UC degree.  She graduated with a Doctor of Executive Leadership degree in 2018 and would shortly put these newly learned skills to good use.  In the Spring of 2019, she took on the additional responsibilities of Associate Dean of Health Sciences.
One year later, she was named Interim Dean of Health Sciences and officially given the Dean of Health Sciences title on July 1 of this year. She is now busy working through a post-pandemic learning environment and managing the development of five new health science education programs.
In addition to her impressive career, Mindy has earned several awards and participated in community service projects such as Adopt a Highway, Day of Caring, and UC's Labor of Love.
"I've been lucky to be at the right place, at the right time, know the right people, and have the right education.  More than that, however, I just love education and am proud to have an opportunity to influence the lives of my students.  Mason Olszewski is a wonderful example of that.  I believe that an MBA is a universal degree that does not limit a student's career to healthcare. So, when Mason was finished with his radiology degree, I encouraged him to get his MBA.  As part of the MBA program, he did an internship with CAMC Hospital and is now their Director of TeleMedicine Operations.  Stories like that is what it's all about," shares Mindy.
"It is hard to sum up what Dr. Mindy Smith has done for me and my life in a paragraph; she has been a professor, mentor, and friend throughout my entire career at UC. She was the one that encouraged me to pursue the MBA program (after my undergraduate work), which has led me to an amazing career with countless opportunities. I would not be where I am today without Dr. Mindy Smith; there are not enough words to express my gratitude for her," said Mason Olszewski
"It's cliché to say, 'we are family (here at UC),' but, with there being eight degrees earned among my immediate family, I truly have a personal loyalty to this school," says Mindy.  Her ambition to educate students and promote the university will be a vital part of her continued leadership on campus.
---