Eileen Meyer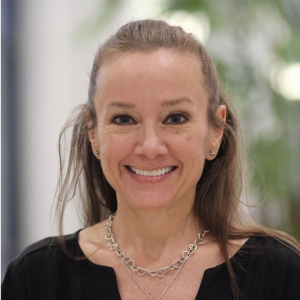 Eileen is the most recent Golden Eagle alumnus to be honored with an endowed scholarship given in her name.  As a present for her 50th birthday, her husband, Dr. Bruce Burns, endowed the Eileen S. Meyer Nursing Scholarship.  
Dr. Burns had this to say about the gift, "When Eileen turned 40 years old, I was stumped at what to get her for her birthday.  I (decided to) endow a scholarship to the University of Alabama at Birmingham School of Nursing, where she completed her Master of Science in Nursing and her Doctor of Nursing Practice, in her honor.  We have had the opportunity to see a scholarship recipient each year complete their training and have followed their careers.  This has brought us great satisfaction.  Celebrating her 50th birthday with an endowment to the University of Charleston, where Eileen completed her undergraduate degree, seemed to be an obvious choice.  
 I am extremely proud of my wife and wanted the undergraduate institution from where her training started to recognize the quality graduate that their program produced.  We hope that the scholarship will benefit other traditional nursing students.  Many people helped us early in our careers, it is time to pay it forward." 
Eileen's passion for nursing and improving access to healthcare in rural areas makes this the perfect gift.  
This passion began when her mother enrolled her in the Medical Explorers Program through Charleston Area Medical Center (CAMC).  "I was able to shadow multiple specialties and found that I really liked nursing. I knew that was what I wanted to do with my career and knew I'd always have a job," says Eileen. 
After graduating from Herbert Hoover High School, WV, she enrolled at the University of Charleston.  At the time, UC had one of the only bachelor's in nursing programs and had an established partnership with CAMC. Eileen says, "I chose UC because it was local, had a great reputation, and was affiliated with CAMC." 
In 1994, she graduated with her nursing degree and started her career as a registered nurse at CAMC General Hospital and, within a couple of weeks, was named relief charge nurse.   
While working at CAMC, she met her future husband, Dr. Bruce Burns.  He was in the process of applying for fellowships in either California or Alabama and when Eileen protested California, he invited her to come with him to Alabama.  They married 4 years later in 1998.  
Once in Birmingham, she continued nursing at the University of Alabama Hospital (UAB) and decided to get her master's degree. She applied and was offered a seat in the UAB School of Nursing Acute Care Nurse Practitioner Program.  At the time, it was a requirement that a Registered Nurse have at least five years of experience before starting a master's program. Eileen had less than one year experience when she started the program.   
She was the youngest of her six classmates who all graduated as the second class in the program.  "Since the acute care nurse practitioner (NP) was a new role, the hospitals and physicians literally did not understand how to utilize us – it was a great time to be an acute care NP because we literally developed the role as we worked.  In fact, the year I graduated (1997) was the year that Alabama first started issuing collaborative practice agreements between physicians and NPs.  In 1997, there were about 100 NPs graduating a year in Alabama, now we graduate more than 3,000 a year."  
At age 25, she finished her master's degree in Acute and Continuing Care Nurse Practitioner and was hired by world renowned cardiac surgeon Dr. Albert Pacifico.  Eileen says, "He really trained us well – we would have 2-3 hours of lecture each day and we were held accountable for our patients.  He carried an over 3,000 case per year workload."  During this time, UAB Cardiovascular Surgery was ranked number one in the United States. She was a nurse practitioner with him for ten years until he retired in 2006.  
After Dr. Pacifico's retirement, she became Lead Nurse Practitioner (NP) for another world-renowned cardiovascular surgeon, Dr. James Kirklin. She remained in this role for the next decade, completing her doctorate during the last three of those ten years.   
In 2017, Dr. Kirklin retired, and Eileen transitioned out of clinical practice and into an administration role. She became the Assistant Director to Advanced Practice Providers at UAB Medicine which employs over 900 Advanced Practice Providers. She is a Clinical Assistant Professor of Nursing in the UAB School of Nursing Doctor of Nursing Practice Program and teaches the Health Policy and Politics Course. Eileen served as Vice President for Health Policy for the Nurse Practitioner Alliance of Alabama (NPAA) and assumed the role of Senior Policy Advisor representing over 8,000 nurse practitioners in Alabama.   
"I have leveraged these two roles to expand the scope of practice and increase access to care through regulatory board rule changes and protocol adoption, Medicaid expansion in billing numbers and reimbursed procedures, and legislation," says Eileen.  Her role as Senior Policy Advisor for the NPAA allowed her to sponsor the Signature Authority Bill (Alabama Act 2018-474) with the state senate, collaborate with Alabama Medicaid to identify billing codes that were not reimbursable, and introduce Senate Bill 114 during the 2020 Alabama legislative session to increase the full time nurse practitioner ratio on a physician's license from 4:1 to 9:1. "In the administrative role, we spent the first couple years just getting the program running efficiently.  Now that I have moved into the policy making role, I am just getting started."  
Eileen has an impressive list of awards, guest lecturer appearances, and presentations she's made at the national, state, and local levels.  There is no question as to why her husband is proud of her and wanted to name a scholarship in her honor.  
She and Bruce love clay shooting, fitness, traveling, and Porsche performance driving.   
They also love to give back and hope that other Golden Eagle alumni will see their generosity and be inspired to do the same!  
---