Peyton Harris, '19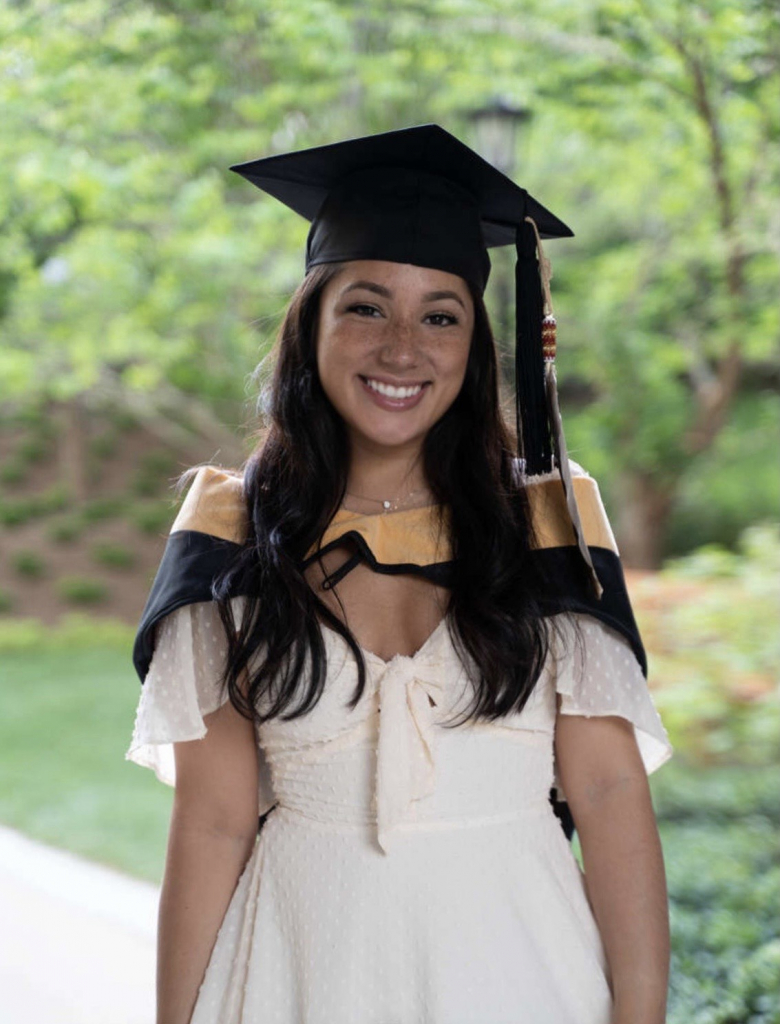 After a freshman year at Syracuse University, Peyton decided playing collegiate lacrosse was a priority.  In 2015, she was recruited to be a member of the inaugural UC Lacrosse team and found that the smaller class sizes and beautiful campus couldn't be beat.
"Lacrosse is personally very significant for me. I am indigenous and lacrosse is a sacred game and tradition in our culture. Traditionally, lacrosse is a game for healing and holds a lot of sacred ties. It obviously has expanded to a large platform and has been modernized, but it is such an important thing in my life.
"Unlike Syracuse, at UC, I was one of the few identifying indigenous people. Even though there was not an indigenous community for me to connect with, the lacrosse team was my community. Most athletic teams are that way at UC.
"I was drawn to major in psychology because mental health has always been a prominent thing in my life, several family members have suffered with substance abuse or mental health disorders.  Even in high school, I knew that was the field I wanted to study and have a career.
"During my junior year, I declared a second major in English. I knew I was going to have more free time my senior year and my advisor and I discovered that I had the right combination of courses to allow me to do a double major.  Dr. Jeannie Dalporto helped me complete the required course work.  There was even a class that was usually only offered in the fall, but I was able to take it in the spring. I was the only one taking it in the spring, so I got a lot of one-on-one time with Dr. Dalporto and I really appreciated that. I wasn't sure what I was going to do with the combination of those two degrees, but I'm glad I have them.
"Originally, I wanted to be a psychiatrist but that involved a lot of biology, which was not my strength.  My advisor, Dr. Bailey, steered me in the direction of social work and after graduating UC, I came to Boston to work on my master's degree.
"I've always loved Boston and the whole New England Region. I was looking for something new and Boston College of Social Work was a perfect place for grad school." Peyton completed her master's degree in social work in 2021.
After graduate school, she applied for positions in the hospital and community settings.  She is currently a family clinician at Riverside Community Care. She works with clients whose ages range from twelve to eighteen.  These youth are referred to Riverside Community Care by the Child Protective Services or Department of Mental Health.  They are typically coming out of a crisis such as being removed from a home or psychiatric hospitalization.
"I'm really interested in working with children, that is where I want to be in the mental health world. I am finding this was the right path, I am very passionate about helping them work through these big changes in their lives and how if effects their mental health.
"Eventually, I want to further my education and be licensed to open a private practice. And my future goal beyond that is to do more policy-based work on the macro level of social mental health. I want to be an advocate.
Peyton is off and running in her young career and we can't wait to watch how it all unfolds. Thank you for your commitment to the well-being of the youth of Boston.
---