Tianni Kelly
Profile: Tianni Kelly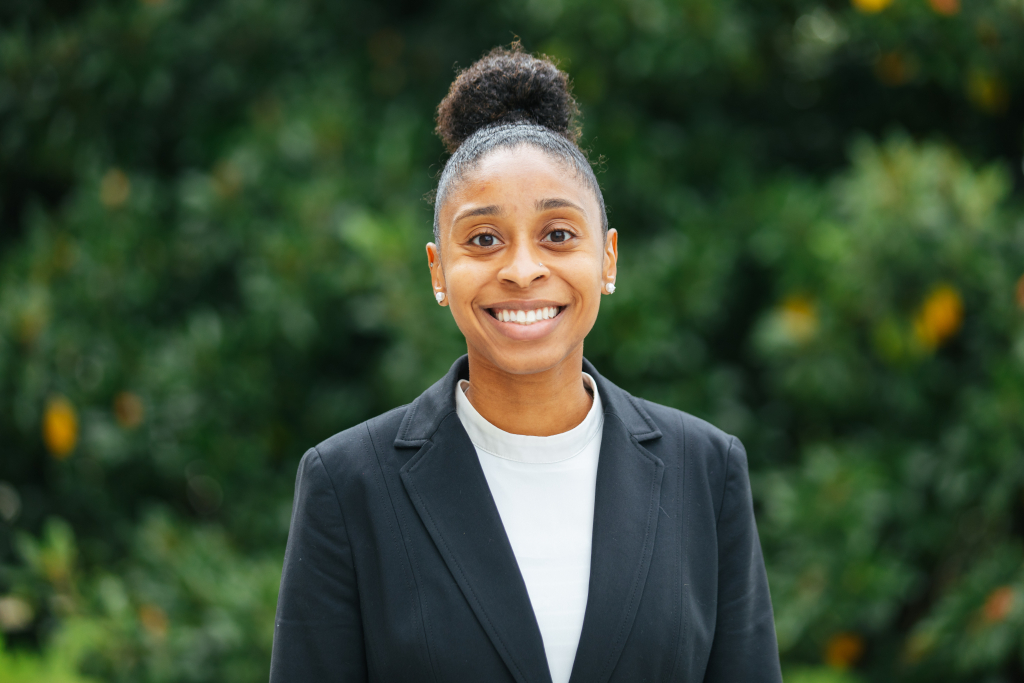 Class of 2014 – Current Head Women's Basketball Coach
Tianni Kelly lead the UC Women's Basketball team to the NCAA Elite Eight in her first year as a head coach.  This bright young leader expects the best from her players because that is what has always been expected of her.
Tianni was raised in a loving, Christian home with her parents and three brothers.  She is the third of four siblings which, according to her, means she has a mix of middle child syndrome and only girl syndrome.  "My brothers are a major part of who I am.  Growing up, I didn't want to play alone, and they weren't going to play with Barbies, so I had to learn to like soccer and basketball and get tough with the boys.  It made me tougher physically, because they never went easy on me, but it also made me tough mentally and emotionally."
Tianni's father was a teacher with a focus on keeping academics a priority.  "We always had workbooks to do even in the summer but I'm glad because now I am stern with academics, too, and that is what allowed me to do well in school my whole life."
Tianni's mother was a beautician.  "She had high standards and expected us to put our best foot forward.  I wouldn't be who I am today without my parents, I'm very blessed to have them both," she said.
The Kelly family was a resident of Queens and Long Island, NY until Tianni's 8th grade year.  Her father took a new position to pastor a large church in Columbus, OH.  When she changed schools, her love of basketball really took hold.
Pickerington North High High School has a history of strong basketball programs and Coach Dave Butcher's expectations pushed Tianni to work hard and focus.  "Leading up to this move, I always felt that I was good at basketball, but being part of this team showed me exactly where I stood.  I had work to do but this is where I realized I had the talent to really do something with the game."
The Pickerington North team was Regional Champions and took a trip to states when she was a sophomore.  They were Conference and District Champions all four of her high school years.
When it was time to pick a college, UC stood out to Tianni because of the basketball program that had Sherry Winn's proven winning record. Not to mention the beautiful campus was just the right distance from home.
Tianni was part of two UC teams that made appearances in the NCAA tournament (2011 and 2014).
During her senior year at UC, under Coach Adam Collins, Tianni says she saw a big development in her playing ability.  "I had more confidence and I pushed myself to work harder that year.  I wish I hadn't waited to make that change and had worked that hard the entire time I had been at UC."
In 2014, she graduated with a Business Administration and Sports Administration degree and a minor in Psychology.
"My original plan was to attend law school after graduation.  However, God had different plans and plan B became grad school back here."  She returned to UC to be a volunteer assistant coach for women's basketball and worked on her Master's in Business and Leadership which she completed in 2015.
Her basketball career then continued as an assistant coach for two years at Florida Southern College and one year at Valdosta State University.
When she received a call from her former coach, Adam Collins, telling her that the head coach position was available, she "had more reasons why she shouldn't than why she should", but her former coach convinced her to apply.
Tianni has more than proven she was up to the challenge.  Coach Kelly was named MEC Women's Basketball Coach of the Year, led her team to the MEC South Division Title, and made a NCAA tournament appearance.
Her parents and two of her brothers were in the stands to cheer her on when the team took the court as Elite Eight contenders.  Tianni and the team represented UC well and ended their season with a 19-3 record.
"It's been amazing to have so many people reach out to congratulate me.  All the coaches and ADs from my former schools, Dr. Welch, my family, even Coach Fitz, who recruited me to play at UC."
Her first season is over but work on the next one has already begun.  Recruiting and training are in full swing.  Her message to potential players is clear: "Don't come here if you are complacent.  Don't waste the talent God gave you and the opportunity presented to use that talent."
Tianni's long term goal is to earn a PhD in Sports Psychology.  She stays busy with the team but enjoys being outdoors and looks forward to some downtime in a kayak on the water.  You've earned it, Tianni!
---