Synita Gates, '13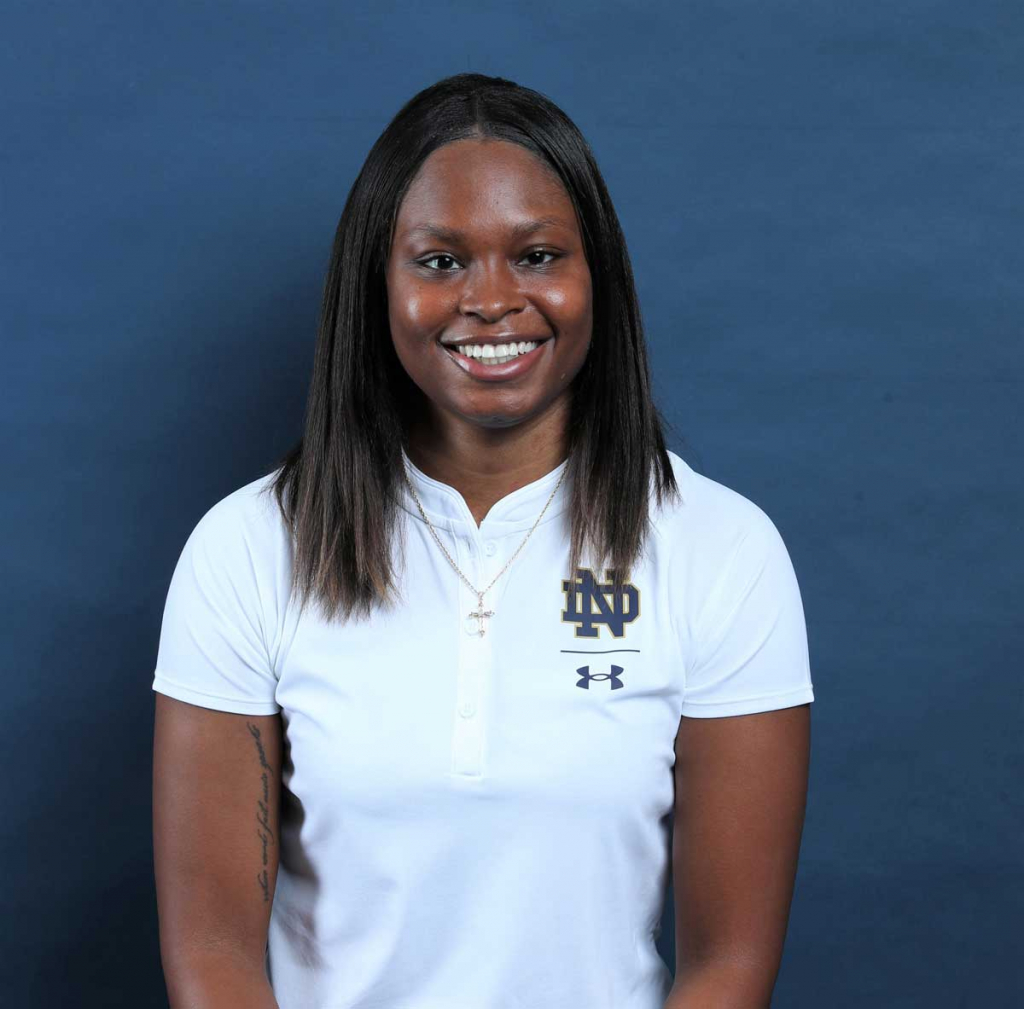 Synita's path from high school track star to a director's position at a prominent D1 university includes a few influential UC professors and lessons learned on our Charleston campus.
"Having a twin brother, I knew I would have to ease the burden of college tuition cost on my family. In high school, I was successful in track and cross country and graduated top five in my class.
"UC offered financial aid for both my academic and athletic achievements which gave me an opportunity to afford college.
"When I arrived as a freshman, I was quickly greeted by a lot of cool people. I was one of only two African American females on the cross-country team, but my teammates and coaches embraced me and made me feel welcome.
"I still have wonderful relationships with some of my professors. Dr. Bren Stevens, Michelle Wells, and Annie Valeant taught me lessons that have helped me get to where I am today and continue to inspire me."
As a UC student, Synita competed on the cross country and track teams for all four years, served as a RA for three years, and helped with events in the athletic department. She was also part of the group of students who raised their voices in support of Dr. Stevens' promotion to UC Athletic Director. "We wanted Bren and we got loud."
In December 2013, Synita graduated from UC with a magnum cum laude status and a degree in sports administration. She was also named Sports Administration Senior of the Year.
"During the 2013 spring semester, I really started thinking about grad school. By this time, I had already been exposed to D3 and D2 college athletic events a good bit and knew that was the path I wanted to take. I had experienced competing as a college athlete, assisted Dr. Stevens with volleyball tournaments, helped create the UC5K half marathon, traveled with Michelle and Annie to the Super Bowl and YUM Center in Louisville, and more. Now, I just had to figure out where I would apply for grad school."
Michelle and Annie encouraged Synita to apply to their alma mater, Ohio University.
"I went through all the motions to apply and then was devastated when I didn't get in. Despite my disappointment, I was given a second opportunity to attend grad school.
"To make a long story short, during my interviews at Ohio University, I left an impression on an individual who recommended me for a graduate assistant position at Toledo University. Toledo was looking for a female who called Ohio home. I spent two years working on my master's degree in recreation and leisure studies and learning a lot about the administrative side of college athletics.
"My first official job didn't come as I would have expected, however.  Michelle always told me that, 'You don't go into college athletics to make a lot of money and whenever the first job does come along, you take it.'
"I submitted a lot of applications and finally, in September 2016, I became the Events Coordinator at University of California, Merced, a NAIA school.
"At that time, UC Merced Athletics was only five or six years old, and I was their third events coordinator. Other than keeping stats, my team of about fifty students and I managed all aspects of the games for men's and women's soccer, men's and women's basketball, cross country, and men's and women's volleyball.
"We also handled special events rentals, mascots, equipment drop offs, etc. That experience taught me how important it is to build relationships across campus and with our campus partners."
Synita lived in California for over two years until she had an opportunity to move a little closer to home. The next stop on her career path would be the University of Akron as the Manager of Athletic Operations and Events. Here she managed the James A. Rhodes Arena, FirstEnergy Soccer Stadium, and soccer practice facilities. She was also game manager for men's and women's basketball, volleyball, men's soccer, and softball.
Then, the Covid-19 pandemic began. So many career stories will include this pivotal time and for Synita, it was a time of submitting resumes and a lot of Zoom interviews. "I felt that I had hit a ceiling at Akron and was looking for my next challenge. I applied for several positions at Power 5 schools. This is a very competitive industry but in July 2021, I was blessed to receive a position at Louisiana State University as their Assistant Director of Game/Event Management. I beat out over one hundred applicants.
"I worked hard at LSU under Julie Cribbs, and I experienced what managing a Power 5 athletic program was really like. I know I'm biased but I think LSU runs the best game day programs and being able to learn there for a year was great. I was the game manager for volleyball, gymnastics, tennis, and softball. I also took on some facility responsibilities with the soccer and softball teams."
A phone call from Tim Wise, Senior Associate Athletics Director for Notre Dame University, would entice Synita to return north once again and be closer to home. In July 2022, she was offered the Program Director of Operations, Facilities, and Event Management. "This is a hybrid position. I handle aspects of both the facilities and event management side of things. Along with my team, I also oversee guest services and the famous Notre Dame Game Day Ushers who are hired in house – something very unique in college athletics.
"It's been a pretty fun ride and I attribute a lot of my success to my time at UC. Michelle and Annie brought me out of my shyness. Public speaking is my weakness but having to do it at such a young age, especially in the sports law class with Dr. Stevens, had a huge impact on me.
"That family bond and continued support of my professors has been so special and if I had gone to a big school, I would not have been able to form those bonds. I always said I never wanted to go to a big school, which is funny now that I work at one."
At this point, at the age of thirty, Synita is taking all that she learned at both the small and larger schools and applying it to managing her team. "In the future, I want to be a senior administrator. I want to impact college athletics. It is important that in my future I can continue to be an influence as an African American woman in this industry. It has meant so much to have young Black females hired as interns and come up to me and say, 'I don't get to see someone who looks like me in this industry very often and I'm glad you are here.'
"I am proud to be a product of Dr. Bren Stevens and all my UC professors, and I am proud to be an alum!"