Chyress Obregon
Profile: Chyress Obregon, Class of 2016, Bachelor of Science in Biology and Chemistry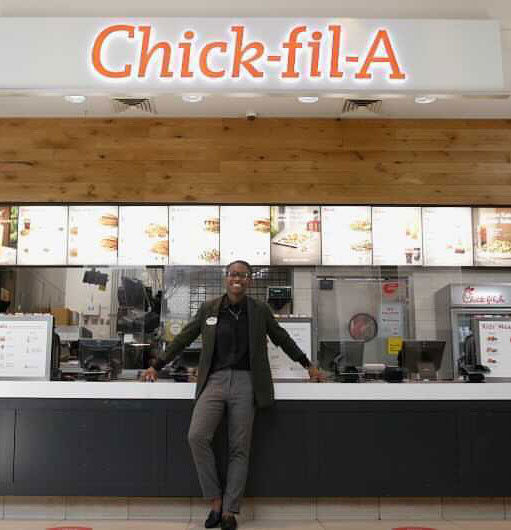 This former UC Women's Basketball player is now a busy mother of twins operating her own Chick-fil-A restaurant in Beechwood, OH. Although this was not her original plan, she has found joyful success- something she advised others to do during her remarks as our September MBA Speaker Series guest.
Chyress grew up near Cleveland, OH with loving parents. Her mother, a social worker, and father, a pastor, have always been very supportive even when her career goals took a left turn.
After high school, Chyress was awarded a basketball scholarship and attended the University of Morgan State in Baltimore. "The final deciding factor for choosing Morgan State was actually their school colors," Chyress remembered with a giggle. She shared that she learned one of her most valuable lessons while in Baltimore, "I settled on chemistry as a major after I went to one of my first chemistry classes and the professor asked anyone who was an athlete to raise their hand. After I did, she asked me to leave her class stating that 'Athletes don't take our program seriously and won't do well'. I took that as a challenge and had a 4.0 grade point average at the end of the first semester. Never let someone tell you what you can't do."
Two years into her college career, Chyress was ready to move closer to home and finish her degree at a smaller college where she felt she could focus more on the balance of basketball and her studies. Her high school basketball coach knew the UC Women's Basketball assistant coach at the time, Ryan Bailey, and put Chyress in contact with him. It was important to Chyress that she would not have to sit out a year of eligibility and UC was able to give her that option, so she came for a visit and decided to make the move to Charleston.
Chyress was slated to play basketball her junior and senior year, however, the last day of conditioning during her senior year, she tore her ACL (anterior cruciate ligament). The tear put her out of commission for the rest of the season but would give her another year of eligibility. She used the extra time to double major in biology and chemistry.
During her senior year, she was accepted into medical school at the University of South Carolina. However, this is where the left turn in career goals takes place. Her initial visit to UC two years prior included Chyress's first meal at Chick-fil-A and introduced her to her future employer, Tom Minturn, owner of the Southridge Chick-fil-A in South Charleston.
Chyress worked as a team member in the Southridge store for two years while she was completing her degree. Tom encouraged her to join the Chick-fil-A team as a manager and move on to the Chick-fil-A corporation. Tom shared, "Chyress came to us and on day one you could see the potential she had as a leader. She was hungry to learn. She was very teachable but also an independent thinker as well. It did not take long for us to see her ability to own her own restaurant. Her competitive drive helped set her apart. In her own words as a basketball player 'shooters gotta shoot'. This statement embodies her willingness to take a chance and willingness to take the risk of owning her own business. Chyress will use this opportunity to influence people's lives for years to come."
Chyress has labeled Tom as a wonderful mentor and has quoted him saying, "Tom said to me, 'Do you want to save lives or change lives?', and I knew I wanted to change lives and Chick-fil-A would be a wonderful opportunity to make that happen."
The summer before she was due to arrive in South Carolina for medical school, she called to inform them she would not be coming. She also called to inform her family of her decision, and they all agreed, "What more could you want than Jesus and chicken?!"
After graduating from UC in 2016, she continued living in Charleston and worked with Tom another three years, advancing her position to Director of Operations at the Southridge store. In 2019, she began the Corporate Leadership Development Program which required traveling to many states. At each new location, she was involved with building a team, training the team, and opening the new store.
In August of 2020, she was allowed to apply to operate her own store. She went through ten interviews and landed as owner/operator of Chick-fil-A at Beechwood Place Mall in Beechwood, OH, a suburb of Cleveland and close to home. The next career goal is to open a second location in 2023, sharing her love of the spicy chicken sandwich with a new community.
Did we mention she is also the mother of twins? Yes, we did!
Chyress has also scored big in her personal life. Finding inspiration from a Lifetime movie plot, she took to social media and reached out to deployed United States soldiers offering support as a modern-day pen pal. Corporal Kendal Obregon of the United States Marines, a West Virginia native, accepted her invitation and they remained casual correspondents while he was stationed in Japan.
Casual correspondents turned to romance when Kendal was able to be stateside at Camp Lejeune in Jacksonville, NC and they could meet in person. They were married in July 2018 before Kendal was deployed another seven months. The following summer, he was able to join Chyress as she traveled the country opening new Chick-fil-A locations. In May of 2020, they welcomed twin boys, Zyheir and Hezekiah.
"UC was one of the greatest times of my life, I have many memoires and no regrets. I really valued playing sports because it teaches you balance. And balance is the biggest thing that helps me survive."
Chyress was our most recent guest speaker in the MBA Speaker Series, to hear her full remarks see the link in the October Newsletter.
---