Jerry & Gayle Forster
Profile: Jerry & Gayle Forster – A Love Story That Began on UC's Campus.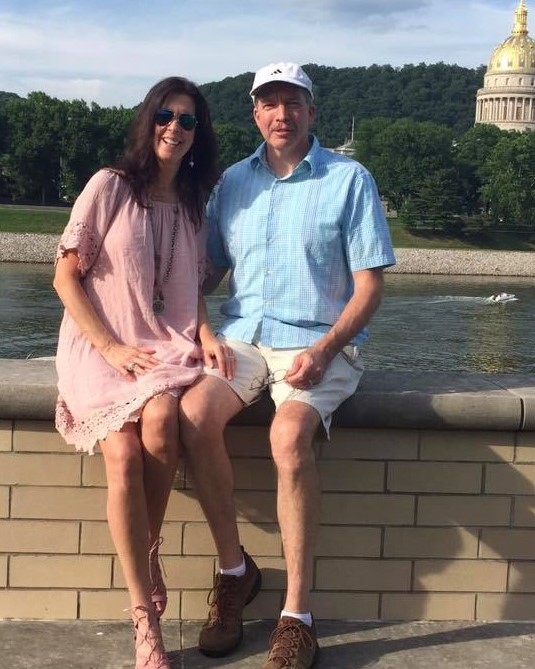 Jerry and Gayle Forster will celebrate their 38th wedding anniversary this June and their love story began on UC's campus.  Jerry was recruited from Nashville, TN to play basketball and majored in economics.  Gayle's father had moved their family to WV to serve as head of the secret service. Although she had considered schools close to where she grew up in Mississippi, she decided to stay closer to her parents and commute.
During the second semester of their freshman year, they became accounting classmates.  Jerry enjoyed accounting whereas Gayle had other feelings on the subject.  Although they did not have a common love for accounting, they discovered a mutual love for Tennessee, where they both had family ties.  "He found out I had connections in Tennessee and offered to carry my books to the car.  He was a good southern boy," said Gayle.
Jerry spent that Spring Break in Nashville and Gayle in Chattanooga.  When they returned to campus, they had their first date on April 19, 1980.  The double date with friends included time on the UC lawn watching crew races that were part of the Governor's Cup Regatta. Then dinner at Steak-n-Ale, and a Charleston Charlies baseball game.  When asked if the date was spontaneous or a bit more intentional, Gayle responded, "Oh, no, it was planned.  Jerry is a planner." If Jerry was planning this date today, it would look very different. Steak-n-Ale is no longer open, and the Charleston Charlies became the WV Power.
That summer, Gayle visited Nashville to meet Jerry's parents.  When they returned for the start of their Sophomore year, a new tradition was formed. Saturday night dinner with Gayle's parents at their home in South Charleston became a weekly occurrence.  They joked that, "Everyone called it Davis Hall.  Jerry had a dorm room at Benedum Hall during the week and a room at Davis Hall on the weekends." That Saturday night tradition continued until Jerry and Gayle moved their family to Tennessee in 2001.
In addition to the home cooked meals, Jerry and Gayle spent their dating life enjoying the outdoors at Kanawha State Forest, plays at Charleston's Municipal Auditorium by the Kanawha Players, and restaurants and clubs on Capitol St. where disco music was still alive.
In Fall of 1982, after two and half years of dating, Jerry proposed.  When asked to describe the proposal Gayle said, "He took me on a long winding Jeep ride up a mountain.  Then when he proposed, he told me I had to say yes or he would leave me on top of the mountain. I said 'yes', of course."  They were married in Nashville on June 11, 1983.  There were even several UC Basketball buddies there to stand by Jerry's side. Recognize anyone in the picture?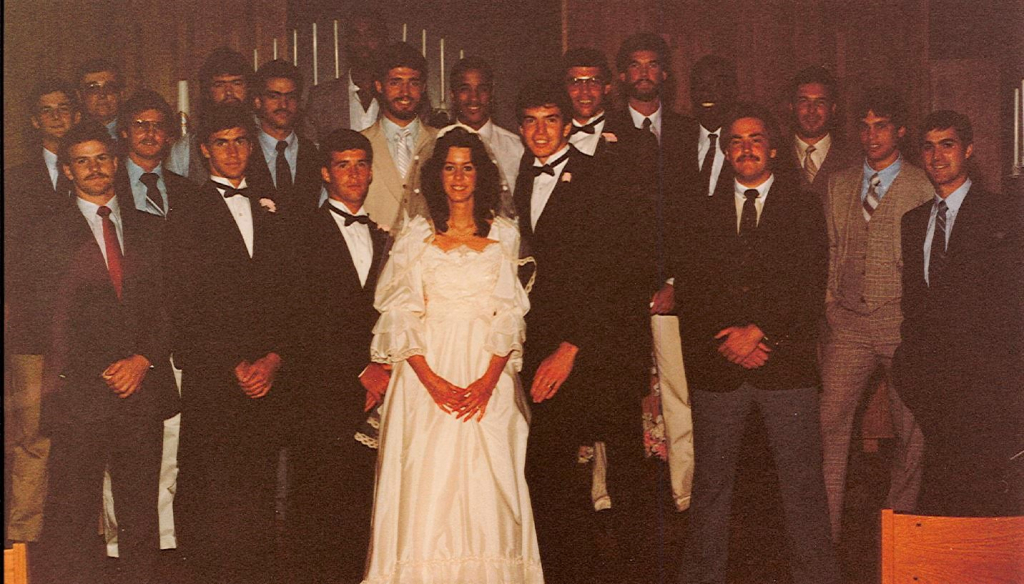 They settled in South Charleston and welcomed three children (Laura, Michael, and Daniel). After starting his accounting career, Jerry found himself back at UC as VP of Finance and Administration.  From 1989-2000, Gayle was busy as owner of Forster's Jewelry, opening the storefront at Ashton Place in 1995.
In 2001 they moved their family to Jerry's home state, Tennessee.  This move was prompted by Jerry accepting the Chief Financial Officer position at Sewanee: The University of the South.  He already held a Master of Public Administration from Marshall University but during his time at Sewanee, he completed his doctoral work in education through Vanderbilt University.
Strong connections with UC brought Jerry and Gayle back to West Virginia once again in 2013, leaving their family in TN.  Jerry helped manage the regional expansion of UC to the Beckley campus. He is now Chief Operating Officer for the university.  Gayle had a lifelong desire to complete her bachelor's degree and took advantage of this time to earn her Organizational Leadership degree in 2016.  They plan to eventually retire back to Tennessee and live close to their children, two grandsons, and two granddaughters.
When asked what they admire most about each other, Jerry said, "Gayle is energetic, artistic, and a tremendous mother. We've always put family first and I love her as a mother."  Gayle added, "He is a very patient man, he's always been patient with me and the children.  They knew he was strict, but he did it in the gentlest way.  I admire his leadership as a father and in his work.  I just love him."
---