Nichole Perry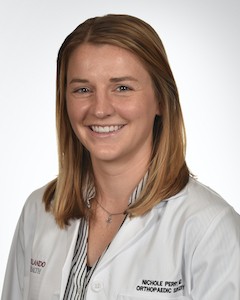 Nichole grew up as the oldest of four siblings on a farm in southern Indiana.  When it was time to choose a college, she wanted one that could provide two things – a chance to play college basketball and a strong pre-med program.  "The University of Charleston provided both of those things beautifully."
"My senior year of high school, I put a recruiting video out on the internet, and luckily, a recruiter from UC found me.  I fell in love with UC the first time I came to visit. I remember going to a basketball game with the assistant coaches and a tall, lanky man sat next to me.  He was so nice and at half time, he took the court with the cheerleaders.  That's when I learned it was former UC president, Dr. Ed Welch.  I knew when the president went out of his way to come talk to me and had fun with the students, that is where I wanted to be.  Plus, the pre-med program was amazing."
"The basketball team became my family. I have come back to Charleston every year since I graduated at least once, we gather at a basketball or football game.  It's crazy how close you become with people in an environment like that."
Nichole played basketball under Head Coach Sherry Winn her freshman year.  This became a defining time in her life. "I started my freshman year sitting on the bench with no play time, but someone once said to me, 'control what you can control'.  So, I thought, 'I can't control what the coach thinks, and I can't control what the other players do, but I can control how much effort I put in.'  I started getting up at 5:00 am to shoot and working out more than usual.  I ended up with a starting spot my freshman year and was a starter from then on.
"I really used that lesson to put the work in and grind with my course work, especially Dr. Sun's organic chemistry 2 class and through medical school."
Adam Collins was her second coach and grew the winning culture that, Head Coach Tianni Kelly, Nichole's former teammate, continues today. "Both Coach Winn and Coach Collins had a huge influence on my life."
Nichole was also involved with the Peer Education Program her senior year. "It was a very special program led by Nicky Bell.  That group of people created a strong bond, and we still keep in contact with today.
"Dr. Robinson, Dr. Sun, and the entire pre-med program really set me up for success." Nichole was accepted to Indiana University School of Medicine and began there in the fall of 2015.  She graduated in the summer of 2019 and moved to Orlando, Florida where she is now in her fourth year of orthopedic surgery residency. "I chose this program in Florida because it was one that was going to keep me busy and surround me with people who are the best at what they do. It is preparing me to confidently go out on my own someday – just like my experience in Charleston."
"I chose orthopedic surgery because it fits my personality well. I love to be able to fix things, I can perform surgery on a hip and that person is walking the same day, it's instant gratification.  I also love working with patients of all ages.
"It's very gratifying to help people.  For example, this past weekend, I got to help a man whose hand had been eaten by an alligator.  His life, for a moment, was ruined but I was able to give him back some use of his hand. I was able to help and that's important to me."
She will complete one more year in Orlando and then spend her sixth year in a fellowship specializing in sports medicine.  "My senior year of basketball, there were four of my teammates who tore their ACL. It meant we now had a team, who started the year ranked high and expected to do well in the conference, with half of their starting players injured. It was amazing how the school came together, and the other athletes supported us.  We ended up winning conference that year. Overcoming those obstacles as a team was another defining time in my life and why I am drawn to the sports medicine specialty.
"I will be able to approach my patients with the experience of a student athlete.  I can relate to the desire of wanting to get back in the game but remind them they have the rest of their life to think about as well."
Nichole hopes to establish her career in southern Indiana where many of her friends and family are. "My parents gave us the best life, my siblings are wonderful people, and my grandparents were very influential. One of my grandpas was a farmer and a doctor, he inspired me to do what I am doing today. My other grandpa is a pilot and inspired me to get my pilot's license (which she did while she was in Charleston, the day after her sophomore year finals).  "I finished my pilot's test but had not told anyone I was taking it; I flew to Indiana and surprised my parents by landing in the back yard."
"Charleston was an amazing four years; I was very blessed to be there and look forward to finding ways to give back and frequent visits."