Now and Then, Class of '68, MHC
Now and Then, Class of '68, MHC
By Christina Carr, Director of Alumni
When Robert Siegel called my office and I heard about his group of four friends for the first time, I was intrigued.  I am a softy for a good nostalgic story.  I asked if he was willing to send me more information and follow our "My MHC/UC Story" guidelines to put their time at Morris Harvey College into words. 
After reading Robert's initial submission, I had laughed a little, cried a little, and was ready to start casting what I am sure would be a box office success story.  I love when you get a little "where are they now" and current photos at the end of a good movie and Robert sent great then and now photos.  I am no casting director or producer, so I hope this will do, enjoy!
Rick Grauer, Bob Jontos, Tom Schulze, and Rob Siegel started school at Morris Harvey College in the fall of 1964.  They embraced campus life and got involved.  They participated in intramurals, joined fraternities, and Bob was even Freshman Class President.  All the guys but Rob lived in the dorms (Rob was housed by the college at the YMCA across the river).  Dorm life and all the activities of a small college atmosphere meant lots of time spent together and a bond was quickly formed.
Over the next three years, they found lots of ways to occupy themselves in addition to studying, of course.  Rob was busy putting on the MoHarv suit for basketball games, working for the "Comet", performing Cox Hall president duties, active member in the Professional Business Club, and joined by Tom for Circle K meetings.
Bob was Proctor in Cobb Hall his sophomore year and Cox Hall his junior year.  Proctor, the equivalent of a Resident Assistant (RA) in today's dorm, was a coveted position because that meant longer mattresses and bigger rooms, a major plus considering he and Rick were roommates. Bob was also involved in Student Government Association and elected SGA President his Senior Year.
Rob, Tom, and Bob were all members of Alpha Sigma Phi fraternity, "and in those days the fraternities and sororities ran the social life of campus," claims Rob, who served as social chairman for the fraternity. Rick, however, never joined the fraternity. His excuse? "I didn't have to be an official member, the other three were and all the parties were at our house."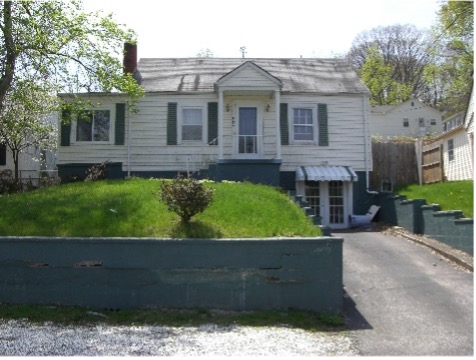 The summer before their senior year, they wanted a bit more independence but also wanted to stay together.  So, they decided to rent a house in South Charleston.  The homeowners lived in Pittsburgh which meant a little less pressure to "keep it down".
This house took on a life of its own. Tom took the upstairs room, Bob took the single bedroom, and Rick and Rob shared a bedroom.  To hear them talk, the house is almost a 5th character of their story, and they are thankful walls really can't talk.
"We moved off campus to 1803 Beechwood Drive in South Charleston.  It was not only our house but open and welcome to anyone wanting to get away, unwind, and relax.  It was open to all students, Greeks and Independents, friends, and faculty- yes faculty.  We would celebrate before Greek social events such as the Black & White Formal, Sweetheart Weekend, Christmas Dinner Dance, and Red Rose Ball.  Sometimes we celebrated not so special occasions, most weekends, and sometimes mid-week.  We did not have to look long for a reason to celebrate.  We even decorated our holiday tree on Friday night then took it down Saturday morning before leaving for Winter Break, we just wanted to be able to say we had a tree in our own house." shares Rob.
Renting a house forced these young men to learn life lessons that are typical of the growing up process.  They had a joint bank account under the name they had given the house and they shared the costs of utility bills and groceries.  "We learned to BBQ and make tuna casserole," remembers Bob.
"I remember furnishing it at an auction some place in West Virginia.  Except we had trouble understanding the auctioneer between his accent and speed at which he talked.  I now own 44 student rentals at Keene State College.  Today's students, I believe, are less street wise than we were. What they don't know about living off campus is amazing," says Rick.
These four could spend hours sharing memories, but the time Dionne Warwick came to town is a favorite.  In 1967, Rob convinced the college to let him use Student Affairs funds for a concert in the MHC auditorium.  He booked Ruby & the Romantics and Del Shannon.  When Ruby & the Romantics did not show, Del Shannon graciously performed a double show.  In 1968, he decided to book one performer so a no-show would simply cancel the concert.  He booked Dionne Warwick.  Carol and Rob picked her up from the Kanawha Airport and gave her a tour of Charleston (as seen in the photo below).  Ms. Warwick was a highlight of the year for the whole campus.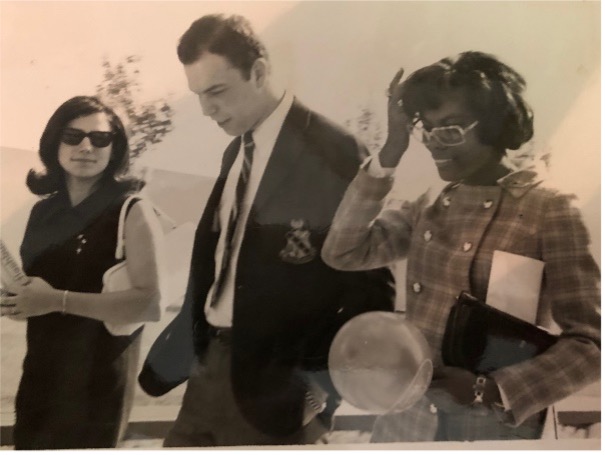 I know what you are thinking, "Who's Carol?"  Well, here is where this story gets even more special.
Kay Gladwell and Carol Goodman, members of Alpha Omicron Pi Sorority and MHC '68 graduates, also spent some time in the infamous house, partially because most Greek social events came accompanied by extra celebration at the boy's domain, but also because they were the love interests of Tom and Rob.
Rob and Carol actually met in the South Charleston house.  "Carol and Kay were sorority sisters for 3 years before Carol and I met.   They were at the house one evening before their Sorority Winter formal weekend in 1967. The following spring, I gave her my fraternity pin, and in July of '68 we got engaged – with Kay there as a witness to me giving her the ring in a crackerjack box," says Rob.
Kay lived at home most of her college life, and because they were such good friends, Carol would spend time at Kay's house and had a close relationship with her family.  When Rob decided to propose, he asked Carol and Kay's fathers for their approval.
When it was time for Tom to propose to Kay, he had to get special permission as well. But this time, permission came from Rob and Carol.  Tom wanted to propose at their wedding, so he cleared it with them first as to not steal the show. Both ladies said, "Yes!"
Rick and Bob also found love in life as you will read in their individual short bios below.
I think they would all agree that their time at MHC molded them into the people they are today, built a foundation for successful careers, and are years full of memories they will never forget.
In the back of the 1968 "Harveyan" is a picture of these four gentlemen standing on the porch of their senior year home. Collectively, they wrote this as their farewell to their time at MHC, "The past years have been years we will never be able to forget.  From the first day of our college lives and the tug of war to the last with graduate record exams and graduation. Memories and friendships have been made here that will be remembered for years to come.  Our list of people to thank could go forever, and if we started a list, we're sure we would leave some out.  So instead, we wish to thank everyone at Morris Harvey College for making our college years those we will never forget.  To the seniors we want to wish all the happiness and success we possibly can, and to the underclassmen, we wish the same plus the hope that your years at MHC will be as enjoyable and prosperous as ours have been. And to everyone here at Morris Harvey we now say "good-bye". (Pictured from left to right, Tom, Bob, Rick, and Rob)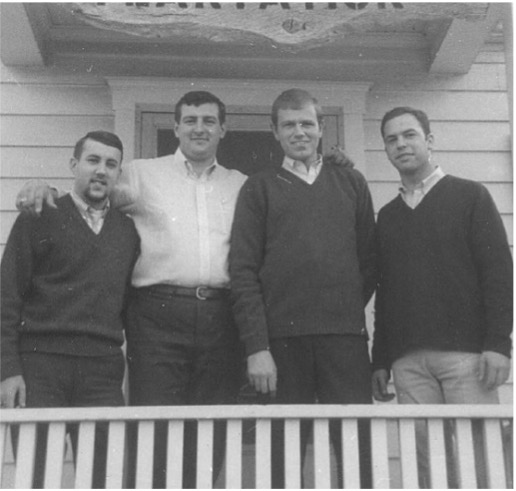 But their stories did not end at graduation.  All six graduates went on to have successful careers and follow paths that would build their lives miles apart.
In 2007, they were together again for the first time in 40 years when they gathered at Tom and Kay's home in Annapolis, MD.
I'll let Rob's words take it from here. "The weekend could not have been better.  We shared years of good times and some not so good.  We laughed a lot at ourselves and others.  We thought of good friends and those no longer with us.  We talked about College Beanies, Kangaroo Kourt, Anchor Bar, Southern Kitchen, 3.2 beer, our house, fraternities and sororities, Coonskin Park, Tiki Bar, Smokers, Greek Week, May Day Sing, Dionne Warwick, Intramurals, Eagloo, Eagles Nest, Cobb, Cox, Benedum, Daniel Boone, Worthy, Dickinson, Greystone, Gold Dome Drive-In, Shoney's, 10:15 PM curfew, coffee in the GSU while reading the "Comet", watching the Golden Eagles, and much more.  It was a great weekend, and we were sorry we had not done more of this sooner.  We all agreed we were looking to slow down.  We left promising each other we would not let 40 more years pass before we met again." (Picture photo shopped to reflect 1968 vs 2007)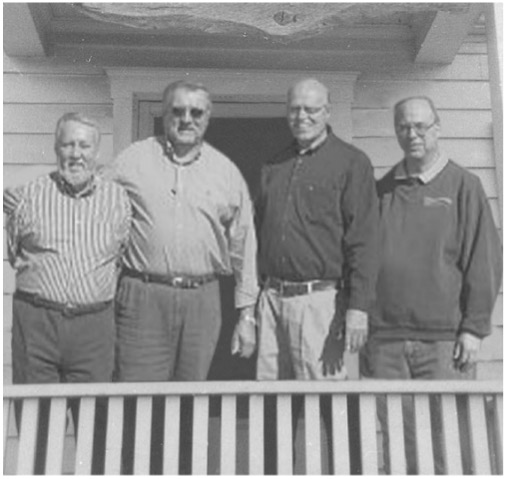 "Fast forward again now 2021…Our families have grown, and for some their families have grown.  Despite the good, there have been moments we would rather not have had; family illness, individual health issues that would make Web MD's top ten and losing Tom in 2013.  Time goes by too fast and good friends and fun times are few and precious.  Losing contact with friends and family is natural. Sometimes life gets in the way of doing those things that should be done.  We talk, text and occasionally have seen each other.  Looking forward, it would be nice to see each other again, maybe at our 55th reunion in 2023?"
Where are they now?
Rick Grauer graduated with a Business Administration degree and has had a successful career in marketing, management, and customer service.  "I worked for Mobile Oil and Remington Products.  Later, when I was interested in purchasing a business, I approached a childhood friend, who had inherited his father's Radiology practice, to help me with the financing.  Instead, he convinced me to join his operation and I built a successful portable x-ray business for him while at the same time growing my portfolio of rental properties," shares Rick. Today he houses 151 students in his rental properties.
Rick met his wife in 1976 when they, along with 13 others, split the charter of a sailboat to go to NY harbor for the Op Sail part of the 1976 bicentennial celebrations. He and Lisa have two boys and they reside in his hometown of Fairfield, CT. "If you are researching my college years, you should know that I am a Gemini and friends called me Rick, but my legal name is Albert.  Believe it or not, I used the two names to separate my business life from my social life with co workers never knowing the two existed."
"Some of the memories from MHC will always be with me, especially the relationships I made there," says Rick.
Bob Jontos graduated with a Biology degree and taught Environmental Science in the public school systems while completing his master's degree in biology at the University of Bridgeport.  He went on to work as Sanitarian for the Town of Wilton, Department of Environmental Health and Director of Environmental Services for Land-Tech Consultants.  During his time in that position, he obtained certifications as a Registered Sanitarian in Connecticut, Certified Professional in Soil Erosion and Sediment Control and Professional Wetland Scientist. He retired in 2011.
Bob met his first wife, Nancy, while taking Emergency Education Certification courses at the University of Bridgeport.  Sadly, Nancy died of ovarian cancer in 2002.  He has remarried and he and his wife, Pat, live in Summerville, SC.  Bob has two daughters, one stepson, and four grandchildren.
"I loved Morris Harvey because you were recognized by both faculty and students alike, as an individual rather than a number.  I had a sense of belonging.  Plus, a great social life," says Bob.  He and Rick were together for breakfast just last week.
Tom Schulze graduated with a bachelor's degree in history and Kay with a bachelor's degree in mathematics.  Tom then spent three years in seminary in Connecticut and earned his master's in sacred theology from Yale while Kay earned her master's in mathematics from WVU.  They were married in 1970.  In 1976, he took a parish in Stoughton, MA and was there until 1989 when he took a medical retirement.
After the move to Massachusetts, Kay taught at Boston University and the University of Massachusetts Dartmouth while earning a masters and PhD in computer science from Boston University.  After Tom retired, they moved to Annapolis, MD where she taught computer science at the US Naval Academy until she retired in 2009.  In 2013, Tom passed of congestive heart and renal failure, a side effect of all the dye used in previous cardiac procedures.  Kay now lives in Georgia to be near her sisters.
Rob Siegel graduated with a bachelor's in business administration and Carol with a bachelor's in physical education.   Carol taught physical education at her high school in Westbury, New York, then taught gymnastics at private gyms in New York and North Carolina.
Rob went on to a successful career in insurance information technology.  He has held titles such as Finance and Administration Manager, Information Technology Director, and retired from KMG America/Humana in 2011 as Information Technology Project Leader.  He and Carol have two children and now live in Charlotte, NC. They keep busy by golfing and hosting their four grandchildren for pool days.
If you were on campus for the 1967-68 academic year, odds are you were invited to party with Rob, Tom, Rick, and Bob at their house in South Charleston.  Listening to them, Kay, and Carol sharing their memories has been a party all in itself.  Thank you for sharing your story that captures the essence of what it was like to be a Golden Eagle in 1968 but more importantly, thank you for sharing your story of friendship.  I am sure it has sparked many to remember their own special bonds formed on the campus by the Kanawha.   
Pictured below are Rick and Lisa (left), Bob and Carol (back row), Tom and Kay, and Bob and Pat on the end (right).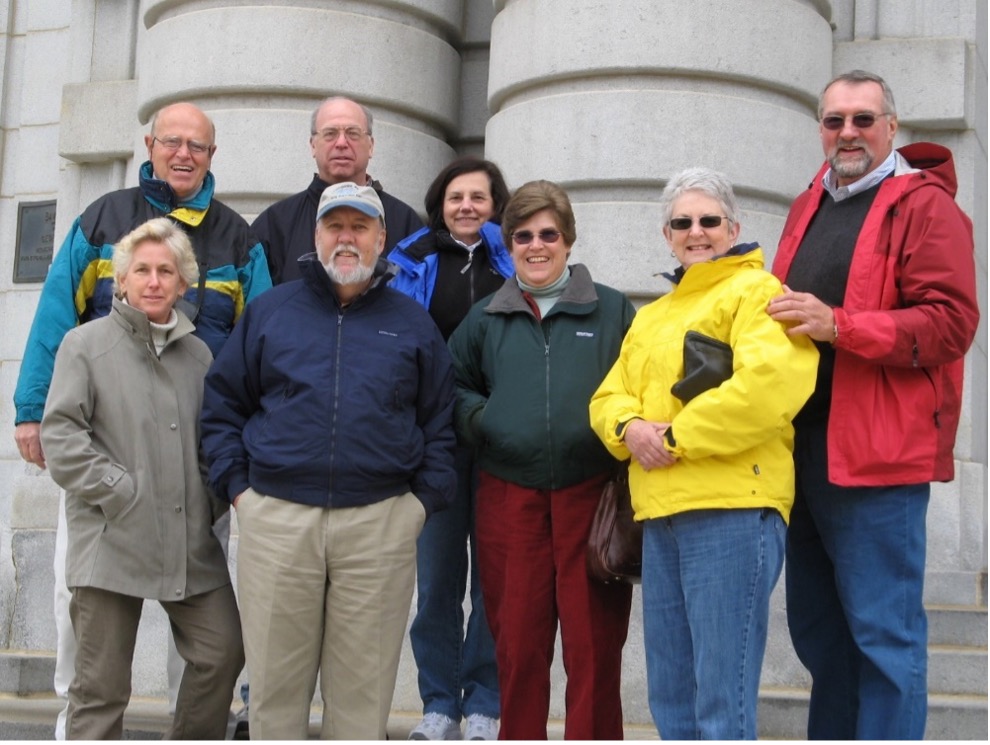 ---