Stephen Anthony Beasley, '02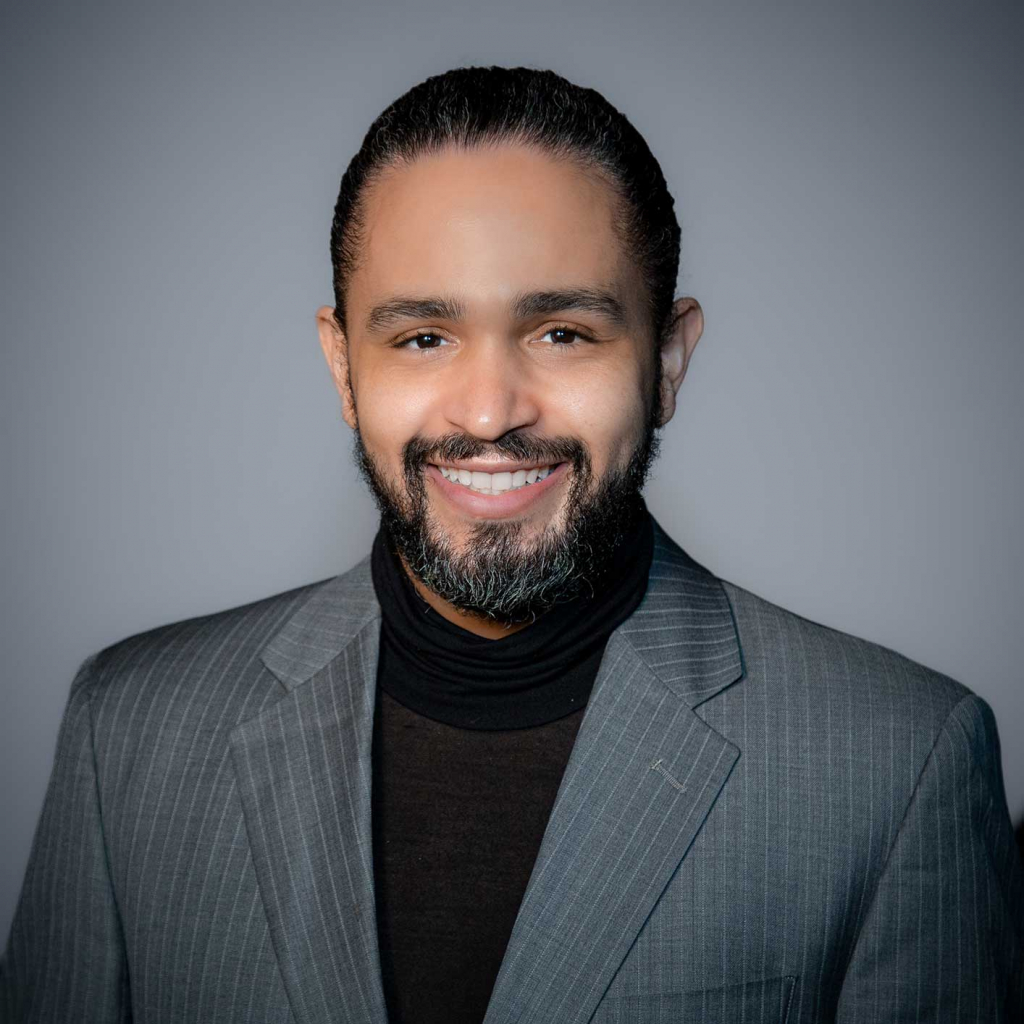 Stephen is a 43-year-old Christian, black man, husband, bonus dad, dad, family member, friend, musician and public health advocate. He lives, works, serves others, and creates, in that order. A native of Louisville, KY, he began to focus on his love for music and public service during his high school years. He was honored to be chosen for the Kentucky Governor's School for the Arts which would become a pivotal moment in his journey to UC.
"As an alum of the Governor's School for the Arts, during my senior year, I was invited to a mass audition at a local performing arts school. The audition is a recruiting tool for colleges and universities who have a music program and professors from UC were amongst the attendees.
"I had a follow up visit on campus the following spring and I knew I was home. When I auditioned for the music department, I remember walking up the front walkway of Riggleman Hall and saying to myself, 'Oh, ok, so this is where I am going to school.'
"My major was vocal performance and music administration; Dr. Joseph Janisch and the other music department staff were very patient with me. I adored campus life, so I was, um, overly social and over-committed to campus activities, so time management and focusing on my academics, proved to be a challenge."
Stephen was busy fulfilling duties as the Vice President and President of the Minority Involvement Support Council, Vice President for Special Projects for the Student Government Association, and being an Involvement Scholar. "I was always buzzing around and really bought into everything that college life was supposed to be.
"All of those experiences, however, really impacted my ability to be a team player. Before UC, I was part of groups, choirs, etc., but I was never really a good team player or listener. The groups I was involved with on campus allowed me to become a person who could reflect on the importance of teamwork. It really was very formative for me to learn to be a member of a team and to harness the power of self-reflection and evaluation. I remember that we used to have these "Reflection Parties" and we would make so much fun of them, but now I realize how impactful they were. Honestly, I can see how I replicate them whenever I am the lead on a civic or professional project."
The second semester of Stephen's junior year took him to Sydney, Australia to study abroad. "I was part of the Study Australia program with about fifty other students from all over the world, and no other student was supported the way I was by UC. Everybody from the registrar's office to financial aid and admissions were all so helpful and supportive in the process you must go through to study abroad. And I'm so thankful because it was a life-changing experience for me. When I came back to UC after being in such a big city, literally across the world, all on my own, I remember feeling how cozy campus-life on MacCorkle felt."
Although Stephen was back on campus by the summer of his senior year to co-lead the orientation team, applying for graduate school had not even crossed his mind. That was until the tragedy of 9/11. "There was something about the shift in the air in our country and I felt like I wanted to do more with my future, so I got serious about grad school.
"I was accepted to three arts administration programs, Brooklyn College, New York University, and Columbia in Chicago. The choice was always New York though. I try to say that I actually considered Chicago, but it was always New York. As I stepped into the gorgeous Brooklyn College quad on an early spring day, nestled just off one of the most chaotic avenues in Brooklyn I thought; "Oh, ok, this is where I am going to go to grad school."
"I graduated UC on Derby Day of 2002 and then stayed a few weeks into the summer to complete a few grad school requirements. In the fall of 2002, I arrived in New York and was part of a nine-student cohort that was admitted to the Brooklyn College MFA Arts Management Program. I had classes at the Brooklyn Academy of Music (BAM), Second Stage Theatre, The Nederlander Group, and The Frankle-Baruch-Viertel-Roth Group, the production companies who were, at that time, producing Hairspray and Lion King. It was a wonderful experience."
In addition to graduate work, Stephen quickly established roots at Emmanual Baptist Church where he is still a member. "The first time I walked in the church, it was just like the time I walked up to Riggleman Hall and Brooklyn College, I walked in and was like, "Oh, ok, so I guess this is where I am going to church…and I've been there ever since."
After grad school, Stephen began a career in performing arts management. After completing his thesis work on a year spent working for his lifelong friend, mentor, and legend of arts marketing Marcia Pendleton of Walk Tall Girl Productions. His first salaried position was at the New York Theatre Workshop, the original producing theatre company of RENT and several other plays that have gone to Broadway and beyond.
By the late 2000s, Stephen found himself thoroughly enjoying his quarter life crisis (brought on by a well-deserved termination from a position just after his beloved 18-month stint at NYTW) as an event host on Norwegian Cruise Lines' Pride of Hawaii. However, he did return to New York to combine his love of the arts with another topic close to his heart – public health. "I think the roots of my passion for public health go back to growing up in Louisville. In the 1990s, there were a lot of youth empowerment programs focused on community service and health education. I was a part of those programs in part because there were opportunities to earn money, but my involvement ignited a drive to always find ways to contribute to my community.
"So, when I came back to New York, I started working with an HIV anti-stigma theatre group, which was modeled on this practice called "theatre of the oppressed". We worked with the New York City Department of Health to write twenty short plays about HIV related stigma. We had theatre troupe members from ages seventeen through their mid-sixties, so it was a multi-generational conversation. It was really something very special that I did for four years, which led me to become more serious about a career trajectory in public and community health.
"Since 2010, I have focused on being part of health initiatives that involve healthy and active living, coalition building around the intersections of health, racism, and poverty. When people ask me about the work I do in the realm of public health, I tell them that I support doctors, scientists, lawyers, artists, and advocates of various disciplines, build programs and create messages that seek to help people improve their health and quality of life. After working in several areas of HIV/AIDS services, I transitioned into diabetes and healthy and active living initiatives and then remained grounded in managing community partnerships that promote health."
Stephen is now the Coordinator of Community Affairs for New York Presbyterian Brooklyn Methodist Hospital. "We do about 300 in person and virtual events per year, impacting about 20,000 folks in Brooklyn and around New York City. "I work in a cohort of government and community affairs folks who work across the ten campuses of New York Presbyterian in the five boroughs of New York City and Westchester County, NY. They are people of all walks of life who are interested in making sure community members and community-based organizations have access to providers and resources to keep conversations about health going.
"At the heart of it, I just like being a person that creates space for people to get the information they need to feel empowered and to be heard. There are a lot of providers, experts, and advocates who really care about improving access to excellent care, for people of color and those who are from marginalized communities. I just want to continue to be one of the fast-growing number of health advocates around the world, who serve as a vital link between the two."
In addition to Stephen's work at NYP, he has been a NYC Certified Minority Business Enterprise (NYCMBE) as a sole proprietor since 2016. He has worked with several city agencies such as the New York City Department of Health and Housing Authority, large multi-service non-profits like CAMBA, academic medical centers like Weill Cornell Medicine and, most recently, in the American Medical Association Center for Health Equity on various aspects of program planning, implementation and evaluation that align with his mission as a public health advocate.
"There was a point in my life where I experienced great disappointment in myself because I came to learn that my skill set is not exactly that of a person who would obtain a senior leadership role at an institution. Additionally, I felt a decreased sense of worth because I had not produced and acquired what I thought I would in my profession. But, over the course of my 30s, as I healed from that disappointment through therapy, mentorship, and positive work experiences, I discovered that if I apply all my lived experience and expertise, I can be a leader that adds value to any endeavor I am a part of, just by the nature of how I show up for the work. This is something I really want to share with others at every stage of their personal and professional development."
Professionally, Stephen defines himself as a musician and public health advocate, because while his work in health has the greatest impact, his music continues to be the most authentic representation of who he is as a person. "Since 2007, I have been creating music from my heart and life experiences, with an intention of sharing joy and power."
He has released thirty original songs, a few EPs, a couple of albums and at least 200 performances ranging from open mic nights to large outdoor festivals. He appeared twice on "Showtime at the Apollo" and his music has been featured on films, television, media campaigns and in podcasts, including several NPR podcasts.
Currently, he is working with investors and performing arts centers in an endeavor to develop a performance art piece that brings together his music catalog, with movement, film and visual art that is called "Songs of Joy and Power," which he has workshopped twice in 2023.
As a SAGAFTRA member he is proud to have appeared in over 150 commercials, film, and television spots over the years and stands in solidarity with the recent strike for more fair compensation and conditions for all those in the film and television industry.
"Sharing my journey with my fellow alumni and future alumni, always fills me with a sense of pride. It has allowed me to reflect on what my time at UC has continued to contribute to my life since the hot summer day 21 years ago, when I packed up the last of four treasured years of dorm life to embark upon my adult life in New York."
Stephen and his wife, Charlette, married in 2020 and partner in raising Stephens' bonus son, Aaron, and his daughter, Ava, in Springfield Gardens, a neighborhood in Queens, NY. He has spent most of summer 2023 trying to tame his own little jungle-in-the-concrete-jungle (his backyard) on his work from home days.