West Virginia Society of CPAs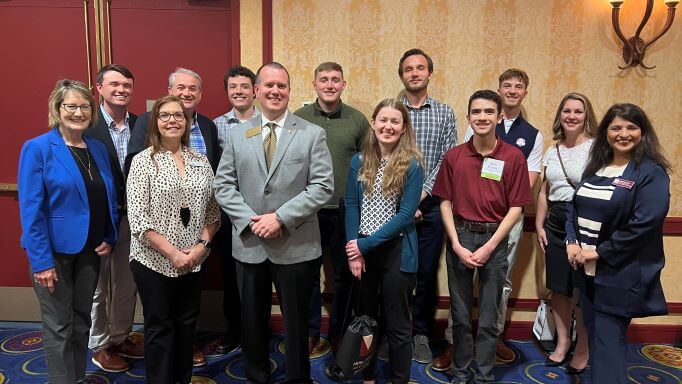 The West Virginia Society of CPAs is an advocate for supporting legislation and education benefiting the CPA profession.  It offers its members a selection of discounted benefits and affinity programs.
On May 6th, the Society held their annual Committee Day. A special awards ceremony is part of this event and there were too many University of Charleston alumni and students involved to not make this our subject for the June Alumni Spotlight.
The Society recognized UC graduate, Jason Prince, '20, as the 2021 West Virginia CPA Exam Merit winner. The award is given to the person with the highest score on all four parts of the CPA exam for the year. Jason is the third Merit winner from UC in the past six years. Aaron Souza, '11, was the 2016 Merit winner and Sarah Henderson, '17, was the 2018 winner. Sarah was also recognized as a 2018 Elijah Watt Sells Award (national award for high scores on CPA exam).
Additionally, the Society recognized UC May 2022 graduate, Sean Woody, as the WVSCPA Outstanding Accounting student. Students in their freshman year of college through their first year of graduate school are invited to be members of the Society. Student Society members only may apply for this award submitting an essay and letters of recommendation along with the application.  The Society's Recruiting and Career Opportunities Committee choose the recipient of this award.
Congratulations to all the winners and thank you for representing your alma mater so well!
The CEO of the Society is Judy Proctor.  Judy grew up in Sissonville, WV, graduated from Sissonville High School in 1980, and still lives in the area.  "Through my junior year of high school, I thought I wanted to be a math major, because I was good in math.  Then I took one accounting class and changed my mind.  I graduated valedictorian of my class and was offered a scholarship to a couple of colleges, including UC. I wanted to stay at home and UC was a wonderful fit," says Judy. "I met Suzanne King there and she has been in my life ever since, she was a wonderful professor and advisor."
After graduating from UC with her degree in accounting, Judy went to work for Columbia Gas (now TC Energy). "I was afraid of public accounting, so went straight to an industry position."  She spent the first seventeen years of her career in industry accounting positions.
"I started out in natural gas, then moved to coal, then was a controller of a non-profit, then went to Suttle and Stalnaker accounting firm as a consultant. But, to my students, I recommend that they start in public accounting because of the diverse background it will give you. It is not scary like I thought it would be. Any job that is worth having, is worth giving the effort to make it successful!"
She spent over eleven years with Suttle and Stalnaker public accounting firm in Charleston. "One of the things I am most proud of in my career was being named the first female partner with Suttle and Stalnaker."
When the previous CEO of the WVCPA Society retired, a fellow partner at Suttle and Stalnaker was the current president of the Society and remembered Judy mentioning that she would be interested in the CEO position if it ever became available. "I was interested because then I could help CPAs all over the state, not just at Suttle."  Judy was one of over sixty applicants from across the nation.  She has been CEO since 2011. The next step for her will be retirement but, "I'm not there yet."
The current president of the Society is Brian Wadsworth, '97. Brian grew up in Cross Lanes, WV and wanted to go to a local college so UC was the obvious choice. "I loved that the class sizes were small enough that the professors could take an interest in your success, and I can say I truly felt that when I was there. Suzanne King, Dennis McMillen, and Armando Alcazar were a great group of people to be around. I saw Dennis not long ago and he remembered me, and Suzanne and I have been in constant contact. I always appreciated their vested interest in my education."
It was through that local connection that Suzanne introduced Brain to Chris DeWeese, a partner at Suttle and Stalnaker and UC alumni. Chris was a couple years ahead of Brian, graduating with his accounting degree in 1995.  He became a young mentor for Brian and was president of the Society prior to Brian having the role. This connection is ultimately how Brian got involved with the Society, starting as a member of the local Charleston chapter.
"I've been involved with the Society since the early 2000s. Twenty-two years later, I've run through all the ranks, I've been president of our local chapter and now president of the WV Society. The Society is a wonderful organization that keeps the CPAs of West Virginia well connected. It watches over our licensing and our ability to get education. Being part of this society is a great place to meet co-workers and network with other CPAs, it did wonders for my business. It's like everything else in this world, you get out of it what you put into it."
The Society awarded Brian the Young CPA of the Year Award in 2008 and the Public Service Award in 2020.
He spent twenty years in public accounting but has now moved to an industry position with a local real estate developer. "One of the best things about this career path is that the avenue choices are so vast. I always encourage public accounting as a great place to start, it gets your toes in the water with such a variety of businesses.  Through public accounting, I have worked with health care, banking, non-profits, construction companies, manufacturing companies, small businesses, and businesses with $50M in sales.  You won't become a master of any of those industries, however, all those experiences create a mastery skill set and a level of business awareness that gives you such an advantage in the workplace.
"The CPA title behind your name comes with inherit integrity and trust.  When people find out that is what you are, they want you on their team. One of the first things my employer shares when he introduces me is that I am a member of the WVCPA Society. It holds a lot of value."
Accounting is a household attribute for both Judy and Brian. Judy's husband graduated with his accounting degree from Marshall University and their son and daughter-n-law are also CPAs.
Brian's wife, Cicily Ellis Wadsworth, father-n-law, Michael Ellis, and Cicily's great uncle, Robert Ellis also hold degrees from UC.
"The road has been endless so far for both Judy and I because of our commuter experience to UC. I can also tell many stories of friends that have had wonderful careers coming out of UC. We didn't need a monster school name behind us to find success!"
Pictured above – Front row:  Suzanne King, Judy Proctor (WVSCPA CEO), Brian Wadsworth (WVSCPA President), Sarah Henderson, Sean Woody, Shehna Khan. Back row:  Trey Suttle, Wally Suttle, Cordell Parsons, Jason Prince, Alek Gracin, Mason Weese, Amanda Meadows