Liz Haley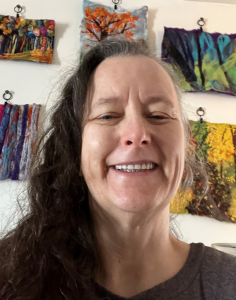 My nursing journey started long before I came to University of Charleston. I grew up in the coalfields, in a small town called Robinhood in Boone County, WV. My dad was a coal miner, and my mom was a housewife.
My MawMaw Alvie (my mother's mother) was a healer. We knew her as a Granny Witch, an old Scottish name for a healer. She started taking me around to the coal miners' homes when I was about four years old. I would tote her old doctor's bag that someone had given her and watched her as she worked her magic on people.
She delivered the babies and took care of many of the same people until she shrouded them when they died. I went out into the woods with her and helped her gather spider webs for wounds to stop bleeding. We also gathered honey, herbs, willow bark and many other things that she used for healing.
I watched her deliver babies when I was as young as five years old and held the mother's hand while she was delivering. I watched my MawMaw help clean up the babies and swaddle them, hand them to their moms, and be amazed at the tiny life that had just come into the world.
In the 1970's, our high school did not encourage kids to go to college. They encouraged the girls to stay and be coal miner's wives and the boys to be coal miners. When I was 16, Dad even took me into the mine and let me look around. He offered me a job in hopes I would stay in the holler.
I felt there had to be more for me than becoming a coal miner's wife. I attended all the business classes I could at the vocational school in Danville, including learning the "new" thing – an IBM Office 6 computer system. Little did I know that learning about this computer would eventually lead me back to my roots and to a healing profession.
I was so desperate to leave Robinhood. I worked for the guidance counselor and stashed away all my money so that I could move after I graduated from high school.
At first, I thought I wanted to be a legal secretary and interviewed with several attorney offices in Charleston, WV. It was recommended to me to apply for a job with Charleston Memorial Hospital as an emergency room clerk and I accepted a part time job there. My aunt helped me move to the city. I did not drive or own a car and had no idea of how to catch a city bus.
The nurses, medics, police officers, and doctors were so kind to me at Charleston Memorial. They let me sleep in the cast room for a couple of weeks and helped me find an apartment. They taught me how to catch a bus and what I needed to do to succeed. I will always be grateful for them!
As I watched the nurses and doctors take care of patients, I realized I wanted to learn more, do more and be more. First, I became an EMT and worked on the ambulance, then I became an LPN – talk about a tough year at Garnett Career Center! I loved it!
After graduating from Garnett Career Center, I signed up for the delayed entry program in the US Army. My plans were to go to Germany and train to be a MASH nurse.
That brings me to how I found the University of Charleston. It was graduation time in basic training at Fort Jackson, South Carolina. We went out into the field, I did a deep knee bend, and my femur fractured. I thought my dreams for a career in nursing were gone.
I was discharged from the US Army after breaking my leg. A counselor at the Huntington VA Medical Center recommended that since I was already an LPN, I should consider attending the University of Charleston. He described it as "the best nursing school in the state". I received a scholarship from the Disabled Veteran's Association and started school in Charleston, still on crutches and a backpack on my back. Thank goodness there was an elevator!
I was a non-traditional student at 25 years old and wasn't sure what to expect. UC had an amazing orientation program just for non-traditional students that laid all my fears to rest.
I started my training and fell in love with nursing all over again. I physically and emotionally started to heal. My first position after nursing school was with St. Mary's Hospital in Huntington as an ER/MICU nurse. I had a blast!
As years went by, I married and have a lovely red-headed daughter. I worked in nursing homes as a charge nurse and wound care nurse. I also worked at a health insurance company learning how to be a pre-authorization nurse and then a case manager.
The experience as a case manager led me to where I am now, an area manager for case management at Broadspire. Broadspire is a billion-dollar company with world-wide presence owned by Crawford, Inc. I manage 14 case managers who work with injured workers in West Virginia, Virginia, Maryland, and Washington DC. I have been with the company for 13 years, 11 years of experience as field nurse case manager and 2 ½ years as a manager.
It is amazing how my clerical skills and my nursing skills have come together to allow me this excellent opportunity to assist other nurses in becoming patient advocates and amazing case managers.
I consider it an honor to be the first in my family to graduate high school and college. Thank you, University of Charleston, for helping me find my life's work and aid me on this amazing journey!