Daniel S. Reich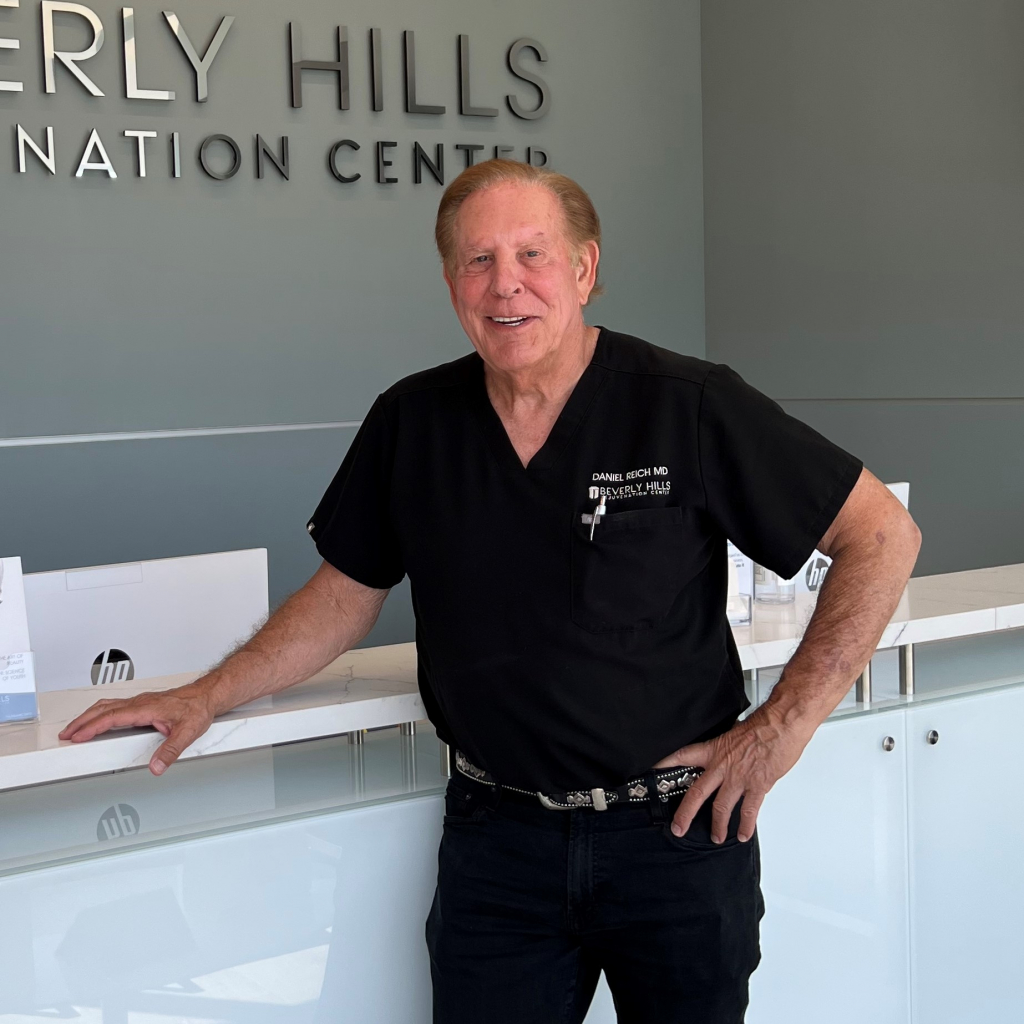 Luck, perseverance, courage, friendship, desire, and having a game plan.
Daniel grew up in Long Island, NY with his mother and two brothers. His father passed when he was only eleven years old.  He was encouraged by his family through pivotal times and relied on their advice when making life changing decisions.  Daniel's interesting career story is full of what he refers to as "lucky breaks".  Whether it was luck or a mixture of hard work and opportunity, he has had a successful career serving his communities as an educator and physician.
"I was not a good student in high school, but I was a good athlete. I played football, wrestled, and ran track. I knew I wanted to go to college, but our family finances were a concern.  I come from a humble background with a single mother. She encouraged me to study something that I wanted to study but to come away from college with an education that would provide a job and you could, 'at least feed yourself.' I always wanted to be involved in sports and knew teaching would be a good career, so I chose to major in physical education and health education."
Daniel knew he wanted to leave home for school and when a Morris Harvey College recruiter came to his high school to promote the college, it caught Daniel's attention and ultimately decided to attend.
Daniel took a flight by himself and came to Charleston, sight unseen, to start his college career. "I was housed in the Kanawha Hotel, which had one floor dedicated to students. I took out some loans and the college helped me to find jobs." Daniel worked at Kroger unloading the box cars and bought meal tickets for the campus cafeteria. "My first year away from home was a little rocky with not knowing the best ways to study, but I had good teachers and guidance so, by the second year, I had the hang of it."
Daniel's sophomore year, he moved into Benedum Hall, during his junior year, he pledged into the Tau Kappa Epsilon (TKE) fraternity and picked up an inexpensive drum set to bring with him to campus. His roommate had taught him how to play and he and a few friends started a band called Sound Circut. "During our senior year, we played for some of the Greek parties and in a few clubs.  We played at the downtown bars, Mantiki and Malibu -which was just up the street from Shoney's.  We didn't have the Student Union until my senior year, so Shoney's was a big hang out spot for us."
"At the end of my four years on campus, the Vietnam War was raging but I had asthma as a kid and that kept me out of the Army."  He went on to do one semester of graduate school at West Virginia University.  "That was probably the best semester I ever had as a student with a 3.0 or better GPA. Plus, I had my own apartment and WV license and tags on my car, so I was like a true WV resident."
After that semester, he went back home to Long Island and taught school. During his first year, the school needed a science teacher and Daniel was asked if he would be willing to take the required classes to be certified to also teach science. He obliged and took classes at a local community college while also coaching track and assisting with coaching football on the junior high level. "It really was quite a bit of fun."
While teaching, Daniel noticed many student athletes were getting injured and requiring physical therapy.  This sparked the idea to change careers to physical therapy.  He turned to his brother for advice on the decision.
"My brother, Melvin, was a little on the other side of the coin than me when it came to school.  He was very bright and had graduated medical school early and was back at home practicing as a family doctor." When Daniel went to him for advice on the career change, he suggested attending medical school to "become the doctor who hires the physical therapist."
Daniel had already taken the courses needed to apply for medical school when he acquired his science education certificate, but he was still hesitant about having the study skills and ability to do well in medical school. His family encouraged him to go for it, however, when he applied, "the war was still active and there was more competition to get accepted because more folks were applying to medical school to stay out of the service."  Because of Daniel's age and lack of a pre-med undergraduate degree, his chances of being accepted to medical school were looking bleak. His mother, who worked as an insurance broker and travel agent, learned of one of her client's sons going to medical school in Mexico and "the lights went on!"
"It was hard to imagine leaving the country to go to school, but my brother talked me into it." Knowing no one nor the language, Daniel moved to Mexico to attend the Universidad Autonoma de Guadalajara. He took a class called "Live and Learn" where he got to live with a Mexican family for a month to get acclimated with the culture and learn the language. He learned some basic Spanish and bought two sets of course books (English and Spanish), "I'd study in English and then try to learn it in Spanish."
After four years, he graduated and entered the Fifth Pathway internship program which is an avenue by which students who have attended four years at a foreign medical school may complete their supervised clinical work at a U.S. medical school, become eligible for entry to U.S. residency training, and ultimately obtain a license to practice in the U.S.
During his residency, he discovered that one of the only places he wasn't called to come into the hospital in the middle of the night to perform CPR or things of that nature was the obstetrics floor. "People were passing out cigars and it just seemed like a really happy place, so I chose OBGYN."
"I got lucky and was able to get an incredible education and transition from being a foreign medical graduate to a residency graduate from Boston University School of Medicine. The rest is history."
"I couldn't stand the winters, but I love to ski, so every vacation was spent in Colorado to ski but the trip would be bookended by a visit to California or somewhere warm." Daniel started traveling all over California but when he hit Newport Beach, "It was just the place to be, it is one of the most beautiful beaches you'll ever see." So, he moved west in 1978.
"My younger brother, Howard, who attended law school at Western State University in Fullerton, California, had moved to Newport Beach before I came and shortly after, my older brother, Melvin, took a job nearby, so we were all there by the end of 1978."
One of Daniel's friends from medical school, who was also living in southern California, was part of a OBGYN group and recommended Daniel come on board. "In my interview, Dr. Ronald Schreier said, 'I like you, Daniel, but are you willing to forget everything you ever learned about the medical field and let me teach it to you the right way?' He became my mentor for the next 37 years and taught me everything, especially how <em>not</em> to get in trouble."
Over the next several years, that practice grew from four doctors to eight and they were servicing patients in five hospitals.
"In 1994, some of the doctors left the group and I started picking up the slack, maybe working a little too hard, and ended up with coronary artery disease. But again, I got lucky. I don't know who was watching over me but what I had, people don't survive. I had 100% blockage of the widow maker and a blocked collateral vessel that fed upstream.  The doctors wanted to do a bypass but my brother, Melvin, again with his influence, encouraged me to investigate Angioplasty."
Angioplasty was a new procedure that had a lot of risk attached, however, the physician who invented the procedure, practiced in Kansas City, so Daniel called him.   He flew out to Kansas City to visit the Mid America Heart Institute.  The clinic requested that they film Daniel's surgery because it was such a unique lesion.  "After the procedure, the surgeon pointed his finger at me and said, 'You slow down!'. Daniel never went back to the operating room after that day, he practiced office gynecology and passed patients who needed surgery off to one of his other partners.
"In 2003, I was running my own office when one day, I had an interesting patient challenge me to do Botox so she could get her Botox done in my office and not have to visit another doctor. So, I went home and talked with my brother."
Daniel and Melvin agreed it was a great idea. He took a few classes and was able to shadow the top ranked injectors in the country.  For the next three years, he promoted Botox and fillers to his GYN patients. However, in 2016, the cost of running the office by himself became too prohibitive and he made the choice to close.
As luck may have it again, when he told the Botox sales representative that he was closing the office and retiring, the representative contacted the Beverly Hills Rejuvenation Center who had one office in Los Angeles and one in Newport Beach. The centers needed a doctor on staff who had a medical license, which encompassed a DEA license, that allowed them to sign prescriptions. This would give the center an opportunity to offer a more variety of services to their customers.
From 2016-2019, Daniel was an injector three days a week with no night calls, an easy job, and something he could do for a long time. Then, the medical director of Beverly Hills Center in LA asked if Daniel would want to be medical director. His brother told him he should do it!
"There wasn't a lot I had to do; they just needed a medical director to be considered a legit clinic. At one point, I was the was medical director of six of the Beverly Hills Rejuvenation Clinic locations."  That number moved down to four clinics after the pandemic and he is currently medical director at two of the locations, reporting to an office one day per month.
"My profession is very rewarding. There is a big psychology component of this business, I really got good at counseling patients, they would come in upset and leave with a smile."
Daniel's mother continued living on the east coast until she died from rheumatic heart disease at age 55.  Daniel and his brothers are all still in the Newport Beach area and Daniel's son recently graduated from Arizona State University.
"I am extremely grateful that Morris Harvey College took a chance and granted me admission to their bachelor program in physical and health education in conjunction with a teaching credential.  Without this platform, my life would have undoubtedly taken a far different direction."