Ashley Mellert, '16, UC Faculty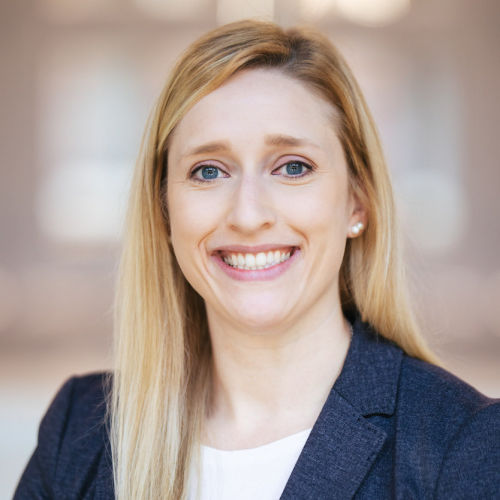 It is always special when we have stories that showcase our university's history and how it can span over generations of a family. Let us introduce you to Dolly and Ashley.
Ashley Mellert, originally from Woodstock, VA, came to UC as a graduate student. She and her husband, Matt, completed their undergraduate degrees at Emory and Henry College in 2016.  Their romance began several years earlier and shortly into their relationship, Matt brought Ashley home to Ripley, WV.
There, Ashley was welcomed into the Mellert family and introduced to Dolly Withrow, Matt's grandmother. "Dolly had all grandsons until I came along. She was so excited to have a girl in the family and referred to me as her granddaughter from the moment Matt and I were engaged.  We call her "Grammar" because she was an English professor.  She is quick witted, the life of the party, and calls the deer, skunks, and chipmunks on their property friends."
Ashley had an interest in enrolling into a Physician Assistant program after completing her undergraduate degree. During a visit to WV, she discovered UC had a new PA program and Matt became her tour guide to Charleston and our campus.
"The first day I came to UC was a beautiful fall day, I just fell in love with the river and scenery.  It was exciting that I would be part of only the second cohort of the program and the January start date meant I wouldn't have to wait another six months to begin grad school."
Ashley completed the UC Physician's Assistant Program in 2016. After graduation, Ashley took a position with primary care physician, Dr. Paul Kuryla, who was her first preceptor through the UCPAP. She worked with him for almost five years and during that time became an UC adjunct professor.
"I helped with a course called "Patient Center Care." We have actors come in for the students to role play with and we teach them how to be good providers. Now that I am a full-time professor, I am the director of that course." We were lucky to have Ashley join the UC faculty full time in 2021.  She and Matt live in Winfield with their two little girls.
"Now that I am an educated and a working mom of two, I can really appreciate Grammar's (Dolly) career story. She didn't get her degree until she was in her 40s and started her teaching career later in life. She is so inspiring. We have a mutual respect and awe for each other as women who can raise a family and find success in our career."
Dolly served as an English professor at West Virginia State University for 16 years. She also taught writing classes for the University of Iowa's Summer Writing Festival.
Her books, More than Penny Candy and Beyond the Apple Orchard include creative nonfiction stories set in West Virginia.
Withrow also served as a columnist for the Charleston Daily Mail and Jackson Herald. She won national writing awards and numerous awards for her columns in the West Virginia Press Association's competition. West Virginia Public Radio aired her essays for three years.
Dolly wrote the following story and shared it with us recently. Please enjoy a sample of Dolly's writing talent and a small piece of UC history.
Singing "Happy Birthday" to Loretta Lynn
by
Dolly Withrow
The day that scholars, readers, and celebrity fans had long anticipated had finally arrived. West Virginia's Appalachian Festival was held annually on the Morris Harvey college campus (now University of Charleston). Dr. William Plumley had invited none other than Eudora Welty to attend as the Festival's featured guest.
Working with Bill Plumley during several festivals, I know his letters inviting famous individuals weren't so much written as they were artistically created. I can still see him pacing back and forth in his office as he searched to find precise words and perfect phrases that would work their magic to persuade an icon to visit the heart of Appalachia, where the celebrity would be presented the Appalachian Gold Medallion (also created by Plumley).
To say he was successful bringing in well known writers, actors, and singers is an understatement. A few of his special guests traveling to the campus include Richard Thomas (who played John Boy in the televisions series The Waltons), Earl Hamner, Jr. (the show's writer), Pearl Buck, Loretta Lynn, Patricia Neal, Jesse Stuart, Martin Sheen (Charlie Sheen's father), Gloria Steinem, Clyde Ware, Billy Edd Wheeler, Davis Grubb (WV author of The Night of the Hunter and many other books), Louise McNeill Pease, Muriel Dressler, Will Geer,  Lee Smith, Jayne Anne Phillips, Annie Dillard, Robyn Eversole, Jack Palance, Edward Albee, Allen Ginsberg, and Lawrence Ferlinghetti.  Wow! And that's only a partial list.
The day Eudora Welty came to receive the Medallion was perfect.  April sun slanted through budding foliage. Sauntering away from the parking lot and toward a building, I entered and soon saw her. Eudora Welty was in a room with people milling about. I approached her and introduced myself. She invited me to sit beside her. As we chatted, I mentioned that I had often taught her short story "A Worn Path" to my college students. I recall how modest she was. She thanked me for teaching her work.
That evening, I attended a banquet in her honor. Sitting with Welty's family and friends at a large table, I heard a man say, "Poor Eudora. She never married you know." I couldn't believe someone would think of the great southern writer as "poor Eudora." Clearly, the talented author was married to her work, and because of that, countless readers gained new insights into human behavior and motivation. Whoever made that inane comment did not view Welty in the same bright light as did those of us who had long admired her fiction. Scholars still name Welty as one of the greatest of Southern writers.
When Loretta Lynn came to Charleston at Plumley's invitation, I worked with him. Lynn's manager told Plumley that Loretta would not be attending the Festival. Plumley's health was not good, for he had recently suffered a stroke. I thought he was going to have another one because he had already sent out publicity announcements. How could he possibly backtrack when Loretta Lynn had assured him she would attend? When Plumley left to teach a class, I called Loretta Lynn's home. Her husband answered the phone, and when I explained the problem, he said, "Wait. I'll let you talk to Loretta."
When I told her what had happened, she said, "You tell Dr. Plumley I will be there." She arrived, and a banquet was held for her. It was on April 16. If memory serves me accurately, it was her birthday.
I went to a small bakery in Nitro where I ordered a cake. The owner asked if she was the Loretta Lynn. I assured him she was. When I went to pick up the cake, he had drawn a frosted image of a guitar on the huge sheet-cake, and the guitar had her name on it. When I asked what I owed, he said, "Nothing. That's my gift to Loretta." That evening at the banquet, Muriel Dressler wheeled a cart holding the cake to the speaker's table and presented it to the country music star. Then we all sang "Happy Birthday." Fortunately, my voice was drowned out by the sounds of music. Loretta Lynn died on October 4, 2022, but her songs will live on, and she will be long remembered.
These stories are a vital part of the University of Charleston's history. One day later, I saw Dr. Ed Welch, the president at the time, and I told him he had continued to make the university shine with its new programs, successful graduates, and meticulously kept campus.
It was the same day I attended the hooding ceremony where Ashley Ebersole, my soon-to-be granddaughter, spoke and received her hood. The following day, she graduated from the university's Physician Assistant program, another program that had begun under Dr. Welch.
Ashley was invited to speak because of her academic excellence. She would never say that, but I knew. I was and still am so proud of my granddaughter, now Ashley Ebersole Mellert. She married my oldest grandson, and she is a part of the history of the University of Charleston, right along with Loretta Lynn.
---