Jean G. Farmer, '89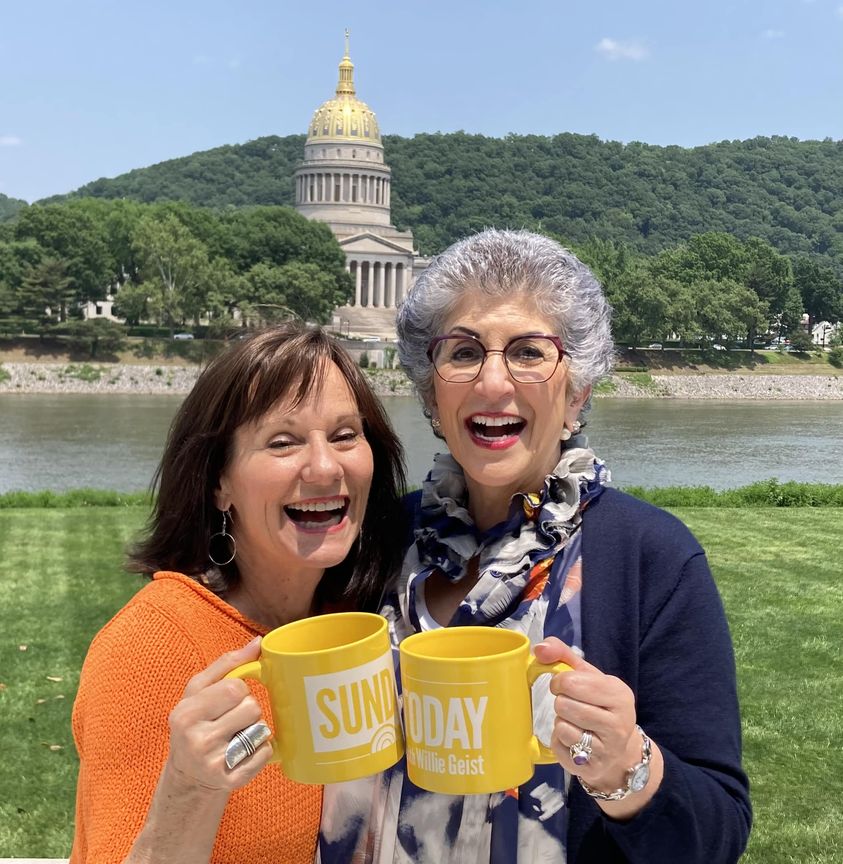 Jean G and Donna could be famous! Well, at least have their 30 seconds of fame…maybe.
Jean G. Farmer, class of 1989, and current Florida resident paid a visit to her best friend Donna Hamra a couple of weeks ago. "We've been friends for a long time, and I had not seen Donna in two years. We take turns visiting each other and it was my turn to come to Charleston. When she picked me up, she said, 'I have a surprise for you, and it may or may not give us national exposure.' She has the most fun ideas and I enjoy playing along."
Donna, a fan of "Sunday TODAY with Willie Geist", gifted Jean the very TODAY Show mugs as seen in their picture and they headed to UC for a mini photo shoot! Our swing with the capital building in the background is one of the most Instagram-able spots in West Virginia after all! The television show encourages viewers to take their "mug shot" and submit them to be featured on air. Be on the lookout for these lovely ladies posed with their mugs on the UC Lawn.
Our Golden Eagle, Jean G, graduated from UC in 1989, earning a bachelor's degree in interior design. She worked in commercial design for five years before she began her 20-year career in banking.
Jean remained a Charleston resident until 2000 when family matters influenced moves to Toledo and Marietta, OH – her hometown. "When we (Jean G and her husband) moved to Marietta, I was able to find a career that incorporated my love of the arts and worked as the Marietta Main Street Executive Director. I loved that job."
Caring for family members would move Jean G and her husband again in 2014, this time to Florida. "When we were making the decision to move to Florida, one of my big questions was, 'What is the art scene like there?' As I was investigating, I found The Village of The Arts and it was only two miles from where my dad was living." The Village of the Arts is a live-work community made up of specialty shops, restaurants, art galleries, and more in downtown Bradenton, FL.
"In 2015, I opened Fun Girl Art in The Village. It is open the first Friday night of every month and on Saturday. I don't love the retail part of art, but to me, it feels like a party once a month."
The Fun Girl Art name was inspired by a collection of rusted metal sculptures Jean G had completed when she was still living in Charleston. "I started out doing rusted metal sculptures for Tamarack in Beckley. I was working as a banker, but Tamarack was just opening and looking for artists. So, I took one of my metal pieces to show and they ordered twelve of each of the four designs. It put me in business, and I could afford to buy my own plasma cutter. I've been making metal art ever since. The sculptures were called the Frolicking Female series and that is kind of where the Fun Girl name came from."
Jean G has also found a career in Florida that truly suits her. Her current title is Public Art Coordinator for the Community Redevelopment Agency of the city of Bradenton. "I have been here a year and a half, and established a new public art advisory board. The very first project we started working on is for Mineral Springs Park at Riverwalk East. It's a beautiful passive park that has been recently finished except for the public art.
"In November last year, we did a nationwide call for artists and included the Bahamas because of the history of the community. We received 119 entries from across the country, narrowed it down to three that were presented to us last week, and chose one that will come back with a finalized design. Hopefully, by the end of the year, we will have a wonderful piece of public art in the park."
"I love the art scene in Charleston, too. Last week, Donna and I went to lunch, and we asked a friend who the public art coordinator is for Charleston. She pointed us in the direction of Jeff Pierson's office. Donna and I went right on over there and it was great meeting him! He gave me a wonderful idea for a mural. We haven't done very many of those here and Charleston is full of beautiful murals. I also got to be in town for Art Walk, which I loved."
Art is part of Jean G's soul. She lights up when she talks about her gallery, the public art projects, and the bottle cap pieces she completed while living in Florida. It's always exciting to see alumni working and living with a true passion for what they do. Congratulations on all your success, Jean G!