New Student Orientation
Getting started on your UC journey.
Attending our New Student Orientation program is a crucial first step toward academic success as a University of Charleston student.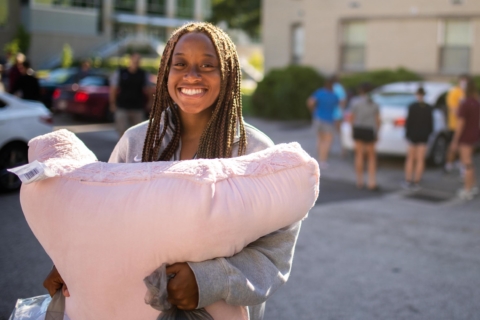 Freshman and transfer students will have orientation programs scheduled to enable them to integrate quickly into UC life.
We welcome parents and families to attend the Freshmen Induction Convocation on the Friday of New Student Orientation in the Riggleman Hall Auditorium. During the Induction Convocation, our new freshman students will be officially welcomed to campus by the President and will learn more about their experience as a student at UC.
During Orientation students will begin their University course, socialize and meet their classmates, and also meet many of our returning students.
Our goal during Orientation is to help students be more prepared for their first day of class and learn all about being a student at the University of Charleston.
Orientation Schedule  (to come)
Week of Welcome
University of Charleston Orientation and WOW (Week of Welcome) will begin with new student move-in on Friday. Commuter and residence hall students and their families are invited to attend the Freshman Induction Convocation followed by a special dinner on campus in front of Brotherton Hall.
All new students are expected to attend Orientation, as well as all other mandatory events marked in yellow on the orientation schedules you will receive. All of these sessions are designed to help ease the transition into your first year at UC, and most of them are a lot of fun. There will also be several social events throughout the weekend and during your first week of classes that you are highly encouraged to attend.
EagleFest takes place the first Monday of classes, and features a picnic dinner, music, free t-shirts (and who doesn't love a free t-shirt?!) and lots of activities on our river front lawn. Past years have included paddleboarding on the river, volleyball, bubble ball, game trucks, photo booth, inflatable obstacle course, and more.
If you have questions about Orientation, please contact Virginia Moore at virginiamoore@ucwv.edu.
---