Transfer Information for Urbana University Students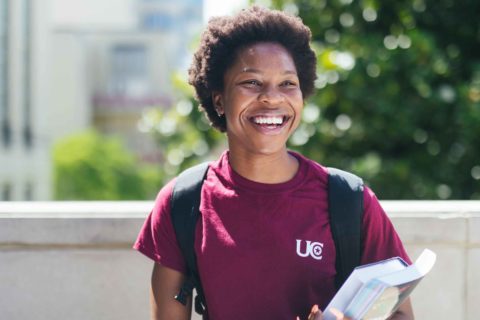 Message from the EVP for Enrollment Management
Our hearts go out to the students, faculty, and staff of Urbana University who are having to say very difficult goodbyes in the midst of an already challenging time. As someone who went through the transfer process as an undergraduate student, I know that it can be a difficult process, even in the best circumstances. The faculty and staff of the University of Charleston hope to make this process a little bit easier for the Urbana students who may want to make UC their new collegiate home.
The University of Charleston and Urbana University have entered into an agreement where we have established clear transfer pathways for Urbana students majoring in:
Elementary Education
Elementary Education & Special Ed.
Elementary Education & Early Childhood Development
English
Environmental Science
History-Political Science Dual Program
Secondary Education & Special Ed.
Students in these degree programs can easily see how their Urbana credits will apply to UC's degrees in similar fields through the resources above.
Urbana students majoring in other degree programs may be considering UC, particularly for athletic opportunities. Please note that students from all degree programs are welcome to transfer to UC, and our Student Solutions Center will evaluate your transcripts through our standard transfer process.
All transfer students will be considered for UC academic scholarships based on their Urbana GPAs according to the following scholarship award structure. There are no separate scholarship applications needed to receive these scholarships.
| GPA | Award Amount |
| --- | --- |
| 4.00+ | $20,000 |
| 3.99 – 3.50 | $17,000 |
| 3.49 – 3.00 | $13,000 |
| 2.99 – 2.50 | $10,000 |
| 2.49 – 2.25 | $5,000 |
You may begin the application process online. Enter code WINGSUP on the check out page for your application fee to be waived.
Request to have your Urbana transcript sent to the University of Charleston electronically at admissions@ucwv.edu or by mail to University of Charleston Admissions, 2300 MacCorkle Ave SE, Charleston, WV 25304.
Submit your FAFSA to UC by using our school code: 003818.
Once you choose to attend UC, email elizabethwolfe@ucwv.edu to request a waiver of the enrollment deposit. This is one small way we can make the process easier for you.
After your enrollment deposit is waived you will be registered for fall classes and receive information on applying for campus housing.
If you have any questions about UC, the admissions process, financial aid packaging, academic programs, or transfer credits, please contact our Office of Admissions at 304-357-4750 or admissions@ucwv.edu and we will connect you with the appropriate contact on campus.
We are sorry that your college experience is taking an unexpected turn. If that turn leads you to UC, we'll be here for you.
Wings Up,
Beth Wolfe, EdD
Executive VP of Enrollment Management
---