UC Bands Highlight (January 2021 Alumni Newsletter)
The University of Charleston, at one time, housed and staffed one of the leading music conservatories in the Mid-Atlantic and Ohio Valley Regions. As UC has grown, so has its identity, academic focus, and athletic programs. To continue that growth, in the Fall of 2018, the University Cabinet held a preliminary meeting to restart the band.  In December of 2018, the Dean of Students, Virginia Moore, hired John Christian to rebuild the program. "Building a program from scratch is easy, but rebuilding a program is difficult. It's been an exciting 18 months," says Christian.
Recruiting is essential to building a new band and Christian had visited over 100 high schools from January of 2019 to March 2020 when the pandemic forced the visits to stop.  Each year, the goal is to attract 15-25 quality students who play band instruments, dance, spin flags, or twirl batons. The band wants to attract students who have a passion for music, but not necessarily a call for it as a vocation.  "This year we have students from Hawaii to the Virgin Islands," says Christian, "these band members are future patrons of high school programs, the symphony orchestra, jazz clubs, religious entities, and other music organizations."
The UC Bands include a Pep Band for athletic events with 12 planned performances, and a Symphonic Wind Ensemble performing 2 concerts.  All events are Covid-19 protocol permitting.
Christian is working on his goal to grow the program. "As the Director of University Bands, I have many short- and long-term goals," says Christian. In the short term, he is working with The College of Arts and Sciences to create a 21st Century Music Minor that will attract quality students who want more than their high school experience.   In the long term, Christian says, "I am hopeful that by the Fall of 2025 we will have an active Marching/Pep Band, a Jazz Big Band and our Symphonic Wind Ensemble populated with 80 students sharing their talents with the UC community."
"As the University of Charleston Bands, we will strive to make our alumni proud by creating quality music, engaging the UC and greater Charleston communities, and offer opportunities to undergraduate/graduate students to share, explore, and improve their musical abilities," says Christian.
Most people would be surprised to learn that 45% of music students who participate in a higher education music department are students who do not declare music as a major.  UC would be a great fit for a student who wants to participate in a collegiate band while pursuing a degree in a separate field. Scholarships are available for band students no matter their major.  Students can apply for these scholarships by contacting the band office and then submitting a video for consideration.
Although the pandemic has hindered the band's goals, they have some exciting events happening in the new year.  They are currently in the middle of a master class series and February's calendar holds a spot for the Dance Team clinic with the Tennessee Titan Dance Team.  All of the Masterclass Series events are free and open to the public. Please contact Director Christian to register for these events.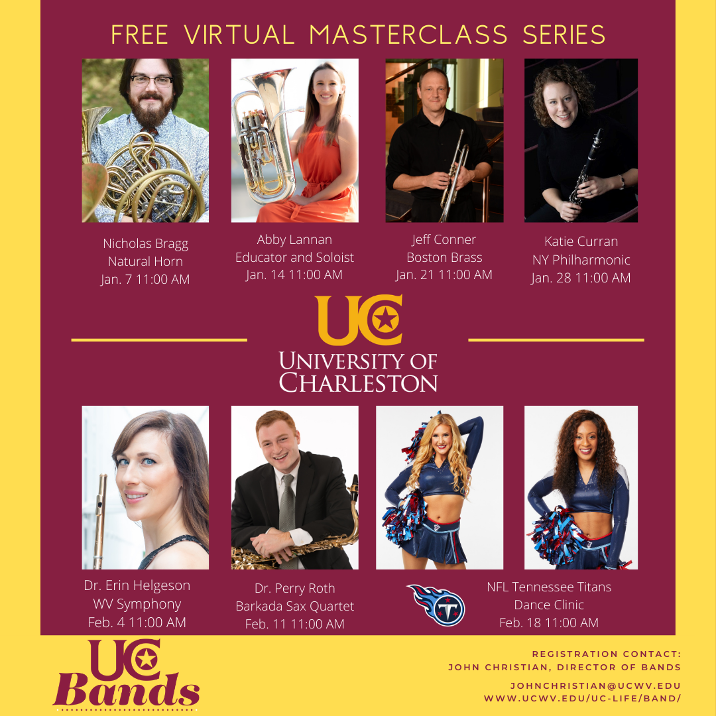 ---