Profile: Daniel Smee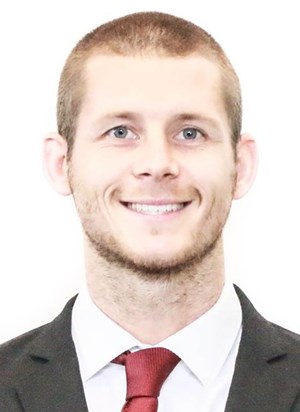 Daniel Smee was named Head Coach of UC men's soccer program in January of 2020. Of course, Coach Smee was no stranger to the program – he served for the three previous seasons as an assistant under then head coach Dan Stratford.
In making the announcement, UC Athletic Director Bren Stevens said, "Coach Smee has been a vital contributor to the successes that our program has enjoyed. He is a brilliant soccer technician, and his ability to build remarkable and lasting relationships with our players has been extraordinary."
Smee, a native of Newcastle, England, has played both professionally and at the collegiate level at West Virginia Wesleyan. He began his coaching career while pursuing his graduate degree at Slippery Rock University.
And he steps into the Head Coach position at a particularly challenging time. As he says, "It has been an interesting first seven months as Head Coach, that's for sure!"
While a global pandemic has certainly turned the athletic world upside down, Coach Smee is philosophical about it.
"The pandemic has, of course, made things more difficult than I would like but I am not one to stew on things out of my control", he explained. "The coaching staff, student-athletes, and University as a whole have done a great job in getting us to where we are today so we will continue to move forward."
To make sure his student-athletes are kept engaged, he has done a lot of Zoom meetings, including trivia, quizzes, research projects, group work, and hopes to improve with even more creative options in the coming months.
And despite restrictions on in-person recruiting, he is pleased with the recruiting class for the 2020-2021 academic year.
"Our team has been great through this whole process," Coach Smee says. "I can only imagine how I would have behaved if this would have happened when I was a student-athlete. The majority of our lads have acted maturely and professionally since March and I'm sure will continue to act this way in the future."
As for the future? He says, "The second National Championship in December was great – the pinnacle – and I was and still am excited to be taking over this prestigious Program and hopefully helping it win many more."  We're with you all the way on that one, Coach!
To see highlights of last year's championship season, as well as other fun videos, you can visit their YouTube channel: https://www.youtube.com/channel/UCYlFQDEfg4KGyiKKrx9feBA
---