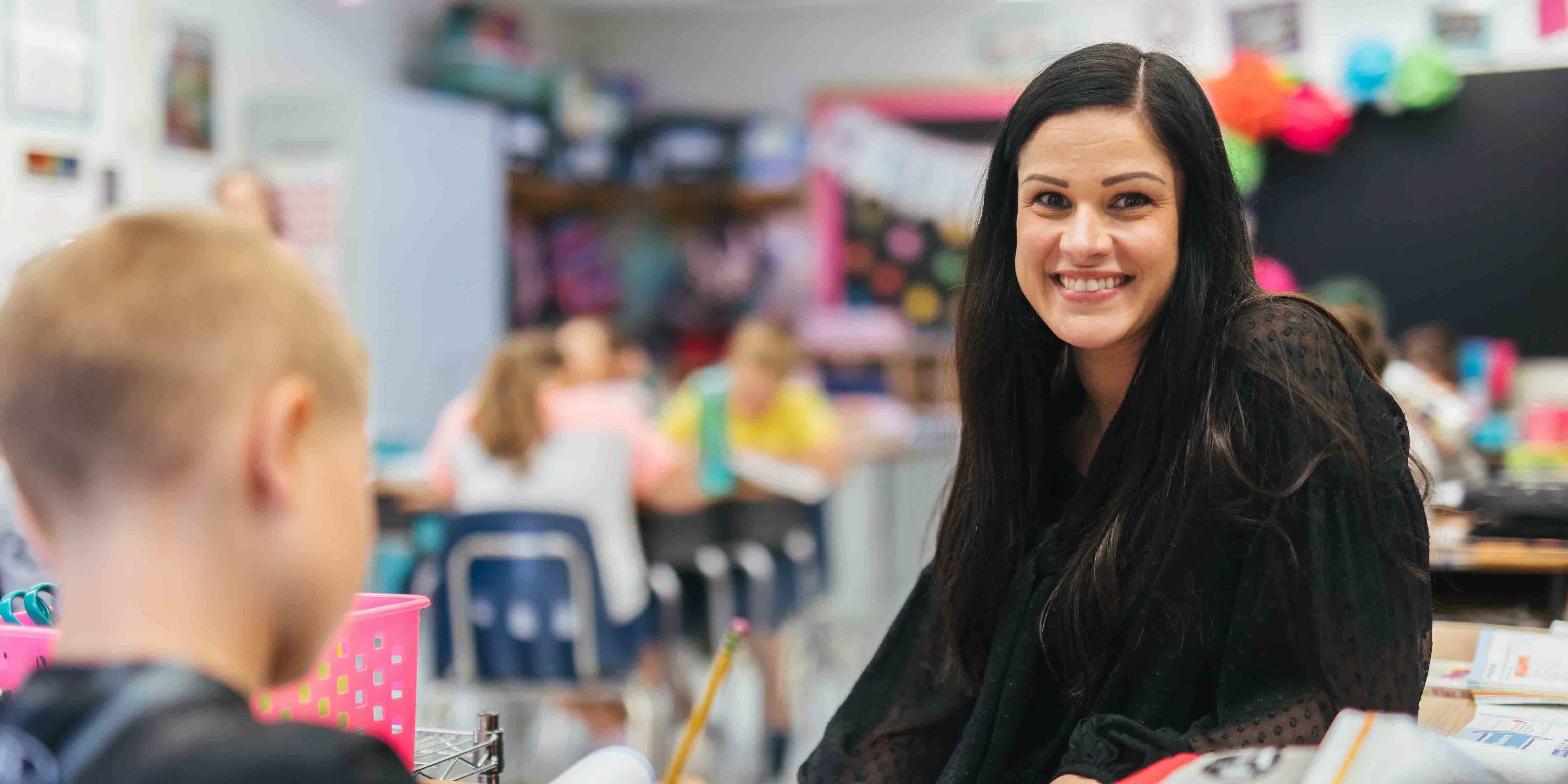 Elementary Education
4 Years

In-Seat

Charleston
Program Overview
You will learn the skills necessary to be certified to teach in an elementary classroom for grades Kindergarten through 6th grade. Our education faculty will provide you with the opportunity to develop the knowledge, skills, and dispositions to become an effective educator and classroom teacher.
You can add options to your programs for dual certifications, double majors, or minors to increase your marketability and focus on career goals.
Program Highlights
Student-athletes thrive in our programs, and we work to ensure our program schedule fits with your active practice schedules.

Field experience begins freshman year to help you have a successful college experience.

Our experienced faculty range from award-winning teachers and administrators, to National Board Certified Teachers and curriculum specialists.

Small classes encourage participation and offer a supportive atmosphere.
Program Outcomes
Careers and Beyond

Upon graduation, you are qualified to teach in a public or private school setting based on your certification and grade-level area. Our graduates have become teachers, administrators, curriculum specialists, and state department of education employees.

Our graduates go on to attend programs across the country to obtain master's degrees and beyond.

Many graduates work in the following states:

Connecticut
Florida
Illinois
Kentucky
Maryland
Ohio
Pennsylvania
Virginia
West Virginia
Meet the Faculty
Meet the Faculty
Becoming a teacher is a serious endeavor. To be admitted to the program, you must first complete the requirements necessary to be formally admitted to the education department by the end of your sophomore year. Later in the program, you will need to apply to the state to student teach. There are also required comprehensive exams.
To be admitted to the Department of Education, you must first be admitted to the University of Charleston.
After you have gained general admission, and decide to apply to our Department of Education, you'll need to take courses during your first two years that both meet our Liberal Learning Outcomes and satisfy our Education core requirements.
To be officially admitted to the Department of Education, you must:
Have completed 60 hours of coursework by the end of the semester in which you apply
Have a GPA of at least 3.0 in professional education courses, content area, and overall (certification area degrees)
Have a GPA of at least 2.75 in professional education courses, content area, and overall (non-certification area degrees)
Have passing Praxis Core (reading, writing and math) scores on file (or an ACT score of 26 or above or SAT score of 1170 or above). Not required for non-certification degrees.
Complete all freshman-level portfolios (COMM 101 and 102, SPCH 103, UNIV 101 and 102 or UNIV 203 if a transfer student) with passing grades
Complete the Application for Admission to the Education Program and Panel Interview while taking EDUC 299, Theories of Learning and Teaching
Participate in the Admission to the Education Department Process, which includes an interview conducted by Arts and Sciences faculty and public school educators
Submit portfolio before panel interview including:
Letter of introduction
Current resume
Sample lesson plan
Philosophy of education
One field experience evaluation
Professional learning experience artifact and reflection
Technology work sample
Work sample from an Arts & Sciences course
Upon completion of the Education Department admissions process, you will either be fully admitted, provisionally admitted or denied admission. You will have two semesters to clear any deficiencies.
Additional Information
Curriculum and Course Catalog
Our education programs are accredited by the Council for the Accreditation of Educator Preparation (CAEP) and the West Virginia Department of Education.
To be eligible to enroll in student teaching or internship, the candidate must meet the following requirements:
Receive full admittance to the Department of Education.
Submit application approved by the Chair of the Department of Education within the first month of the semester before the planned student teaching experience (See application link).
Complete a minimum of 96 semester hours of appropriate credit with an overall 3.0 GPA if earning a certification area degree or overall GPA of 2.75 if earning a non-certificate area degree.
Complete at least 3/4 of the total course requirements in a teaching content area plus EDUC 320, Integrated Methods course.
Complete all required professional education and teaching specialization courses with no less than an overall 3.0 GPA if earning a certification area degree or overall GPA of 2.75 if earning a non-certificate area degree.
Take and pass the Praxis Core exams (reading, writing, math) and any Praxis II content exams required for your certification area; candidates must also pass the Praxis Principles of Learning and Teaching (PLT) exam to graduate.
Obtain Unit (Division of Arts & Sciences) approval to student teach.
Demonstrate competence in the content specialization as indicated by performance on the PRAXIS II: Subject Assessment Test(s) and the Principles of Learning and Teaching. To graduate passing scores must be received no later than the end of the clinical practice semester (not required for non-certification area degrees).
Meet all criteria to obtain the required Student Teaching Permit from the West Virginia Department of Education (not needed for non-certification area degrees).
Note: Candidates seeking a certification area degree cannot be concurrently enrolled in student teaching and have recorded deficiencies in any academic course work or be trying to retake Praxis Core measures that were previously failed. Candidates seeking a non-certification area degree cannot be concurrently enrolled in internship and have recorded deficiencies in any academic course work.
Classes are offered on a rotational semester basis for all education program areas (Elementary Education, Elementary/Special Education, Secondary Special Education, and Elementary Studies and Child Development). Due to uncontrollable circumstances, this rotation schedule may change for a variety of reasons (e.g., course no longer offered, low enrollment, rotational change).
Also, candidates who seek to complete their major program area in less than four years must accept responsibility for monitoring their degree plans and should plan to meet with content faculty on a semester basis. If a student fails or drops a course or fails to take a recommended course in the rotation, it will be challenging to accomplish this goal of early program completion.
Transfer students should also be aware that courses may not always be available on their timeline.
West Virginia Student Education Association (WVSEA)
This association consists of education students who desire to pursue a career in education. The purpose of this association is to help future teachers develop an understanding of the education profession, stimulate high ideals of professional ethics standards, and attitudes, and engage in community-wide service projects. UC students can join free of charge, and meetings occur in the fall and spring semesters. UC's SEA sponsors all Education Program Professional Development. See www.wvea.org for more information.
Education Student Advisory Council
This Council consists of freshman, sophomore, junior, and senior education majors from different program areas. The purpose of the Council is to provide a student voice for Education Program improvement and serve as Education Program Ambassadors in a variety of capacities. Council members are selected by the Education Program Coordinator and existing Council members on their strong academic record and possessing and demonstrating positive dispositions in and out of classes.
Educational Professional Preparation Advisory Committee (EPPAC)
EPPAC is composed of public school teachers, school administrators, students, graduates, and Arts & Sciences faculty, and other community representatives who meet one time every semester to review program changes, policies, and procedures as well as to make recommendations about the program. The faculty select education Program students based on their academic record and positive dispositions.
UC students have the opportunity to apply and work in the ASC during the fall and spring semesters. The ASC provides all UC students with guidance and feedback on their written and oral communication skills and offers workshops in a variety of communication areas.
Impact Measures (CAEP Standard 4)
Measure 1: Impact on P-12 Student Learning and Development (Component 4.1) 
The state has not yet provided impact data. WVTPA scores are consistent from year to year (candidates are expected to be at the "Emerging" level).
Measure 2: Indicators of Teaching Effectiveness (component 4.2)
Measure 3: Satisfaction of employers and employment milestones (component 4.3)
Employer survey data from 2015-16 is available. UC is awaiting more recent survey data from the state to address this measure.
Measure 4: Satisfaction of completers (component 4.4)
Measure 5: Graduation Rates
Measure 6: Ability of completers to meet licensing (certification) and or any additional state requirements
Measure 7: Ability of completers to be hired in education positions for which they have been prepared
Measure 8: Student loan default rates and other consumer information