Admissions
How to apply, what to expect, and what you need to know about applying to UCSOP
At the UC School of Pharmacy, it's not about your score or grades… it's about your dream.
There are many factors to succeeding in pharmacy school, and every pharmacy student is different.
While grades and test scores can be important, we prefer to take a more holistic approach – a broader view of everything you have done, what your goals are, and how passionate you are about pursuing a career in Pharmacy.
If pharmacy is your dream, talk to us. We can't make any guarantees of course, but if you think you can't get accepted to pharmacy school because of your test scores or your grades, find out more about us… so we can find out more about you.
PCAT, GRE, MCAT or DAT scores accepted
No Supplemental Application fee required
Not quite ready for Pharmacy School? Learn more about our undergraduate Pre-Pharmacy or Pharmacy Direct programs to start you on your path.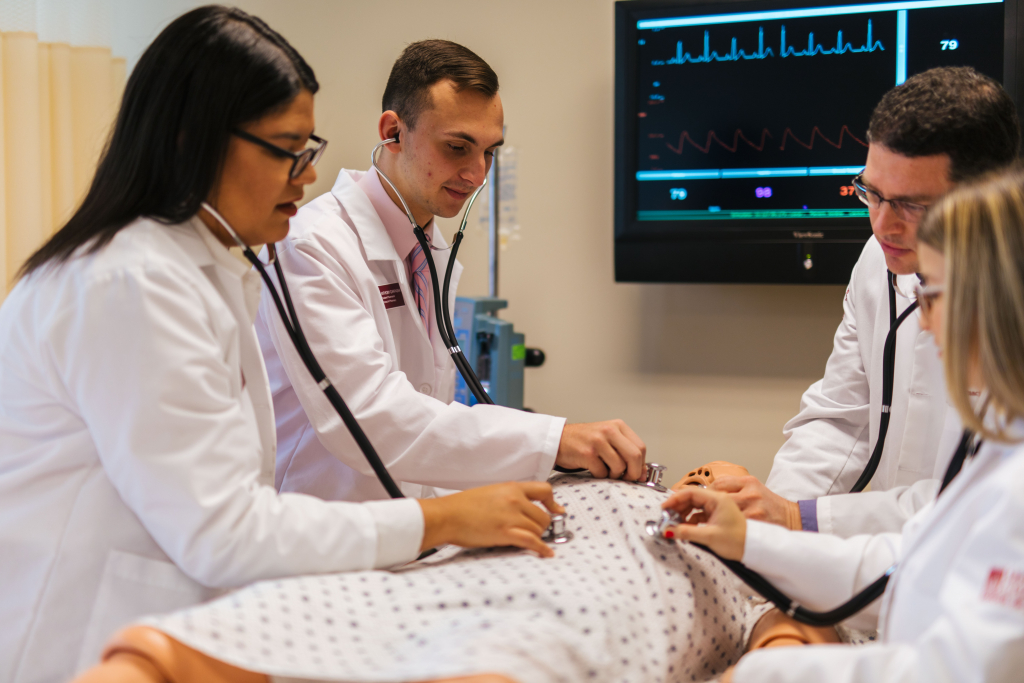 Frequently asked questions about the UC School of Pharmacy program:
The professional program takes four years to complete (beyond the completion of 63 semester hours of pre-pharmacy/pre-requisite coursework prior to admission) and is comprised of both classroom and experiential (workplace) learning experiences.
The professional program is 149 semester credit hours over four (4) academic years.
No. You will not need to purchase a computer before you enroll. The School of Pharmacy will provide a MacBook Air to student pharmacists via a leasing program. This will include all software necessary for the program. The cost is included in your tuition and fees, and you keep your computer upon graduation.
Yes. Faculty will be facilitating teaching and learning via technology within a wireless environment. To ensure that students get the most out of the teaching and learning process, every student is required to participate in the technology program included in the cost of tuition.
Tuition for the 2019 – 2020 academic year is $32,600. This does not include room, board, books, or living expenses. Fees will be $1350.00 for 2019-2020.
We will be accepting applications for the professional program beginning in the summer. You must apply through PharmCAS (www.pharmcas.org) and the supplemental application. The University of Charleston School of Pharmacy utilizes a modified rolling admissions process in which qualified students are invited for on-campus interviews beginning in October. Offers of admission to the School of Pharmacy begin in October until all seats in the class are filled. Prospective students are encouraged to apply early.
C's graduate students live in East Apartments, a four-story apartment across the street from the School of Pharmacy. East Apartments offers four types of apartments :
One bedroom/shared (1 person or married couple, 828 square feet)
Two bedrooms (2 people, 774 square feet)
Four bedrooms (4 people, 1,245 square feet)
Each apartment is fully furnished, with a couch, two chairs, two end tables, television stand (will accommodate a flat-screen or regular style), twin-sized bed with extra-long mattress (one-bedroom apartments have a queen-size bed), one closet in each bedroom (one-bedroom apartments have two closets), three-drawer dresser, desk, desk chair, refrigerator, stove, microwave, kitchen table, and four chairs.
Four-bedroom units have a walk-in closet, coat closet, and two bathrooms
All utilities are included (electric, water, trash, sanitation, basic cable, internet (wired and wireless), and local telephone service.
Two coin-operated laundry rooms are located on each floor
Two trash rooms are on each floor
Parking space inside the parking garage
Several study lounges on each floor
Multiple building entrances (entry by student ID access card only)
East Apartments has five staff members that include a Resident Director and four Community Assistants. Staff is available to assist residents with maintenance needs, lock-outs, signing of the lease, and check-in/check-out procedures. Students can choose a 9-month or 12-month lease option.                      
| East Apartments | Academic Year* | Semester | Summer Rates/Month* |
| --- | --- | --- | --- |
| One Bedroom | $9,000.00 | $4,500.00 | $900.00 |
| Efficiency | $8,500.00 | $4,250.00 | $850.00 |
| Two Bedroom | $7,880.00 | $3,940.00  | $788.00 |
| Four Bedroom | $7,530.00 | $3,765.00 | $753.00 |
*Monthly apartment rates apply to summer months (May 15 – August 15)
*Academic year rates apply to a 9-month lease (August 15 – May 15)