About the PA Program
The University of Charleston Physician Assistant Program was established in 2013 with the goal of educating compassionate, skilled caregivers who were ready to practice in a variety of settings.
The program is rigorous and challenging, serving as preparation for students to competently provide medical care in the primary care setting. The program strongly values utilizing innovative educational methods, using a variety of approaches beyond the standard lecture, including case-based, problem-based, and team-based instruction.
What makes our program different?
Pass Fail System
The UC PA program utilizes a pass/fail grading structure, which helps build a culture where students strive to support their classmates, rather than trying to outperform one another. This embeds true collaboration into our curriculum, with students providing and receiving the benefits of teamwork.
Integrated Medical Curriculum
We integrate critical skills – clinical medicine, diagnostic skills and pharmacotherapeutics – into specialty-based modules instead of teaching them separately. These modules enhance your learning and retention.
Details of our program curriculum are available here.
Active and Collaborative Learning
Our program uses a variety of approaches to facilitate active and collaborative learning.
Through our Patient-Centered Care series of courses, simulated clinical experiences with standardized patients and state of the art simulation mannequins are used to challenge students to develop clinical reasoning skills, think critically, enhance interpersonal and communication skills, apply evidence-based resources, and problem solve as clinicians and as members of an interdisciplinary team.
Reflective Practice Portfolio Project
PA school is fast paced and challenging. And to help our students truly become the exceptional professionals we know they can be, we challenge them to reflect on their knowledge and skill base to identify they strengths and weaknesses. They then develop a specific plan to address their weaknesses, carrying out their plan through their clinical year of studies. This project helps prepare our students to become well-rounded clinicians who have cultivated a pattern of self-reflection, which provides to be a major strength throughout their careers.
Clinical Rotations
Students complete eight rotations, including those central to developing primary care skills as well as an inpatient hospitalist and an elective rotation.
Physician Assistant Program Mission
The mission of the University of Charleston Physician Assistant Program is to prepare competent physician assistants who value and provide comprehensive, patient-centered, culturally sensitive primary care, and are committed to lifelong-learning, professional growth, community health, and caring for underserved populations.
Physician Assistant Program Vision
Our vision is to foster a culture of learning by employing innovative educational strategies and a team-based approach within a supportive environment and to provide an application-based curriculum centered on critical principles of health and disease.
Physician Assistant Program Goals
The goals of the University of Charleston PA Program are to:
Prepare students to competently provide medical care in the primary care setting
Foster a commitment to medically underserved populations
Promote active participation in the community
Prepare students to assume leadership roles within the PA profession
Cultivate an environment that encourages student involvement in supporting and sustaining the University of Charleston PA Program following graduation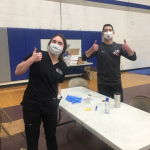 UC PA students participated in many outreach activities, including supporting the Kanawha-Charleston Health Department in its efforts to provide COVID-19 vaccines to the community.
In many sites, our PA students worked alongside our UC School of Pharmacy students, sharing their experiences and missions.
Kanawha County itself has offered its praise, tweeting "We've been honored to have the future of medicine from @UCWV Pharmacy School and Physician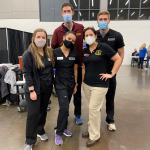 Assistant program on the frontlines. Thank you for all your dedication!"
PA students have also had the opportunity to participate in international health missions, local community health outreach programs, and more.
The University of Charleston
Charleston, West Virginia
The UC Physician Assistant Program is located on the campus of the University of Charleston, in the capital city of Charleston, West Virginia. It is situated on the banks of the Kanawha River directly across from the State Capitol Complex.
UC is a smaller, private school, with students from 40 states and US territories and 44 countries.
West Virginia, known as the Mountain State, is lush with green mountains, hills, and valleys. Charleston is the cultural hub of West Virginia with nightlife, live music, art festivals, unique restaurants and bookstores, yoga and fitness studios, and a minor league ballpark.
Recreation in the state includes skiing, hiking, mountain biking and whitewater rafting.
The Boathouse Outdoor Recreation Center, located on campus, provides students access to lawn games, bicycle and kayak rentals, and more.
For more about Charleston, WV, visit here.