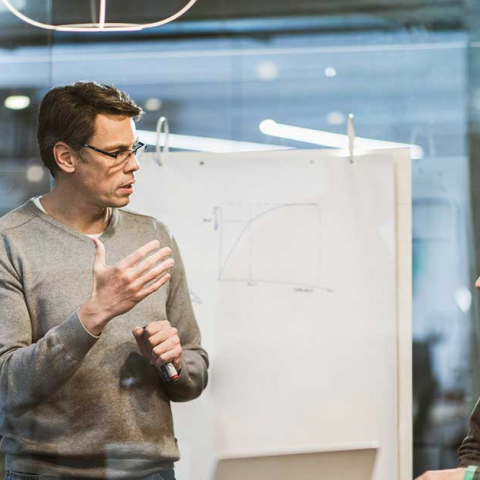 School of Leadership
UC can help you develop leadership skills that will serve you throughout your career.
Why UC for Leadership?
From motivating a team to effecting organizational change to promoting a new program to a board of directors, leadership skills enhance your ability to guide organizations. The School of Leadership will help you develop the strategic, creative, and critical thinking skills needed to lead in today's rapidly changing business world.
Smaller, cohort-based classes allow you to network with others, and our programs are specifically designed for working adults.
Career-Ready Skill Development
Through the School of Leadership, you will learn principles that are relevant to any field. You'll learn to lead in a variety of settings and roles, and how to inspire, drive change, and more.
Through real-world innovative learning applications, students bring new ideas and energy as leaders to solve leadership and organizational challenges. Our faculty share a wealth of professional experiences, providing real examples from which you can develop your own leadership skills.
The University of Charleston's School of Leadership programs are accredited by the Accreditation Council of Business Schools and Programs (ACBSP), a leading global accreditation body for business, accounting, and business-related programs at the associate, baccalaureate, master, and doctorate degree levels worldwide and is recognized by the Council for Higher Education Accreditation (CHEA).