SOAR (Student Orientation, Advising and Registration)
Get ready to SOAR as a Golden Eagle!
Student Orientation, Advising and Registration (SOAR) will help get you started on all things UC.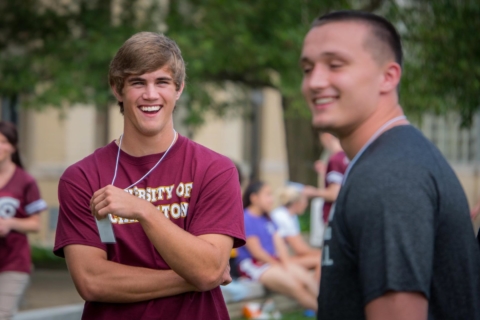 Dates for SOAR
Once you become a Golden Eagle, your next step is to attend a virtual summer Student Orientation, Advising, and Registration (SOAR) event that will be held via Zoom and will last 60-90 minutes.  Students will receive a link one week prior to the virtual session to view many different 5—7  minute videos that will orient you to life at UC and resources available to you.  Students will receive the link to the Zoom SOAR session the day prior to the event to their personal and ucwv.edu email addresses.
During your virtual SOAR session, you will be able to schedule an individual review session of your class with an advisor, virtually meet other new students and so much more!  New freshman or transfer students* enrolling for the Fall 2020 semester are encouraged to participate in a virtual SOAR event to take advantage of the opportunity to:
Schedule an individual session with a financial aid counselor
Learn more about the following programs and services during the UC fair:

Housing and Meal Plans
First Year Programs
ADA and Tutoring Services
Security and Parking
Technology
Clubs and Intramurals

Talk to current UC students about ways to get involved on campus and their campus experience
(*We are encouraging all transfer students to attend our July 18 event if possible.)
You must be admitted and have paid your enrollment deposit before you can register to attend a SOAR event.  If you have questions regarding your admissions status, please contact the Office of Admissions at 304-357-4750.
Parents are strongly encouraged to virtually participate in the UC SOAR event.
There is no fee to register for SOAR.
If you need to cancel the date that you have registered for, please call the Admissions Office at 304-357-4750.  When you register for SOAR online, you must select a major or undecided. 
View our list of majors before selecting the online registration page.
Who should attend SOAR?
All new students who have been admitted and who have made their enrollment deposit.
Is SOAR mandatory for all new students?
SOAR is highly encouraged for new students to attend.  During SOAR you will meet with a faculty member in your chosen academic department to create your class schedule.
Is SOAR a two day or one day event?
SOAR is a one day event.
Should I arrive early? 
Financial Aid will have appointments available before and during check in if you wish to meet with them.  Otherwise, please arrive during the specified check in time on the SOAR schedule that you will receive in your email prior to the event.
Should my parents attend?
This is a big step for everyone in the family, so we encourage parents to attend SOAR.  There is a lot of information provided during that parents should know.
What should I wear to SOAR?
Dress for the day is casual.
Will I get my UC student ID at SOAR?
Yes.  You will have your picture taken- so be prepared!  We ask that you do not wear hats for your photo. Your UC ID card will be given out during lunch.
Will I get to see my residence hall room?
We would love to show you your future residence hall room during the tours, but we are unable to do so due to other students being on campus.  A show room will be available for you to view during the tour.
Do parents and students stay together all day?
Students and parents will be together for some of the sessions during the morning.  In the afternoon, students go to their advising without their parents.  Parents will attend their own orientation session during the students' academic advising session.
Where should I park? 
For the April SOAR event, please park in the parking garage as you enter campus on your right.
For all other SOAR events, you are welcome to park on any of the parking lots or in the parking garage on campus.
How do I get to campus?
UC by Plane
Yeager Airport serves Charleston, which is approximately 10 minutes from the campus.  Airlines providing service to Charleston are:
American
Delta
Spirit
United Airlines
Rental services are available.  Rental car providers are:
Avis
Budget
Enterprise
Hertz
National
Driving from the airport to campus, follow the Airport Road (merges onto Greenbrier Street) to I-64 West and proceed to the Oakwood Road Exit.  Follow the signs to State Route 61 South (MacCorkle Avenue) toward Marmet.  Once on State Route 61 South (MacCorkle Avenue) travel approximately 1.5 miles.  The University of Charleston is on the left.
Taxi services are available from Yeager Airport to UC.  Taxi providers are:
Yellow Top Taxi     $8-$9
C&H Taxi Service   $12-$15
Charleston is also served by Uber and Lyft.
UC by Train
Amtrak serves Charleston with a passenger station on MacCorkle Avenue only 5 minutes from campus.  For inner-city rail passenger service, general information, and reservations call 1-800-872-7245 or locally
(304) 342-6766.
UC by Bus
Greyhound Bus Lines serve Charleston.  The terminal is located on Reynolds St. approximately 10 minutes from campus.  For fare and schedule information call 1-800-231-2222 or locally (304) 357-0056.
UC by Car
Driving Directions
For GPS or Google Maps, use 2300 MacCorkle Avenue, SE, Charleston, WV 25304 to get directions.
From the North: Travel I-77 South or I-79 South into Charleston. Follow I-79 to the 35th Street Bridge (Exit 98).  At the bottom of the exit, turn right onto MacCorkle Avenue. Follow MacCorkle Avenue to UC. The campus will be on your right.
From the South: Travel I-77 North (West Virginia Turnpike). Take Exit 95 to WV 61 North/MacCorkle Avenue SE. (This will be the left lane as you come off the exit.)  Continue on WV-61/MacCorkle Avenue through the Kanawha City business district. UC will be on your right.
From the East: Travel I-64 West or I-79 South. Follow I-64 South to the 35th Street Bridge Exit (Exit 98) (past the WV Capitol Building). At the bottom of the exit, turn right onto MacCorkle Avenue. Follow MacCorkle Avenue to UC. The campus will be on your right.
From the West: Travel I-64 East to Charleston. Take the Oakwood Road Exit 58A and follow the signs to State Route 61 South. Once on State Route 61 South (MacCorkle Avenue), travel approximately 1.5 miles. The campus is on the left.
If I arrive the night before, where can we stay?
Charleston has a wide variety of accommodations for its visitors. While there are many choices for your stay, the following hotels offer a discount to visiting UC families:  (Be sure to ask for the UC rate.)
Downtown Charleston (approximately 3- 3.4 miles from campus)
Holiday Inn Express  (ask about the Charlie West rate)
100 Civic Center Drive
304-345-0600
Marriott Town Center
200 Lee Street East
304-345-6500
Four Points by Sheraton
600 Kanawha Boulevard East
304-344-4092
South Charleston (approximately 4.6 miles from campus)
Fairfield Inn & Suites
304-744-4900
402 2nd Avenue, South Charleston
Holiday Inn Hotel & Suites
304-744-4641
400 2nd Avenue, South Charleston
Hampton Inn @ Southridge
304-746-4748
95 RHL Blvd, South Charleston
(SOAR student attendees must be admitted and deposited.)
Register for SOAR
Register Online at UC SOAR website.  You must be admitted as a student to participate in SOAR.
Activate your UC email account.
Financial Aid (P: 304-357-4944):
Submit signed award letter to the Financial Aid Office, and complete any missing documentation or verification requirements.
File your FAFSA. (http://www.fafsa.ed.gov/)
Sign promissory note if applicable
Student Solutions Center (P: 304-357-4947):
Fill out the Statement of Financial Obligation online in the UC Portal.
Pay your balance by check or credit card or register for a UC payment Plan.
Log into your UC account (E: help@ucwv.edu)
Watch for an email from Technology services about how to log into the UC Network. The email will be sent to your personal email account that is on file with the university.  If you are an admitted deposited student and you have not received this email, please check your spam or clutter folder.  The email will be from uccredentials@ucwv.edu.
Housing Application and Immunization Policy and Form (Office of Student Life, P: 304-357-4745, F: 304-357-4915)
Parking Information (P: 304-357-4857)
Review the UC parking information and campus map at https://www.ucwv.edu/visit/parking/
Dining Services Information
Make Overnight Accommodations, if needed
SOAR events are a one-day event and do not require an overnight stay.  If you have traveled a long distance, you may choose to stay overnight in one of our area hotels listed in the FAQ's or that you may find.
Review the list again prior to your SOAR visit!
Check out the SOAR website before you attend for any updates.