SOAR (Student Orientation, Advising and Registration)
Get ready to SOAR as a Golden Eagle!
Student Orientation, Advising and Registration (SOAR) will help get you started on all things UC.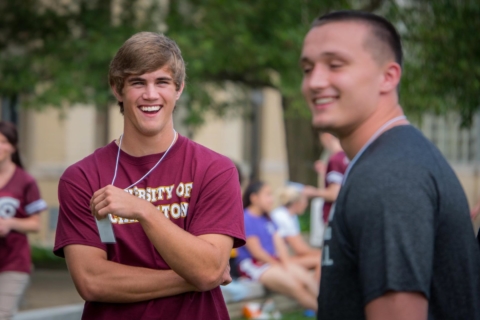 Once you become a Golden Eagle, your next step is to attend a summer Student Orientation, Advising, and Registration (SOAR) event.
During SOAR, you will review your class with an advisor, have your photo taken for your UC student ID card, meet other new students and so much more!  (You must be an admitted student to attend SOAR.)  There is no fee to register for SOAR.
Freshman and transfer students are encouraged to participate in a SOAR event to take advantage of the opportunity to:
Talk with a financial aid counselor
Learn more about the following programs and services during the UC fair:

Housing and Meal Plans
First Year Programs
ADA and Tutoring Services
Security and Parking
Technology
Clubs and Intramurals

Meet with a faculty member from your academic department of interest
Visit the University Bookstore
Socialize with other new students
Talk to current UC students about ways to get involved on campus and their campus experience
Parents are strongly encouraged to attend SOAR with their student.
To provide the best service, there are a limited number of spaces for each program. Spaces are filled on a first-come, first-served basis. If you need to cancel the date that you have registered for, please call Lyndsay Lanham at 304-357-4745 or email at lindsaylanham@ucwv.edu or your admissions representative at 304-357-4750.
When you register for SOAR online, you must select a major or undecided.  View our list of majors before selecting the online registration page.
Who should attend SOAR?
All new students who have been admitted and who have made their enrollment deposit.
Is SOAR mandatory for all new students?
SOAR is highly encouraged for new students to attend.  During SOAR you will meet with a faculty member in your chosen academic department to create your class schedule.
Is SOAR a two day or one day event?
SOAR is a one day event.
Is there a cost for attending SOAR?
There is no cost for attending SOAR.
Should I arrive early? 
Financial Aid will have appointments available before and during check in if you wish to meet with them.  Otherwise, please arriving during the specified check in time on the SOAR schedule that you will receive in your email prior to the event.
Should my parents attend?
This is a big step for everyone in the family, so we encourage parents to attend SOAR.  There is a lot of information provided during that parents should know. In fact, we have a separate schedule for them during the event.
What should I wear to SOAR?
Dress for the day is casual.  There will be team building fun, and you will get to tie dye a UC t-shirt, so wear something comfortable.
Will I get my UC student ID at SOAR?
Yes.  You will have your picture taken- so be prepared!  We ask that you do not wear hats for your photo. Your UC ID card will be given out during lunch.
Will I get to see my residence hall room?
We would love to show you your future residence hall room during the tours, but we are unable to do so due to other students being on campus.  A show room will be available for you to view during the tour.
Do parents and students stay together all day?
Students and parents will be together for some of the sessions during the morning.  In the afternoon, students go to their advising without their parents.  Parents will attend their own orientation session during the students' academic advising session.
Where should I park? 
You are welcome to park on any of the parking lots or in the parking garage on campus.
The first step is to register for an upcoming SOAR event. (You must be an admitted student to participate.)
Activate your UC email account. You will receive an email from uccredentails@ucwv.edu giving you directions on how to do this.
Your signed award letter should be submitted to our Financial Aid Office, and you should complete any missing documentation or verification requirements. (UC Financial Aid – 304-357-4944)
File your FAFSA. Sign your promissory note, if applicable
Pay Your Tuition (Student Solutions Center  304-357-4947)
Fill out the Statement of Financial Obligation online in the UC Portal
Pay your balance by check or credit card, or register with Tuition Management Services (TMS) payment plan   (www.afford.com/options or 888-713-7234)
Make Sure Your Immunizations are Up to Date. Review the UC immunization policy  MMR is required for all students. Send a copy of your immunization form and your health insurance card to the Office of Student Life.
Review UC parking policies and where to park
If you plan to live on campus, review the Housing Contract
Plan to have a great day!