Army University
Army University Continuing Education Degree Program (CEDP) Leadership Initiative
Have you acquired leadership skills through your career and from leadership training and education through Basic Leadership Course (BLC), Advance Leader Course (ALC) , Senior Leader Course (SLC), Noncommissoned Officer Education System (NCOES) Education, Warrant Officer Candidate School (WOCS), Warrant Officer Basic Course (WOBC), Warrant Officer Advance Course (WOAC), United States Army Warrant Officer Career College (USAWOCC) Professional Military Education (PME) Courses, or any other military training?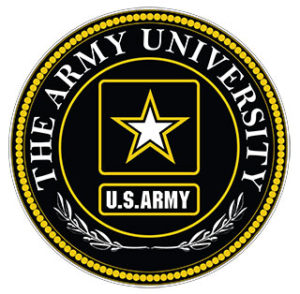 If so, UC can help you maximize your experience, advance your education and position you for greater opportunities. As one of only six schools selected to participate in the Army University's Leadership Initiative Program, University of Charleston offers maximum transfer credit and online coursework to help you reach your goals. UC was the only institution approved by Army University to offer not only an Associate of Science but also a Bachelor of Science Degree in Leadership
About the Leadership Initiative Program
The Army University CEDP Leadership Initiative is designed to provide you with a direct pathway to degree completion, allowing up to 45 credit hours toward the Associate of Science in Frontline Leadership (you would only need 15 credit hours to complete the degree) or up to 90 credit hours toward the Bachelor of Science in Organizational Leadership (you would only need 30 credit hours to complete the degree) from University of Charleston. This is awarded regardless of MOS and is based on your level of military training completed. Classes are available in seat and online, providing you with the utmost flexibility.
You will also benefit from:
Direct support from the University's expert Military staff;
$250 per credit hour for active duty, reservists, and honorably discharged veterans; and
Waived semester fees for those using Tuition Assistance or Veterans Assistance.
How to Apply
Documentation
Submit the application for admission online. Use code WINGSUP to waive the application fee.
Submit an Academic Evaluation Report (DA Form 1059) reflecting completion of military program as "Achieved Course Standards" or "Exceeded Course Standards," as well as official transcripts from any regionally accredited academic institutions previously attended.
If you are planning on using Tuition Assistance (TA), follow guidelines and procedures through ArmyIgnitED (www.armyignited.com).
For assistance, contact Dr. Shelly Roy at shellyroy@ucwv.edu or by calling 304-903-8197.
If you are planning on using Tuition Assistance (TA), you must submit your application through the ArmyIgnitED portal https://www.armyignited.com/. As soon as you become an enrolled UC student, the UC Military staff will provide the Cost Verification Letter, Schedule, and Degree Plan necessary for TA approval.
NCOs — Warrant Officers
The Frontline Leadership program is a 60 – credit hour Associate of Science degree designed to prepare professionals who carry out the day to day small group and team-leading function in any organization.
Organizational Leadership. Through dynamic "real world" innovative learning applications, our students learn to bring new ideas and energy as leaders to solve leadership and organizational challenges.
The Master of Science in Strategic Leadership program is designed for mid-career professionals seeking advancement to senior leadership positions.