Parent Page
Welcome to the Golden Eagle Family!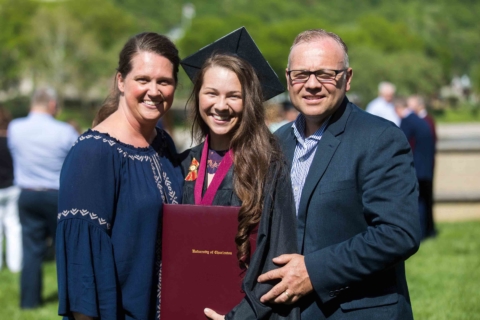 Whether this is your first child going to college or you're an old hand at packing for a dorm room, we know this is a time of great change for your family. We believe parents are very important partners in their students' success, and want you to know that we are here for you as well.

Helping you help your student succeed
This is both an exciting and emotional time. It can be difficult to see your child move into this next phase of life, so we're here to offer you some information that can keep you engaged in UC while (perhaps) worrying a little less about how your child is doing.
Here are a few things that you should know as the parent of a UC student.
Expectations
College is a time of change and growth. Some students who were high achievers and successful in high school may experience self-doubt. Introverted students might experience loneliness. Many students feel a bit overwhelmed with all they are expected to do, as well as being responsible for themselves.
This is an opportunity for them to discover their strengths, their ability to problem solve, cope with disappointments and other consequences, and to learn how to interact with others who may be vastly different from themselves.
We know it's hard to resist rushing in to take care of a problem, but we ask that you trust them to work things out. We have every confidence that they will.
Please know that we do keep an eye on our students, and offer many services to help them if they are truly struggling. If you are concerned that what your child is experiencing is not just normal adjustment issues, please feel free to contact our Office of Student Life at 304-357-4745.
If your child is 18 or older, their academic records are protected by the Family Educational Rights and Privacy Act (FERPA), a Federal law that protects the privacy of student education records. The law applies to all schools that receive funds under an applicable program of the U.S. Department of Education.
FERPA gives parents certain rights with respect to their children's education records, however, these rights transfer to the student when he or she reaches the age of 18 or attends a school beyond the high school level.
The privacy protection FERPA gives to students is very broad. With limited exceptions, the FERPA regulations give privacy protection to all students' education records.
Examples of student records entitled to FERPA privacy protection are grade reports, transcripts, and most disciplinary files. FERPA does not cover counseling or medical records, but other policies do.
If you are interested in obtaining your student's grades or other information, please discuss this with them.  If parents want to receive a paper copy of the student record, the student must go into the Registrar's office and sign a waiver requesting the record be sent to their parents or guardians.
FERPA is enforced by the U.S. Department of Education. The Department maintains a FERPA website, with links to FERPA regulations.
We want your child to love their UC experience and to thrive while they are here.
We encourage every student to participate in organizations that match their interests, to help them meet people who enjoy the same things. Our Week of Welcome is designed for students to interact and meet each other in the first week. Our RAs work to make sure that each student in a residence hall meets others.
If your child is sick, there are two urgent care facilities close to campus. We are also located near a large hospital for anything requiring medical attention.
If your child is struggling emotionally, we have a campus counselor who can help.
And our Academic Success Center and Peer Educators support every student who needs help with writing, tutoring, or other academic issue.
We want to make sure every student succeeds, while also learning how to overcome challenges. If you are concerned about your child's well-being, contact our Office of Student Life at 304-357-4745.
Getting mail from home is a way to stay connected to your child, to help ease homesickness, and to make your child the envy of the dorm floor with homemade baked goods!
All residents will be assigned a residence hall mailbox upon checking in each year. Cards and letters can be sent to their mailbox:
Student Name
Box Number
Name of Residence Hall
University of Charleston
2300 MacCorkle Avenue, SE
Charleston, WV 25304
All packages go through our central mailroom. This assures that mail is secure, and that there is a record of whether or not your child received the mail. When a package arrives, the address is scanned into our system and your child will receive a notification that they have something in the mailroom.
Send packages to:
Your child's name
University of Charleston
2300 MacCorkle Avenue, SE
Charleston, WV 25304
We understand that one of the big concerns for incoming students and their parents is campus safety. Our Office of Safety and Security works to provide our students, staff, and visitors every possible resource to make the University of Charleston a safe and enjoyable campus.
The Department of Safety and Security works very closely with Student Life in addressing all areas of safety related to residential and commuter students. All crimes are investigated and adjudicated quickly, and special effort is made to safeguard each student's rights, dignity, and confidentiality.
All Student Affairs issues are governed by a comprehensive student handbook made available to each student.
A combination of campus-wide foot and cruiser patrols are routinely conducted, as well as interior foot patrols of all residence halls. Emergency call boxes are positioned at key locations on campus.
In the event of a serious emergency, the university maintains both an audible and a text-messaging system to quickly notify students and staff. Department of Safety & Security staff members have the unique capability of sending out "live" audible messages through loud speakers across the campus directly from their mobile radio. These announcements allow the officers to provide ongoing and accurate information as situations quickly develop and change.
The UC Eagle Shop has a wide variety of UC apparel, accessories, gifts and more to show your Golden Eagle spirit! From sweatshirts to blankets to home decor and more, you can pick up some great gifts for your student (or yourself!)
The Eagle Shop has locations on our Charleston campus and Beckley location, and offers an online shop as well (eagleshop).
Your student can also order and pick up books there.
Our mission has great meaning to us, to our students, and to you as a parent.
"The mission of the University of Charleston is to educate each student for a life of productive work, enlightened living and community involvement." 
Our goal is that every UC student develops a broad range of abilities prior to graduation – both on a professional, textbook learning sense, and also in the development of the "soft skills", such as communication, critical thinking, teamwork, that employers are looking for.
That means that our unique curriculum and supportive professional opportunities put your child in a very competitive spot when it comes to being prepared for the job market. Our students have great success in their fields, or in going on to professional school. Which means they become independent, successful professionals – and you continue to be a very proud parent.
Admissions     304-357-4750
Athletics Office    304-357-4820
Bookstore   304-357-4802
Career Services  304-357-4977
Financial Aid   304-357-4944
Housing Office  304-357-4878
Registrar's Office/Student Solutions   304-357-4745
Safety and Security   304-357-4358
Student Accounts   304-357-4754
Student Life/Office of the Dean of Students   304-357-4745