AU-ABC Program
Receive Credit for Your Community College of the Air Force Degree
The University of Charleston (UC) has partnered with the Air University to assist Airmen in completing the requirements for a baccalaureate degree.
AU-ABC links airmen who have completed associate degrees to "military friendly" baccalaureate programs via distance learning. The AU-ABC program aligns with the Air Force vision and meets the Air University's near-term goal of providing enhanced educational opportunities for our enlisted force.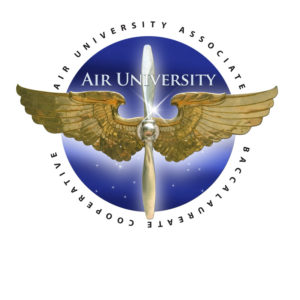 Key Features of the AU-ABC Program
It builds on your Community College of the Air Force (CCAF) degree.
CCAF graduates earn bachelor's degrees after completing no more than 60 semester hours beyond their associate degree.
It maximizes the application of your military career education and training.
Military friendly colleges and universities award the bachelor's degrees.
It is based on virtual campus instruction.
Every participant receives a binding degree completion contract that locks in transfer credit and states remaining degree requirements.
Maximized Acceptance of Transfer Credits. The AU-ABC degree plan in Organizational Leadership will accept all 64 hours from the student's CCAF degree plus additional courses from other schools. The major courses (30 hours) must be completed through online enrollment at University of Charleston West Virginia.
UCWV offers the following AU-ABC degree plans
Bachelor of Science in Organizational Leadership (see our academic catalog)
Program Plan Files
PPF CCME Sample OLv2 show the CCAF credits that apply to each degree as well as the remaining credits that students are required to complete in the program.
Program Costs
$250 per Semester Hour.
Admission Requirements
Completion of an Associate of Applied Science (A.A.S.) degree from the Air University vice Community College of the Air Force prior to starting first semester courses
2.0 cumulative GPA on all transferable college work
Course Schedule
View our course schedules. (8 week courses)
Online Support
Need assistance with technology related to your online course and don't know where to go? UC IT is here to help! Call us at 1-304-357-4357, e-mail us at help@ucwv.edu or visit the UC IT Help Desk.