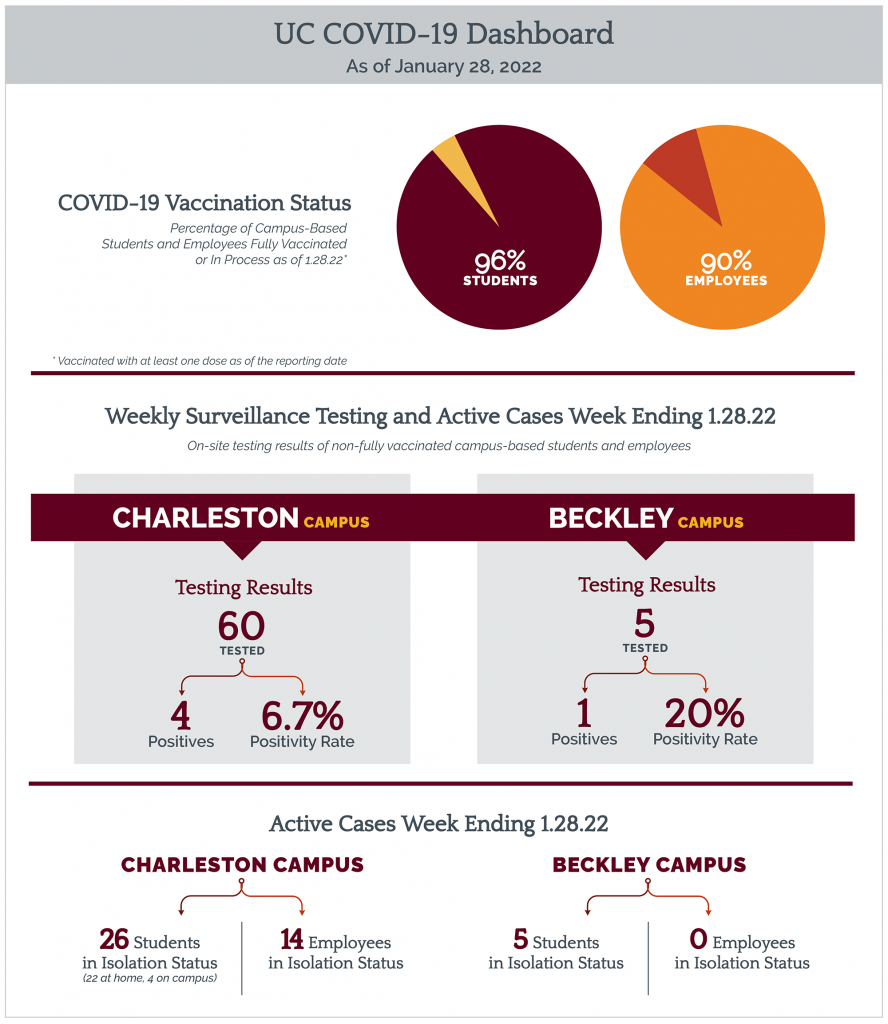 December 3, 2021 – Health & Safety Update
Dear UC Community,
As the Fall 2021 semester winds down, please accept my thanks for being part of the UC family. I hope that everyone's experience has been consistent with our student focus, quality, and integrity core values, and our mission to educate each student for a life of productive work, enlightened living, and community involvement.
For all of our campus-based students, faculty, and staff, we have done a phenomenal job working together to keep ourselves and each other healthy and safe through the ongoing COVID-19 pandemic. The extra measures we all have taken enabled us to hold classes, athletic events, and other activities without interruption this semester. We have also enjoyed traditional dining, residence life, social, and study behaviors without evidence of virus spread or illness on campus. UC's success is due to our commitment to be a highly vaccinated community along with following other sound practices that mitigate virus transmission and risk.
As we all look forward to the upcoming holidays, I want to share UC's Spring 2022 Return to Campus (RTC) Plan. Developed by the University's senior leadership team, the Spring 2022 RTC Plan incorporates our experiences and latest guidance to help us continue ensuring everyone's health and safety while enabling students to achieve their personal and professional goals.
Here are a few highlights:
All campus-based students and employees should be fully COVID-19 vaccinated prior to arriving on campus in January 2022.
COVID-19 boosters are now widely available and recommended by the CDC for adults six months after completing a Moderna or Pfizer vaccination series, or two months after completing a Johnson & Johnson vaccine vaccination. Please consult with your physician or medical professional about receiving a COVID-19 vaccine booster.
If you receive a booster dose of the COVID-19 vaccine, please send a copy of your updated vaccination record to the UC COVID-19 Virtual Command Center at COVID-19@ucwv.edu so that we can update your university record.
Anyone not fully vaccinated at the start of the Spring 2022 semester must submit a negative COVID-19 test result five days before the start of the semester (January 5, 2022) or five days before their first day on campus, whichever is earlier. Test results should be sent to COVID-19@ucwv.edu.
Throughout the semester non fully vaccinated employees and students will be tested weekly for COVID-19. All non-vaccinated employees and students must participate in UC's weekly COVID-19 surveillance testing. Such individuals will be notified when required to do so by the UC Virtual Command Center. Testing will begin Tuesday afternoon January 11, 2022.
Students may apply for a medical exemption for any required vaccine, including the COVID-19 vaccine, by completing the form available on the UC Immunization Policy webpage and returning it to Vice President and Dean of Students Virginia Moore. Students approved for Fall 2021 semester remote learning must reapply for Spring 2022. Exemption requests must be submitted by January 5, 2022.
Undergraduate students scheduled to attend classes on the Beckley or Charleston campus who for health and safety reasons are unable to come to a UC campus for the entire semester may apply to engage remotely. Such students should complete the form accessed via this URL. Applications must be received by January 5, 2022. Students approved for Fall 2021 semester remote learning must reapply for Spring 2022.
Please read the entire Spring 2022 RTC Plan so that you are fully informed and prepared for the start of the semester.
I wish all of you much success during finals and the close of the Fall 2021 semester, and safe travels as you prepare to spend time with family and friends. Please continue being thoughtful of your surroundings and well-being. I look forward to a healthy and fruitful Spring 2022 semester!
Sincerely,
President Roth
Return to Campus Plan
Our Return to Campus Plans focus on two guiding principles:
(1) to ensure the health and safety of everyone in the University community, and (2) to enable students to continue to progress toward their academic, career, and professional goals.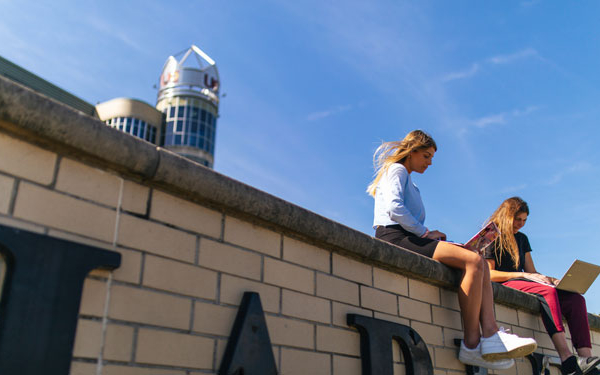 Vaccine Questions? Learn More