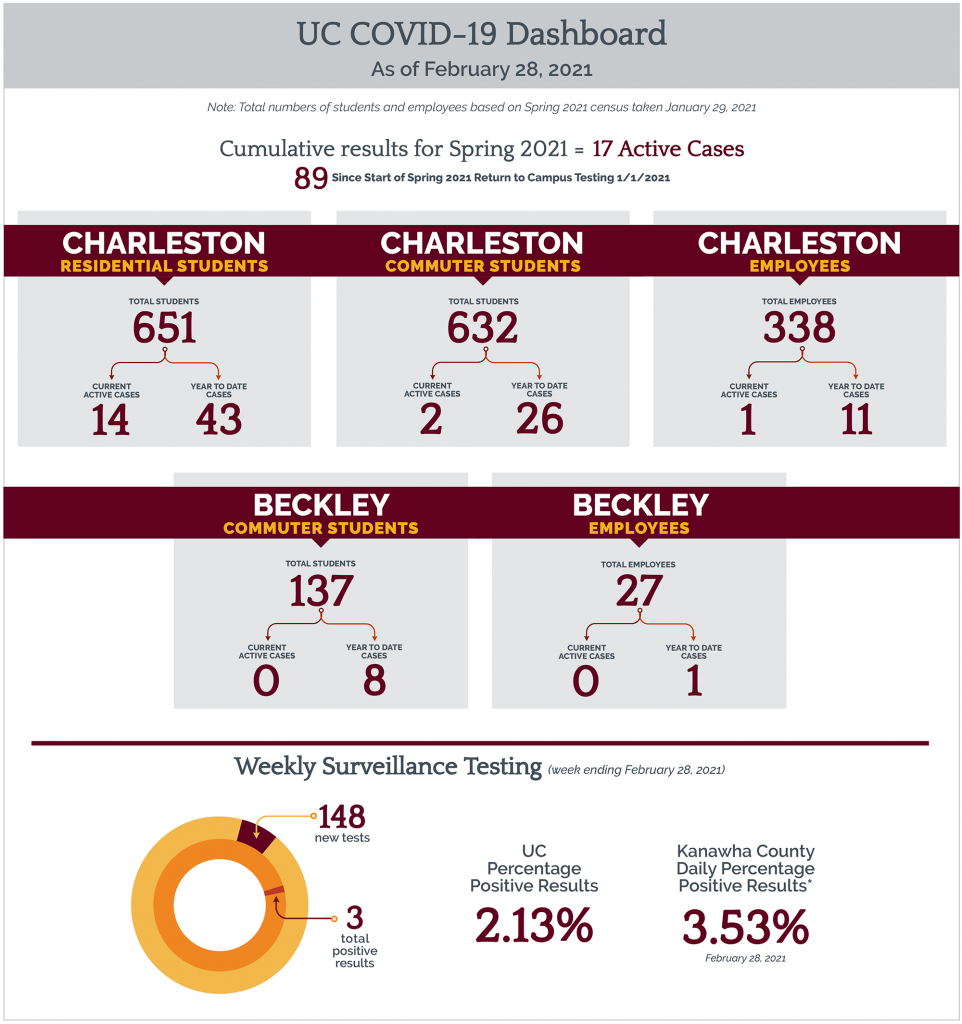 *West Virginia COVID-19 dashboard
https://dhhr.wv.gov/COVID-19/Pages/default.aspx

12.30.2020 – from President Marty Roth
Dear UC Community,
I hope this message finds you healthy, safe, and enjoying the holiday season.
We are busy here preparing for another great semester at UC.  This week we received notification from the state on COVID-19 testing requirements and resources for all West Virginia colleges and universities.  As such, we have now finalized our Spring 2021 Return to Campus Plan.
As described in the plan we will continue our successful health and safety protocols from the Fall, including training videos and quizzes for all new employees and students, the LiveSafe app for daily health assessments, temperature screening devices on the Beckley and Charleston campuses, physical distancing, cleaning, and more.  As we learned, it will take our collective commitment to health and safety that will enable us to have a successful Spring 2021 semester.
We are excited to add competitive athletics to our planned Spring 2021 activities.  Following NCAA, Mountain East Conference, and local guidance, we look forward to healthy and safe athletic events for all of our student athletes.
As we did in the Fall, we will be COVID-19 testing all campus-based employees and students upon their arrival to campus in 2021.  We will be using the Vault saliva PCR tests – the same tests used in the Fall for surveillance testing.  We are also requesting that everyone get tested before coming to campus, preferably 48-72 hours before your arrival.  Doing so will ensure that anyone who tests positive isolates at home before coming to campus.  You will be receiving additional information shortly on pre-arrival and day-of-arrival on-campus testing.  Vice President and Dean of Students Virginia Moore will email information to students, and Executive Vice President and CFO Cleta Harless will email information to employees.  Please watch for these emails and attend to them promptly.
While the distribution of vaccines brings much hope, we know that preventing virus spread must remain a top priority this semester.  We must do everything we can to keep ourselves and other members of our community healthy and safe.
Please be assured that we will remain steadfastly committed to ensuring the health and safety of our community and enabling students to achieve their personal and professional goals here at UC.
As you ring in the new year, please stay safe, and let's get ready to have a great Spring semester
Best regards
Martin S. Roth
President
Return to Campus Plan
Our Return to Campus Plans focus on two guiding principles:
(1) to ensure the health and safety of everyone in the University community, and (2) to enable students to continue to progress toward their academic, career, and professional goals.