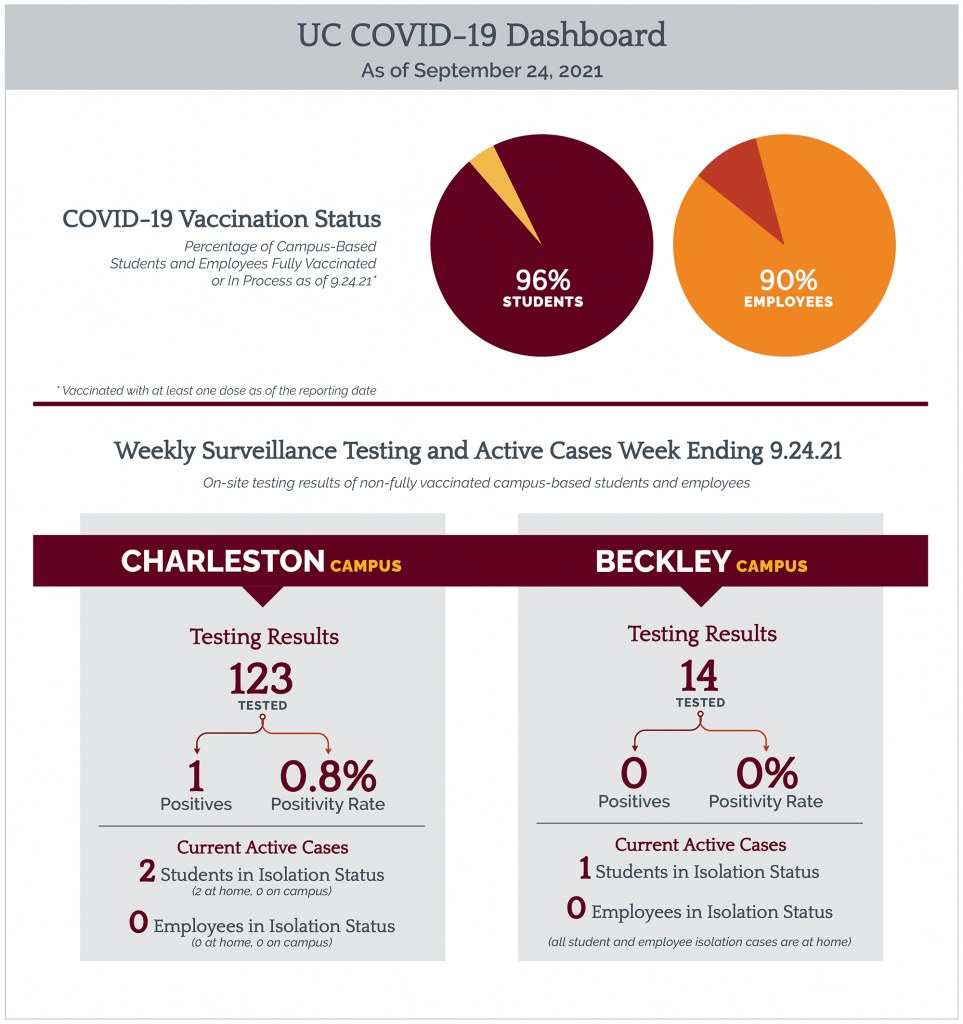 June 18, 2021 – Update from President Roth 
Dear UC Students, Faculty and Staff,
I hope this message finds you well and enjoying warm weather and time with family and friends.  While we currently have over 1,800 students enrolled in classes this summer, the Charleston campus is pretty quiet, with the exception of renovation work happening in Riggleman Hall and the Boathouse.
This message provides you with UC's Fall 2021 Return to Campus Plan.  The attached Plan pertains to campus-based activities in Charleston and Beckley.  It does not affect students and employees who are fully remote and will not physically be on campus during the Fall 2021 semester.
By all measures we had a very successful 2020-21 academic year.  Learning, competing, living, and working through a pandemic was not easy.  We committed to two key priorities: ensuring the health and safety of our entire community, and enabling students to achieve their learning, personal, and professional goals.  These two priorities have not changed as we plan for the upcoming academic year.
On our campuses, we know the biggest challenges last year were:
Wearing masks and face coverings
Participating in start of the semester and weekly surveillance COVID-19 testing
Having to quarantine after close contact with someone known to have COVID-19
Split-section courses due to classroom seating capacities
Limited social interactions throughout campus including in residence halls
Fortunately, the above restrictions can be lifted with a fully vaccinated student body.  The CDC, ACHA, and many other reputable organizations recommend that campuses be fully vaccinated.  At this time over 500 colleges and universities across the country including Duke, Emory, Notre Dame, University of Maryland, and University of Virginia, just to name a few, are requiring all of their campus students to be vaccinated this Fall.
Many of you took advantage of UC's COVID-19 vaccine access during the Spring semester, as did many of our faculty and staff.  Numerous others have subsequently been vaccinated.  UC School of Pharmacy Professor and Associate Dean Dr. Kristy Lucas addresses common safety questions associated with COVID-19 vaccines in the video below.
For Fall 2021, UC is requiring all campus-based students to be fully COVID-19 vaccinated.  Doing so will provide students with learning, social, athletic, and other experiences without the health and safety protocols required in a non-vaccinated community.  In addition, all UC employees are being strongly encouraged to be COVID-19 vaccinated.  Those who do not must wear face masks or coverings inside all campus buildings, participate in return to campus and weekly COVID-19 surveillance testing, and be quarantined after close contact with someone known to have COVID-19.  These employee protocols go into effect Monday June 21, 2021.
The Fall 2021 Return to Campus Plan provides a comprehensive description of campus operations.  Some specific highlights of interest before reading the full Plan include:
To the extent possible, students should be fully vaccinated prior to arriving on campus. UC will provide COVID-19 vaccines on both campuses prior to and at the start of the Fall 2021 semester to students who have not yet received theirs.
Students may request a COVID-19 vaccine medical exemption. Students with an approved medical exemption will need to sign a liability waiver and have some campus restrictions.
Undergraduate students in certain programs who are scheduled to attend classes on the Beckley or Charleston campus who for health and safety reasons are unable to come to a UC campus for the entire semester may apply to engage remotely.
Spectators will be permitted at athletic competitions. Those who are not vaccinated should wear a mask or face covering indoors.
Other visitors will be permitted on campus in the residence halls and for certain other UC activities and events. Those who are not vaccinated should wear a mask or face covering indoors.
Any new student who no longer wishes to attend UC due to the vaccine requirement will have their deposit refunded.
This link will guide you to UC's Fall 2021 Return to Campus Plan highlights:
https://www.ucwv.edu/wp-content/uploads/2021/06/RTC-highlights-fall-21.png.
We will host three virtual Town Hall meetings next week to answer any Fall 2021 Return to Campus questions.  Employees will receive a Zoom meeting invitation for Tuesday June 22, 2021, 11:00 am-noon (ET).  Students and families will receive Zoom meeting invitations for Tuesday June 22, 2021, 1:00-2:00 pm (ET) and Wednesday June 23, 2021, 8:00-9:00 am (ET).  We look forward to seeing you at one of these sessions.
We know all of you welcome the opportunity to have a campus experience with the fewest health and safety restrictions.  Such an environment encourages learning, socialization, and mental and physical wellness.  At the same time, we understand that some of you may prefer not to be COVID-19 vaccinated.  Just as we all had to wear face masks and do surveillance testing this past year to keep each other healthy and safe, we hope you will consider being vaccinated to do the same this coming year.  Having a vaccinated community is the best and only way to offer the campus experience we all desire.
Be safe,
President Roth
Martin S. Roth
President
Return to Campus Plan
Our Return to Campus Plans focus on two guiding principles:
(1) to ensure the health and safety of everyone in the University community, and (2) to enable students to continue to progress toward their academic, career, and professional goals.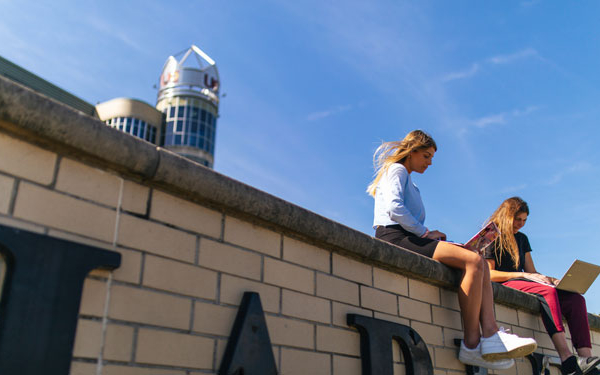 Vaccine Questions? Learn More