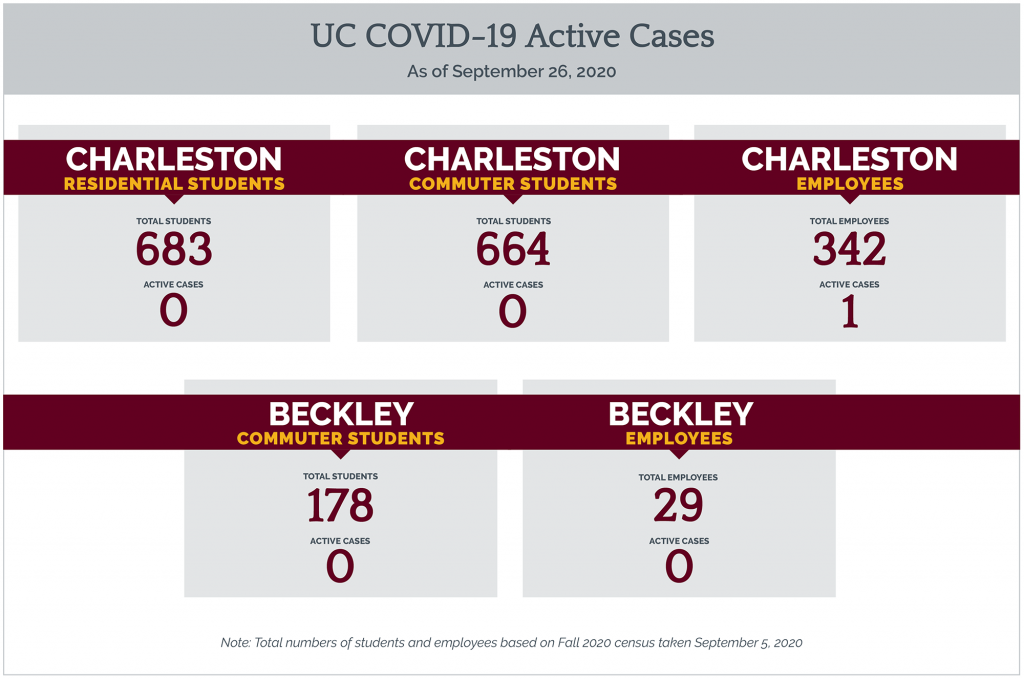 9.29.2020 – from President Marty Roth
Dear UC Students and Employees,
I trust this message finds all of you doing well as we continue to make great progress this Fall semester.
The Governor of West Virginia and the Department of Health and Human Resources have established a new directive to conduct surveillance COVID-19 testing on all West Virginia college and university campuses.  As per the letter UC received on September 24, 2020, from Dr. Ayne Amjad, State Health Officer and Commissioner, each college and university should test 10% of their on-campus students, faculty and staff each week. The surveillance testing is designed to keep the UC campus community, and the communities around our campuses, healthy and safe.  Other states, such as Ohio and Connecticut, are also conducting mandatory surveillance COVID-19 testing on college and university campuses.
The State is providing test kits and lab analysis.  There will be no cost to individuals selected for testing.  The test being used is Vault's FDA EUA authorized PCR saliva tests.  We will administer the tests on campus then overnight mail the specimens to a designated lab.  Results should be available in 48-72 hours. The Fall testing should begin as soon as the week of October 5, 2020 and conclude by Thanksgiving (week of November 23, 2020).
Here is how the surveillance testing at UC will work.
We will randomly identify 10% of our campus-based students and employees for testing each week.*   If your name is selected, you must participate in the surveillance testing.  Participation is not optional.
Should you be selected for surveillance testing, you will be notified via email.  The email will come from the COVID-19@ucwv.edu email address.  The email will specify the testing date and location.  A link to the Appointy scheduling system will be provided so individuals can select the time of day that works best for them.
The surveillance testing will take approximately 15 minutes to complete.  Individuals should not eat, drink, chew gum, smoke, or vape for 30 minutes before testing.  After check-in, individuals will be provided with a vial in which they will deposit their saliva.  Once the saliva has been collected, the vial will be closed and placed in an envelope.  The individual may then leave the testing site.  There is no need to quarantine after providing the saliva sample.
If an individual's test results come back positive, UC's isolation, contact tracing, and quarantine procedures will then go into effect.  The local health department will also be notified.  All tested individuals will be informed of their test results.  Weekly test result summaries will be posted on the UC Coronavirus webpage.
I understand this will be an inconvenience for those of us who are randomly selected for testing.  However, we all appreciate the importance of containing virus spread.  This can best be accomplished by identifying active carriers of the virus, even those not experiencing COVID-19 symptoms, and minimizing others' exposure to them.
Should you have any questions, we will be happy to answer them during this week's Town Hall meetings (Tuesday, September 29, at 3 p.m. for employees, and Thursday, October 1 at 1 p.m. for students).  Students may also contact Dean of Students Virginia Moore at virginiamoore@ucwv.edu, and employees may contact the Director of Human Resources Janice Gwinn at janicegwinn@ucwv.edu.  Questions can also be directed to COVID-19@ucwv.edu.
Thank you for your continued commitment to keeping our communities safe!
Sincerely,
Martin S. Roth
President