About the UC School of Pharmacy
From the beginning, we envisioned a different kind of school of pharmacy — one where the role of a pharmacist was shaped by community-focused students and caring, hands-on faculty in an intimate environment.
Our mission is to provide a first-class educational experience for students and to conduct pioneering research that advances the health of the public. Our student pharmacists are trained to know about the body, medications, and what happens when medications enter a healthy body as well as a diseased body. We emphasize the importance of being involved in your profession and advocating for both patients and our profession – one of the hallmarks of our program.
We are housed in a technology-filled facility built specifically for pharmacy education – located on the campus of the University of Charleston, across the Kanawha River from the West Virginia State Capitol. Our proximity to major hospitals and clinical sites offer opportunities for experiential learning.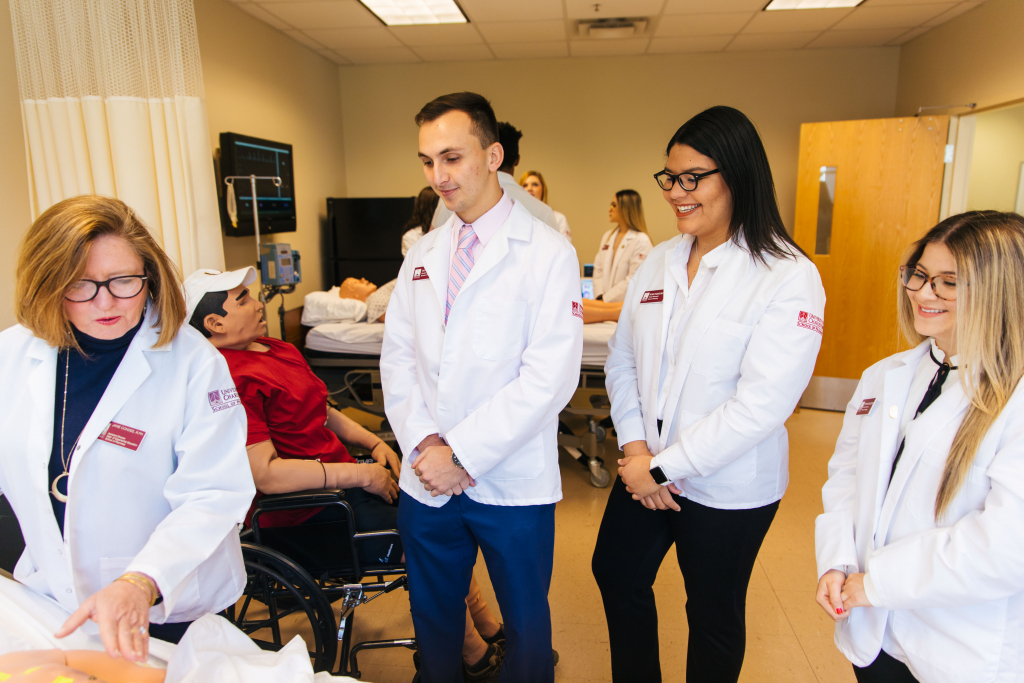 Get the pharmacy school experience you deserve!
Faculty and staff who care deeply about student success
Opportunities to use technology in unique and exciting ways both inside and outside the classroom
One-on-one faculty relationships through student advising program tailored to your career interests and aspirations
Opportunities to develop leadership and clinical skills through the didactic curriculum, student organization activities, community service, and clinical experiences
Immersion in rural health experiences that allow students to engage with patients to provide optimum health results
Advocacy opportunities that allow students to move the pharmacy profession forward and impact public health throughout Appalachia and beyond
Small, beautiful campus with an average class size of 50 students
Located in the capital city of WV, which provides students with advocacy/legislative opportunities, proximity to large medical institutions, safest college campus in West Virginia
Individual connections through a 8:10 student to faculty ratio and personalized advising program
We celebrate diversity – UC students arrive from 47 US states and 45 different countries; multiple on- and off-campus cultural events
One of the most affordable private school tuitions in the region and multiple scholarship opportunities
Holistic admissions process- we look at you as a whole person, and not just the numbers
PCAT, GRE, MCAT, or DAT scores accepted
No Supplemental Application fee required
Unique clinical rotations inside and outside of West Virginia
Our students stand out in the crowd and are prepared to enter the workforce or pursue post-graduate training opportunities upon graduation:
Achieve competency in 6 core areas- leadership, advocacy, public health, interprofessional education, cultural awareness, and scholarship
Certifications in Immunizations, Medication Therapy Management, and Point of Care Testing included in tuition; additional opportunities available in diabetes and cardiovascular disease
Dual Pharm.D./MBA program
Geriatrics Track
UCSOP/Fruth Pharmacy PGY-1 Community Pharmacy Residency program
15 student pharmacy organizations; opportunities to participate in community outreach and rural health initiatives in areas of disease management, immunizations, medication adherence and safety, and substance use disorders
Faculty, staff, and students are nationally recognized as leaders in pharmacy
Computer and IT support included in tuition; ownership transferred to student upon graduation at no additional charge
24/7 on- and off-campus access to course materials and recorded lectures
Free online access to majority of required textbooks
The mission of the University of Charleston School of Pharmacy:
Our mission is to prepare pharmacists and scientists to have a positive impact on the community through advocacy, scholarship and innovation. Pharmacy graduates will provide the highest level of interprofessional patient  care with an emphasis on serving rural and underserved populations.
University of Charleston School of Pharmacy Values:
We engage in interprofessional patient care and collaborative community outreach.
We foster innovative leadership and are committed to the pursuit of excellence.
We are committed to promoting professionalism and student success.
We celebrate the accomplishments of our students, faculty and staff.
We nurture a culture of diversity
We live our mission.
The vision for the University of Charleston School of Pharmacy is to:
Prepare leaders, educators, and scientists to serve the profession across a diverse spectrum of pharmacy practice.
Advance the Pharmacy profession through innovation, leadership, education and advocacy.
Be a trusted leader and respected resource in collaborative education and health care.
Become nationally recognized for service, community outreach, and a strong voice for rural and underserved populations.
The University of Charleston Doctor of Pharmacy program is accredited by the Accreditation Council for Pharmacy Education, 135 S. LaSalle Street, Suite 4100, Chicago, IL 60603, 312-664-3575 312-664-3575; FAX 312-664-4652. Our Doctor of Pharmacy (PharmD) program is fully accredited by the Accreditation Council for Pharmacy Education and our PharmD/MBA provides student pharmacists the ability to assume responsibilities as managers, administrators, consultants and executives in health care systems.
The average NAPLEX first-time pass rate for graduating classes 2010-2020 is 87%. 64% of Class of 2020 members passed the NAPLEX on the first attempt thus far. Some members of this class have not taken the exam yet. 2020 was a difficult year for many reasons, including the pandemic. Several steps have been taken to proactively address the first-time pass rates, including, but not limited to, a revised curriculum (starting fall 2021) and a comprehensive NAPLEX review course delivered throughout the entire fourth year of the program (includes online and print resources and practice assessments). Students in the most recent graduating Class of 2021 are currently taking this is exam.
The average graduation rate for all students in our program is 92%. 71% of the Class of 2021 graduated on time (i.e., completed the program in 4 years), while 89% of the students originally admitted to this class are expected to graduate from the program.
68% of the class of 2021 had at least one job offer prior to graduation. Historically, more than 90% of students in each of our classes are employed within the first year of graduation.
West Virginia, the Mountain State, is lush with green mountains, hills, and valleys. The UCSOP is located in the capital city of Charleston on the Kanawha River directly across from the State Capitol Complex. This allows our students to engage in advocacy, complete rotations at area pharmacies, hospitals and clinics, and to have a BIG experience in a small, intimate environment. Charleston is also the cultural hub of West Virginia with nightlife, live music, art festivals, unique restaurants and bookstores, yoga and fitness studios, and a minor league ballpark. Recreation in the state includes skiing, hiking, mountain biking and white water rafting.