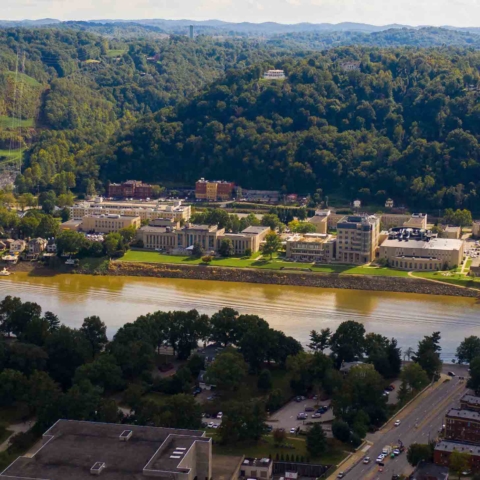 UC at a Glance
The University of Charleston is an independent, co-educational residential university, founded in 1888.
UC has five distinct schools: The School of Arts and Sciences, the Bert Bradford School of Health Sciences (which includes our Physician Assistant Program), the School of Business, the School of Leadership, and the UC School of Pharmacy.
We offer associate, bachelor, and graduate-level degrees in a variety of disciplines, with particular emphasis on career readiness, innovation, and leadership. We also have a wide range of online programs to provide opportunities for adult learners and others to pursue and complete their degrees.
General
Founded in 1888 as Barboursville Seminary, became Morris Harvey College in 1901, and was renamed the University of Charleston in 1978. (See UC History)
UC is accredited by The Higher Learning Commission (Some individual programs are additionally accredited by their specific field.)
Total enrollment: 2,620 (1,882 undergrads and 738 grad students (Spring 2019)
Average Incoming Freshman scores: ACT 21 / SAT 935 / GPA 3.33
UC students represent 40 states and all 55 WV counties. International students represent 44 countries.
85% of graduates are employed or in graduate school within six months of graduation.
About 98% of UC students who take professional licensing and board exams pass on their first attempt.
Traditions
Nickname/Mascot: Golden Eagles
School Colors: Maroon and Gold
Alma Mater:
In the shadow of the mountain by Kanawha's river
Our beloved Alma Mater proudly stands forever
University of Charleston, true we'll ever be
University of Charleston, hail, all hail to thee
Traditional Responsive Cheer:  Oh say can…  UC!
Annual Events:
Freshmen Convocation
Week of Welcome
EagleFest
International Education Week
Labor of Love
Homecoming
Enlightened Living Day
I3 (Ideas, Innovation, Invention) Day
Midnight Breakfast
Athletics
UC is an NCAA Division II school and a member of the Mountain East Conference (MEC). UC men's volleyball is a member of the Eastern Intercollegiate Volleyball Association (EIVA). (See UC Athletics)
We offer 19 NCAA Division II athletic teams (9 men's athletic programs and 10 women's athletic programs).
UC has been awarded the Mountain East Conference Commissioner's Cup, awarded for athletic excellence among all MEC schools, seven out of the last eight years.
UC men's soccer has won the national championship twice, ending the 2019 season ranked #1 in the nation by the United Soccer Coaches Association.
The Welch Athletic Complex opened in 2019, providing an elite DII facility for soccer, baseball, softball, and lacrosse close to campus.
UC Alumni
There are UC/Morris Harvey College alumni all over the world.