2022 Schedule
Morning Session
9:30 a.m. -11:00 a.m. | Film: Our Towns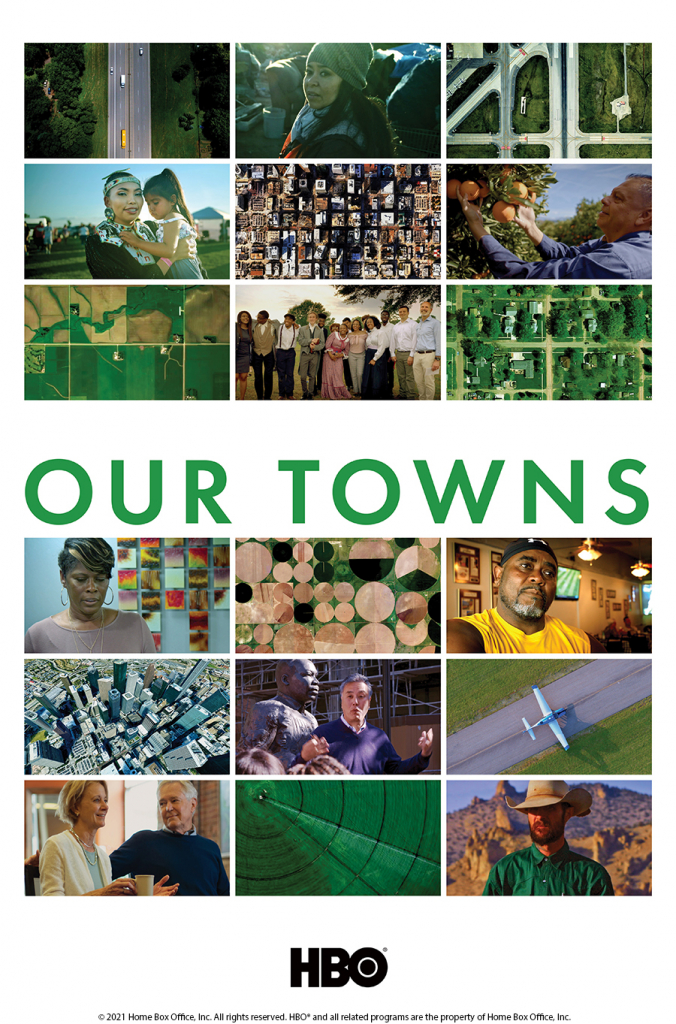 About Our Towns
From Academy Award-nominated filmmakers Steven Ascher and Jeanne Jordan comes Our Towns, a documentary that paints a remarkable picture of America and how the rise of civic and economic reinvention is transforming small cities and towns across the country. Based on journalists James and Deborah Fallows' book Our Towns: A 100,000-Mile Journey into the Heart of America, the film spotlights local initiatives and explores how a sense of community and common language of change can help people and towns find a different path to the future.
11:15 a.m. – 12:00 p.m. |  Q&A with Authors Jim & Deb Fallows: A Journey into the Heart of "OUR Town"
A student-led conversation focusing on transforming West Virginia as a destination for young professionals. Journalists James and Deborah Fallows engage in discussion based on the themes of the documentary and their book, Our Towns: A 100,000-Mile Journey into the Heart of America to create space for students to share their experiences and ideas.
About Deborah
Deborah Fallows is a writer and linguist. She has written extensively on language, education, families and work, China, and travel for The Atlantic, National Geographic, Slate, The New York Times, The LA Times, and The Washington Monthly. She has been a fellow at New America and a senior research fellow at the Pew Research Center.
About James
James Fallows has been a longtime writer for The Atlantic magazine. He has reported from around the world since the late 1970s, including extended assignments in China, Japan, and Southeast Asia, and within the United States in Texas, Washington state, and California. He has written 12 books and won the American Book Award, the National Magazine Award, and a documentary Emmy. He has also done extensive commentary on National Public Radio. He now hosts a Substack site, called Breaking the News.
Noon | Break
Session One
1:00 p.m. – 2:15 p.m.
What Would it Take to Win a People's Government in WV? (West Virginia Can't Wait)
Three years ago a group of West Virginians got together to ask: what if the values of generosity and service and common sense that already guide our churches and neighborhoods also governed our statehouse? What if our land and water and wealth were invested into our own children, our own workers, our own entrepreneurs, instead of out-of-state monopolies? (https://wvcantwait.com/) Learn more about the programs and tools supported by WV Can't Wait.
Fostering Nourishing Networks for Community Food Security in West Virginia (WVU Center for Resilient Communities)
Across West Virginia, many people confront significant barriers to accessing affordable, adequate, nutritious foods. Nourishing Networks is a healthy food access planning workshop developed by the WVU Center for Resilient Communities to foster a network of community-based organizations and food system stakeholders that can effectively develop cross-sectoral strategies to enhance community food security. This workshop will introduce participants to the Nourishing Networks curriculum and its complementary data resources available through the WV FOODLINK website. Participants will gain a foundation from which to begin organizing community food security initiatives in their respective communities.
Working Together to Piece MLK Jr. Mural: Public Art Project (City of Charleston Public Art) in-person | capacity limit
This session will work, alongside the Director of Public Art for the city, to organize and lay out hundreds of self-portraits from Charlestonians that will ultimately make up the mural of Dr. Martin Luther King Jr. at the Community Center named for him on the East End of Charleston. This is an exciting project that will allow participating students to engage in and develop and ultimately, create, a large-scale community-based art project.
Pioneering Economic Development and Highlighting All West Virginia Has to Offer (Ascend WV)
This session will dissect the program ASCEND, housed at WVU and with collaboration from Governor Jim Justice and the West Virginia Department of Tourism. This program, developed and supported by Brad and Alys Smith, explores the possibilities of empowering people with resources and professional and social assistance to move to West Virginia with the intent of supporting economic diversification. Additionally, the power of developing recreational infrastructure, outdoor educational opportunities, and larger growth in the state will be discussed. This program will be led by Dr. Danny Twilley, Assistant Dean at WVU.
Stories from Local Entrepreneurs: Building Success and Overcoming Obstacles (Base Camp)
This session will examine stories from local entrepreneurs to discuss innovative initiatives and business models around Charleston. Presenters, from local businesses, will discuss their origin story and the realities of their work in a climate sometimes criticized as antagonistic to business and hospitable community engagement for start-ups. Local business leaders will discuss challenges and successes in operating a business in Charleston.
Telling the Story of WV People and How They Live Today (WV Public Radio, Inside Appalachia)
Inside Appalachia program producers will talk about the origin of the show, the design for the program, and the overall structure of operations for this successful regional radio program. Local radio professionals will bring examples from the field, discuss challenges and successes, and talk about this medium as a way to tell the stories of Appalachians.
Moving Mountains: The Fight for LGBTQ Equality in Appalachia (Fairness WV)
In 1977, Americans were split on whether lesbian and gay sex should be legal at all: 43 percent believed it should be, 43 percent believed it should not and the remaining 14 percent had no opinion. Today, 83 percent say such intimate relationships should be legal, according to recent polls. The LGBTQ community has made significant and quick strides toward equality in recent years, and local experts from the movement will present a panel discussion for the 2022 Enlightened Living Day.  Fairness West Virginia is the statewide LGBTQ civil rights advocacy organization that works to build a more inclusive Mountain State through education and advocacy. Fairness staff will present an overview of the LGBTQ equality movement and the organization's work to advance nondiscrimination protections, end the discredited practice of conversion therapy, register LGBTQ people as voters, and increase access to culturally competent care for transgender people. The panel will provide an overview of the current state of affairs for LGBTQ Mountaineers, as well as discuss the future of the LGBTQ equality movement. Panelists will include Fairness Executive Director Andrew Schneider and his staff: Jack Jarvis, Natasha Stone, and Yvonne Lee-Long.
10 Years of Working to Improve Outcomes for Juveniles in WV: Where Do We Go from Here? (WV Judiciary) 
This session will bring a dynamic group of court officers, policymakers, judges, and lawyers to discuss the current state of juvenile justice in West Virginia. They will provide an overview of the origin of the Juvenile Justice Commission, what has been done well and what needs work, and where we go from here. This session promises to be highly engaging and informative.
Session Two
2:30 p.m. – 3:45 p.m.
Advocates and Activists for the Environment: What Can You Do? (West Virginia Rivers Coalition)
This session will draw upon young experts from the field to discuss strategies for addressing a healthy environment in West Virginia. This session will be led by Fulbright and Marshall scholar, Morgan King, and promises to be an exciting way to engage with environmental activism throughout the state. Students will learn about ways in which they can connect with their communities to promote a healthy environment as well as gain a general scientific knowledge about the state of the environment.
Voices from Opportunity WV: Why Diversity is Good for Business (Opportunity West Virginia)
Opportunity West Virginia is a consortium of business leaders and corporations oriented to help West Virginia welcome and retain an attractive and diverse workforce to cultivate a competitive economic climate. Opportunity West Virginia brings together like-minded businesses and organizations with the aim to create work environments that foster a culture of inclusion. Over 97 percent of Fortune 100 businesses have inclusive nondiscrimination policies. Opportunity West Virginia wants to help West Virginia to create an environment and support policy that will allow the state to recruit and retain the best, hardest working, and most talented individuals to better grow the statewide economy.
MLK Jr. Mural Painting Workshop (City of Charleston Public Art) in-person | capacity limit
This mural reflects our community, (quite literally as the background will be made up of over 700 self-portraits). The workshop will allow participants to paint self-portraits with step-by-step guidance from Public Art Director, Jeff Pierson.
Imagining the Experience of Our Unsheltered Neighbors (Religious Coalition for Community Renewal)
This session will draw upon local leaders and visionaries in addressing the epidemic of unsheltered neighbors in our community. We will evaluate Charleston's response to our unhoused communities by exploring an interactive activity to examine the pathways by which people become unhoused. We will evaluate local resources and the ways that our community can and does respond to provide basic resources, all the while respecting the integrity and dignity of every person in our community.
Recovery Initiatives in West Virginia – Dealing with an Epidemic during a Pandemic (WV Judiciary)
This panel will focus on an already critically challenging issue which has been made even more difficult in light of the COVID-19 pandemic. Local addiction leaders and specialists, local officials, and individuals from the recovery community will share their experiences and expertise. Panelists will address current challenges and victories from the perspectives of state officials, court leaders, and those recovering from substance use disorder. Participants will engage in a frank discussion of the realities of these life-or-death issues in the climate of the pandemic.
Organizing and Empowering Vulnerable Communities (Wheeling City Councilwoman, Rosemary Ketchum)
Wheeling City Councilwoman, Rosemary Ketchum, will discuss her career as an organizer and activist in Northern West Virginia. She will discuss her career as a community organizer and leader, oriented towards improving mental health and her role to protect and empower our most vulnerable community members. Ms. Ketchum will speak to addressing the many challenges of her work through innovative community and policy solutions, addressing such issues as: homelessness, addiction, poverty, racism, and affordable housing. Her work focuses on coordinating public and private entities, as well as constructive governance, to be empowered to improve her community and larger West Virginia.
Beyond Main Street: Celebrating and Developing Diverse Communities (Dr. Andree Robinson-Neal, UC School of Business and Leadership)
Dr. Robinson-Neal will discuss her experience working in the Salem, New Jersey Main Streets initiatives. She will discuss the history of Salem, New Jersey, its strengths and weaknesses, and the imperative for broad-based community organizations to share in the work of revitalizing and maintaining the health of communities. Special emphasis will be given to acknowledging the strengths of diverse and inclusive communities.
Promoting Growth in Urban Appalachia (Charleston Main Streets)
Charleston Main Streets (CMS) is a centralized economic and community development 501 (c)(3) non-profit organization focused on the continual revitalization of the East End and West Side of Charleston through business recruitment, district marketing, and public space enhancements.  CMS works with hundreds of partners, stakeholders, developers, and investors to restore historic properties, recruit local business, attract and retain entrepreneurs to the region, and market the districts through destination events and projects. ​Charleston Main Streets works to grow vibrant commercial districts, serving as the main vessel through the city's urban core, that fosters an environment for economic growth and the strongest business districts in West Virginia.