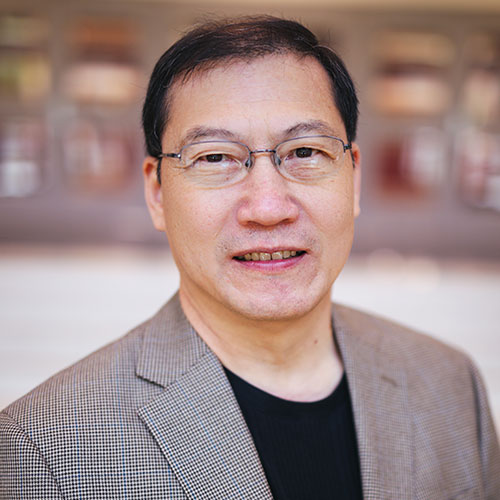 Contact Info
304-357-4898
Professor of Chemistry
B.S. Chemistry, Peking University, China (1983)
M.S. Chemistry, Peking University, China (1986)
Ph.D. Chemistry, University of New Brunswick, Canada (1995)
Research Associate, Biochemistry, Department of Physiology and Biophysics, Albert Einstein College of Medicine, Bronx, NY (1998)
Leadership
Director of the Chemistry Program (2002-2013)
Founding Director of the Chemistry-Biology Dual-Major Program (2008-2013)
Chair of Kanawha Valley Section of American Chemical Society (2012)
Teaching
General Chemistry
Basic and Advanced Organic Chemistry
Advanced Inorganic Chemistry
Upper-level Biochemistry
Research Interests
The first area of my research is inorganic spectroscopy, focusing on studies of effects of various ligands on electronic spectroscopic properties of uranyl [O=U=O]2+ and investigations on chemical and photochemical reduction of uranyl by EPR spectroscopy. Interesting photodissociation and charge-transfer processes of [O=U=O]2+ have been found. The results have laid down the foundation for further exploring synthetic utility of uranyl in organic and inorganic chemistry. It represents an important aspect in chemistry of the f-elements. The project is being funded by National Science Foundation (NSF) (Proposal # CHE1229498, collaborated with Marshall University).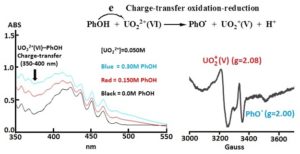 The second area of my research is synthetic and mechanistic organic chemistry. Many efforts have been made on functionalization of the C–H and C=C bonds in different hydrocarbons by inorganic cations. Synthetic methods for various organosulfur, organoselenium, and sulfur-nitrogen-containing heterocyclic organic compounds have been developed. Interesting mechanisms for new cycloaddition and electrophilic aromatic substitution reactions have been established.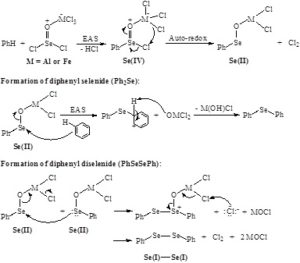 Studying new models of covalent bonding in main group molecules forms the third area of my research. For example, phosphorus is a main biogenic element. Understanding its bonding properties is crucial in illustrating the functions and mechanisms of related phosphorus-containing biological systems. In biological systems, we only find orthophosphoric acid derivatives whose bonding in phosphorus is traditionally thought to involve an s-p-d hybridization, namely one or two d orbitals in its valence shell, together with s and p orbitals, participates in bonding. My recent theoretical study has demonstrated that both pentacoordinated PX5 and hexacoordinated PX6–, traditionally described in terms of sp3d and sp3d2 hybridization of the central phosphorus atom, respectively, only involve s and p orbitals in bonding, and participation of d orbitals has been ruled out reasonably. This new model of bonding has been regarded as the "prevailing current view" by peer (Macia, E. Chem. Soc. Rev. 2005, 34, 1-14). It would be anticipated to produce substantial impact on the understanding of basic chemistry and biochemistry of phosphorus–containing systems.
Book
X. Sun. Organic Mechanisms: Reactions, Methodology, and Biological Applications, John Wiley & Sons, Hoboken, New Jersey (2013). ISBN: 9781118065648
Book Chapters
X. Sun. In: Advances in Chemistry Research, V. 45, Editor: J. C. Taylor, Chapter 4 Symmetry Analysis, Energetics, and Mechanisms for Some Fundamental Elimination Reactions, pp. 109-146, Nova Science Publishers, Inc., New York, New York (2018). ISBN: 978-1-53613-838-2
X. Sun. In: Horizons in World Physics, V. 293, Editor: A. Reimer, Chapter 4 Applications of Electron Paramagnetic Resonance (EPR) Spectroscopy in the Studies of Charge-Transfer (CT) Reactions, pp. 123-149, Nova Science Publishers, Inc., New York, New York (2017). ISBN: 978-1-53612-511-5
Research Articles
X. Sun, D. R. J. Kolling, S. Deskins, and E. Adkins. The Thermal Charge-Transfer Reduction of Uranyl UO22+(VI) to UO2+(V) by Various Functionalized Organic Compounds, and Evidence for Possible Spin-Spin Interactions between UO2+(V) and Hydroxymethyl (.CH2OH) Radical and between UO2+(V) and Diphenyl Sulfide Radical Cation (Ph2S.+). Inorganica Chimica Acta, 483, 12-20 (2018). Inorganica Chimica Acta.
X. Sun, D. Haas, and C. Lockhart. Iron(III) Chloride (FeCl3)-Catalyzed Electrophilic Aromatic Substitution of Chlorobenzene with Thionyl Chloride (SOCl2) and the Accompanying Auto-Redox in Sulfur to Give Diaryl Sulfides (Ar2S): Comparison to Catalysis by Aluminum Chloride (AlCl3). Phosphorus, Sulfur and Silicon, 192, 376-380 (2017). FeCl3-catalyzed-EAS-Sun.
X. Sun, D.R.J. Kolling, H. Mazagri, B. Karawan and C. Pierron. Investigation of Charge-transfer Absorptions in the Uranyl UO22+ (VI) Ion and Related Chemical Reduction of UO22+ (VI) to UO2+ (V) by UV-Vis and Electron Paramagnetic Resonance Spectroscopies. Inorganica Chimica Acta, 435, 117-124 (2015).
X. Sun. Recent Advances in Mechanistic Studies of the Aromatic C-H Bond Substitution and Related Chemistry – A Mini-Review. Current Organic Chemistry, 18, 3066-3077 (2014).
X. Sun, D. Haas, S. McWilliams, B. Smith and K. Leaptrot. Investigations on the Lewis-Acids-Catalysed Electrophilic Aromatic Substitution Reactions of Thionyl Chloride and Selenyl Chloride, the Substituent Effects, and the Reaction Mechanisms. Journal of Chemical Research, 736-744 (2013).
A. Siddig, L. Musik, O. Oyelowo, X. Sun, R. Addo and K. G. Yeboah. Formulation and Characterization of Novel Riboflavin Containing Albumin/Glycine Microspheres. International Journal of Pharmacy and Integrated Life Sciences, 1, 1-25 (2013).
X. Sun and K. Leaptrot. Effects of Various Ligands on Spectroscopic Properties of the Uranyl Ion. Journal of Undergraduate Chemistry Research, 10, 162-165 (2011).
X. Sun, D. Haas, K. Sayre and D. Weller. Formation of Diphenyl sulfoxide and Diphenyl Sulfide via Aluminum Chloride Facilitated Electrophilic Aromatic Substitution of Benzene with Thionyl Chloride, and Novel Reduction of Sulfur (IV) to Sulfur (II). Phosphorus, Sulfur, and Silicon and Related Elements,185, 2535-2542 (2010).
X. Sun. Symmetry Analysis in Mechanistic Studies of Nucleophilic Substitution and ß-Elimination Reactions. Symmetry, 2, 201-212 (2010).
X. Sun, C. Samples, K. Daia, M. Meyers and M. Bumgarner. Behaviour of the Uranyl (UO22+) Ion in Different Strongly Acidic Media: Characterisation of UO22+ in Common Acids by Electronic Absorption Spectroscopy. Journal of Chemical Research, 351-355 (2009).
X. Sun, A. Zarowitz and T. Payne. A Kinetic Study of the Oxidation-Reduction Chemistry of Cytochrome c by UV-Visible spectrophotometry. Journal of Undergraduate Chemistry Research, 8, 78-84 (2009).
X. Sun. An Integrated Approach to the Lewis Model, Valence Bond Theory, and Molecular Orbital Theory: A new Model for Simple Molecular Orbitals and a Quicker Way of Learning Covalent Bonding in General Chemistry. Chemical Educator, 12, 331-334 (2007).
X. Sun and C. Samples. A UV-Visible Spectroscopic Study of the Uranyl UO22+ Ion under Strongly Acidic Conditions: Evidence for Protonation of UO22+. Journal of Undergraduate Chemistry Research, 1, 29-32 (2006).
X. Sun. A study of the SN2 Mechanism by Symmetry Rules and Qualitative Molecular Orbital Theory. Chemical Educator, 8, 303-306 (2003).
X. Sun. The Three-Center, Four-Electron Bond in Hexacoordinated AB6-Type Main Group Molecules: An Alternative Model of Bonding without d-Orbital Participation in the Central Atom. Chemical Educator, 7, 261-264 (2002).
X. Sun. Pentacoordinated AB5-Type Main Group Molecules Favorably Adopt sp2 Hybridization in the Central Atom: Bonding without d-Orbital Participation. Chemical Educator, 7, 11-14 (2002).
X. Sun. Redefinition of Electronegativity as the Average Valence Electron Energy: The Third Dimension of Periodic Table. Chemical Educator, 5, 54-57 (2000).
S. Brownridge, J. Passmore, and X. Sun. Electrophilic Substitution Reaction of Dithionitronium SNS+ with Benzene. Canadian Journal of Chemistry, 76, 1220-1231 (1998).
W. V. F. Brooks, S. Brownridge, J. Passmore, M. J. Schriver, and X. Sun. Preparation and Characterization of 1,3,2-Dithiazolidine and 1,4-Dithia-7-Azabicyclo[2.2.1]heptane Cations; and a Mechanistic Study of the Cycloaddition Reactions of Alkenes with SNS+. Journal of Chemical Society, Dalton Transaction, 1997-2009 (1996)
J. Passmore and X. Sun. Identification of the 1,3,2,4-Dithiadiazolyl RCNSNS Radical Dimers in Solution; Their Dimeric Concerted Photochemically Symmetry-Allowed Rearrangement to 1,2,3,5-Dithiadiazolyl RCNSSN by the Net Exchange of Adjacent Cyclic Sulfur and Nitrogen Atoms; and the Photolysis of RCNSNS. Inorganic Chemistry, 35, 1313-1320 (1996)
S. Parsons, J. Passmore, X. Sun and M. Regitz. A Multinuclear NMR Study of the Cycloaddition Reaction of SNSAsF6 with the Phosphaalkyne (CH3)3CCP Leading to the 5-tert-Butyl-1,3,2,4-Dithiazaphospholium (CH3)3CCPSNS+ Cation; A Preliminary Account of the Novel Exchange of a Cyclic Phosphorus by Nitrogen in the Reaction of (CH3)3CCPSNS+ with Azide N3– Leading to 5-tert-Butyl-1,3,2,4-Dithiadiazolyl (CH3)3CCPSNS. Canadian Journal of Chemistry, 73, 1312-1320 (1995).
N. Burford, J. Passmore and X. Sun. Photolysis of 1,3,2,4-Dithiadiazolyl RCNSNS Radicals and Their Concerted Photochemically Symmetry-Allowed Rearrangement to 1,2,3,5-Dithiadiazolyl RCNSSN by the Net Exchange of Adjacent Cyclic Sulfur and Nitrogen Atoms. Phosphorus Sulfur Silicon Relat. Elem.93/94, 487-488 (1994).
S. Parsons, J. Passmore and X. Sun. A Multinuclear NMR Study of the Cycloaddition Reaction of SNSAsF6 with (CH3)3CCP; Reduction of 6π Cycloadduct 1,3,2,4-Dithiazaphospholium (CH3)3CCPSNS+. Phosphorus Sulfur Silicon Relat. Elem.93/94, 435-436 (1994).
E. G. Awere, W. V. F. Brooks, J. Passmore, P. S. White, X. Sun and T. S. Cameron. Preparation and Characterization of (SeNSNS)n(AsF6)2 Containing the 'Electron-Rich Aromatic' 6π SeNSNS2+ (n=1) and 7π SeNSNS+ (n=2). Journal of Chemical Society, Dalton Transaction, 2439-2449 (1993).
J. Passmore, X. Sun and S. Parsons. Cycloaddition Reactions of SNSAsF6 with Aryl Nitriles and Diphenylacetylene; the Preparation and Characterization of Aryl 1,3,2,4- and 1,2,3,5-Dithiadiazolyl Radicals. Canadian Journal of Chemistry, 70, 2972-2979 (1992).
S. Parsons, J. Passmore, M. J. Schriver and X. Sun. Quantitative Preparations of 1,3,2-Dithiazolium, 1,3,2,4-Dithiazolium, and 1-Halo-1,2,4,3,5-Trithiadiazolium Cations by the General, Symmetry-Allowed Cycloadditions of SNSAsF6 with Alkynes, Nitriles, and Thiazyl Halides. Kinetics of Cycloadditions of the 1,3-Dipolar-like SNS+ with Aliphatic and aromatic Nitriles and Alkynes. Inorganic Chemistry, 30, 3342-3348 (1991)
X. Sun and M. Su. Valence States and Luminescence of Europium in BaFBr:Eu Crystals. Journal of Luminescence, 40/41, 171-172 (1988)
M. Su and X. Sun. Luminescence of and Possible Electron Transfer and Transitions in BaFCl:Eu Crystal. Materials Research Bulletin, 22, 879-886 (1987)
M. Su and X. Sun. The Charge Transfer Excitation of Trivalent Rare Earth Ions Sm3+, Eu3+, Gd3+, Ho3+, Er3+, and Yb3+ Emission in BaFCl Crystals. Materials Research Bulletin, 22, 89-94 (1987)
M. Su and X. Sun. An ESR Spectroscopic Study on Valence States of Europium in BaFCl:Eu Crystals. Journal of Chinese Rare Earth Society, 5, 27-33 (1987)
Conference Presentations
X. Sun, D. Kolling, and S. Deskins. Thermal Charge-Transfer Reduction of Uranyl UO22+(VI) to UO2+ (V) by Methanol and Other Functionalized Organic Compounds. The 254th ACS National Meeting, August 20 – 24, 2017, Washington, DC
X. Sun, D. Kolling, H. Mazagri, and B. Karawan. Investigation on Charge-transfer Absorptions of Uranyl UO22+ (VI) and Chemical Reduction of UO22+ (VI) to UO2+ (V) by UV-visible and EPR Spectroscopies. The 249th ACS National Meeting, March 22 – 26, 2015, Denver, CO
X. Sun, D. Haas, K. Sayre, K. Leaptrot, and B. Smith. Our Progress in Studies of Aryl Organosulfur Compounds: Synthesis, Substituent Effects, and Reaction Mechanisms. The 43rd ACS Central Regional Meeting, June 5-9, 2012, Dearborn, Michigan.
X. Sun, D. Haas, and K. Sayre. Synthesis of Aryl Organosulfur and Organoselenium Compounds by AlCl3-Catalyzed electrophilic Aromatic Substitution Reactions. The 42nd ACS Central Regional Meeting, June 8-10, 2011, Indianapolis, Indiana.
X. Sun, D. Haas, K. Sayre, D. Weller, and C. Guo. Synthesis of Aryl Organosulfur Compounds by Aluminum Chloride Catalyzed Electrophilic Aromatic Substitution Reactions. The West Virginia Science, Technology and Research (STaR) Symposium, September 27–28, 2010, Huntington, West Virginia.
X. Sun. Applications of Symmetry Principles in Studying Organic Mechanisms. The 239th ACS National Meeting, March 21 – 25, 2010, San Francisco, CA
X. Sun. The Role of Inorganic Cations in Organic Functionalization. The 16th International Conference on Electrical and Electronic Products, January 12 – 13, 2009, Greenbrier, White Sulphur Springs, WV (Presented as an invited speech)
X. Sun. A Sustainable Model for Undergraduate Research. ACA Summit, October 18–20, 2007, Abingdon, Virginia.
X. Sun, C. Samples, and K. Daia. Behavior of the Uranyl UO22+ Ion in Strongly Acidic Media: Characterization of UO22+ in Common Acids by Electronic Absorption Spectroscopy The West Virginia Science, Technology and Research (STaR) Symposium, September 17–18, 2007, Morgantown, West Virginia.
X. Sun, C. Samples, and K. Daia. Behavior of the Uranyl UO22+ Ion in Strongly Acidic Media. The 233rd ACS National Meeting, March 25 – 29, 2007, Chicago, IL
X. Sun and C. Samples. A UV-Visible Spectroscopic Study of the Uranyl UO22+ Ion under Strongly Acidic Conditions: Evidence for Protonation of UO22+. The 231st ACS National Meeting, March 26 – 30, 2006, Atlanta, GA
X. Sun. Integrated Approach to the Lewis Model, Valence Bond Theory, and Molecular Orbital Theory: A Quicker Way of Learning Covalent Bonding. The 231st ACS National Meeting, March 26 – 30, 2006, Atlanta, GA
A. Short and X. Sun. A UV-Visible Spectroscopic Study of Denaturation and Redox Chemistry of Cytochrome c. 2005 Undergraduate Research Day, WV State Capitol Rotunda, March 1, 2005.
X. Sun. Carbon-Sulfur-Nitrogen Organic Compounds for Electronically Conducting Materials. The 12th International Conference on Electrical and Electronic Products, January 10 – 12, 2005, White Sulfur Springs, WV. (Presented as an invited speech)
X. Sun. Study of the SN2 Mechanism by Symmetry Rules and Qualitative Molecular Orbital Theory. The 227th ACS National Meeting, March 28 – April 1, 2004, Anaheim, CA
C. Tyler and X. Sun. Electrophilic Substitution Reaction of Benzene with the Uranyl [O=U=O]2+ Ion in Concentrated Sulfuric Acid. 2004 WV Undergraduate Research Day, WV State Capitol Rotunda, February 26, 2004.
X. Sun. Three-Center, Four-Electron Bond in Hexacoordinated AB6–Type Main Group Molecules: An Alternative Model of Bonding without d-Orbital Participation. The 225th ACS National Meeting, March 23 – 27, 2003, New Orleans, LA
X. Sun. Pentacoordinated AB5–Type Main Group Molecules Favorably Adopt sp2 Hybridization in the Central Atom: Bonding without the d-Orbital Participation. The 221st ACS National Meeting, April 1 – 5, 2001, San Diego, CA
X. Sun. Electronegativity: The Third Dimension of Periodic Table. The 32nd ACS Central Regional Meeting, May 16 – 19, 2000, Covington, Kentucky
X. Sun and Marco A. Pereira. Femtosecond Photodynamics of Ferrous Nicotinate Myoglobin. The 32ndACS Central Regional Meeting, May 16 – 19, 2000, Covington, Kentucky