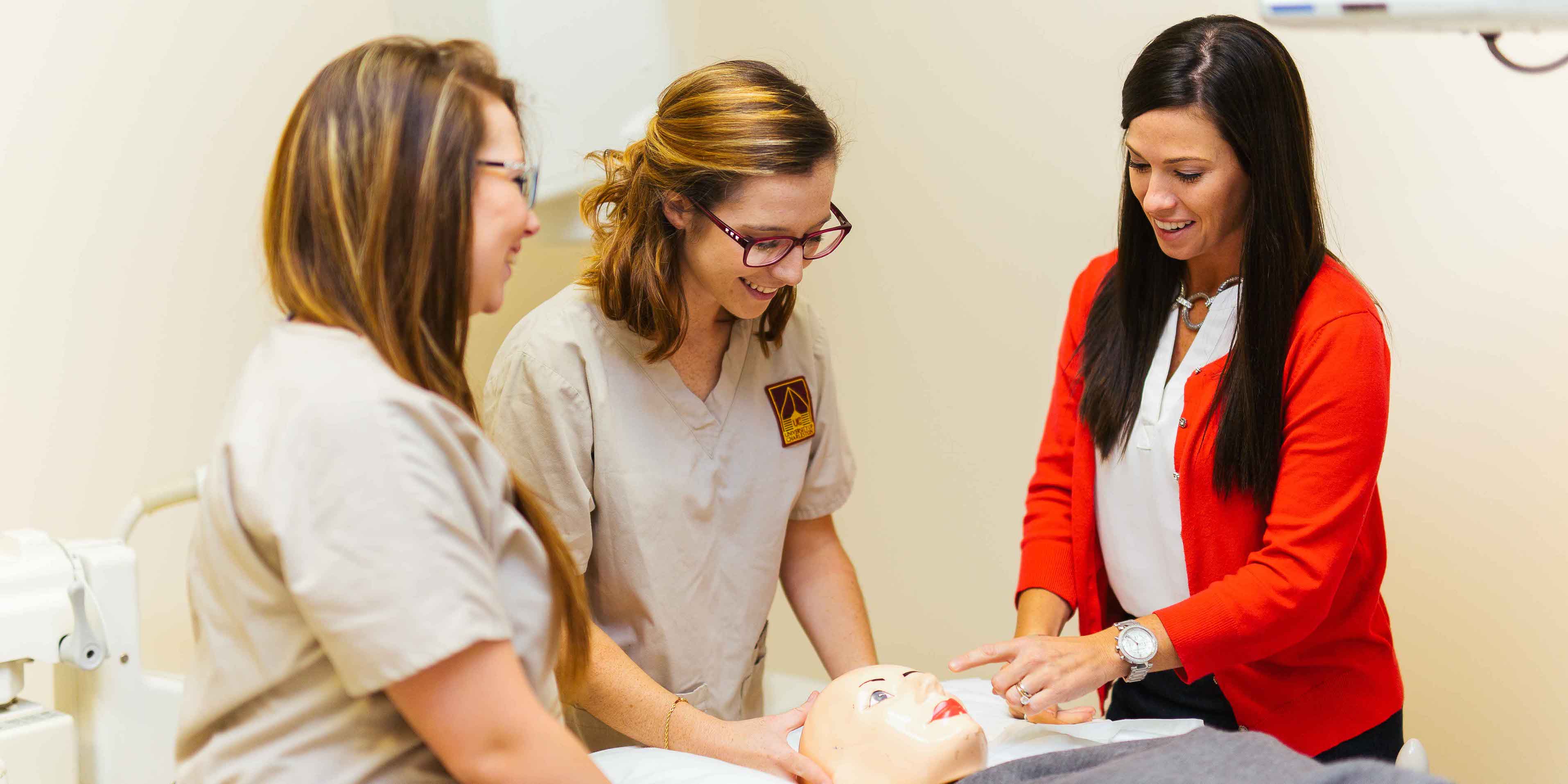 Radiologic Science
3 or 4 Years (two tracks available)

In-Seat

Charleston
Program Overview
This program will help you become a compassionate, responsible, and multi-competent radiology professional. You will have opportunities for advanced education and multi-credentialing in specializations, including MRI, CT, CV, US, and mammography.
The program covers topics including basic anatomy and physiology, medical terminology, radiation protection, radiographic positioning, imaging equipment, and more. You will be exposed to nearly 1250 hours of clinical experience, assuring that you have the skills to step into a professional setting confidently.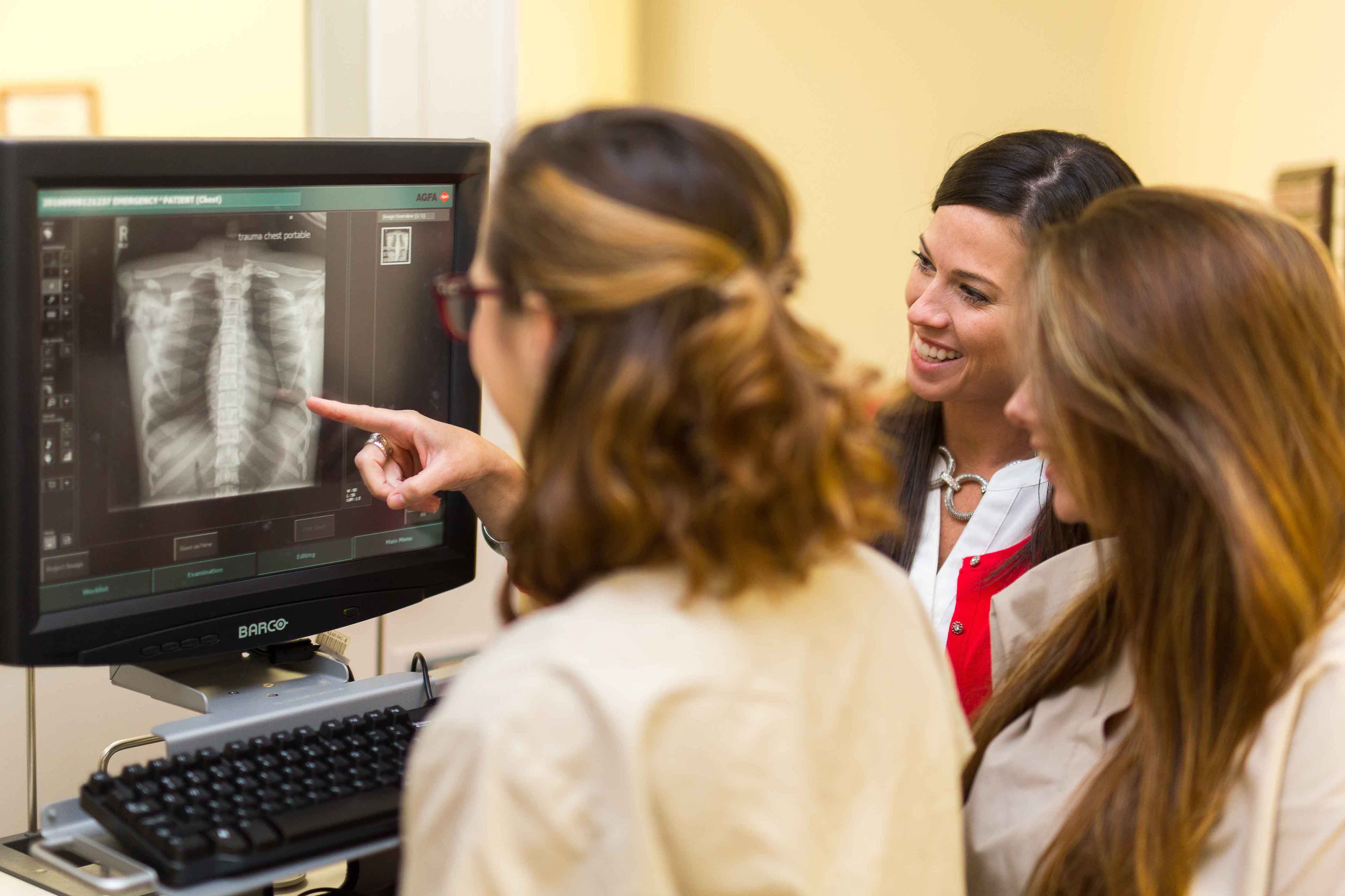 Freshman applicants with a 2.5 or higher high school GPA and transfer students with a 2.0 or higher cumulative college GPA are eligible for general admission to UC and will gain direct entry into this program. Students may apply online or download the admissions application.

Students must first gain general admission to the University of Charleston before acceptance into the Radiologic Science Program. The quota of applicants accepted and enrolled in the Radiologic Science Program is limited by the clinical facilities available.
Applicants to the B.S. Radiologic Science Program must complete a minimum of 90% (30 credits) of the freshman year courses of the Radiologic Science Program. Students must achieve a grade of "C" or higher in RADI 101 Introduction to Radiologic Science and RADI 102 Radiation Physics. If a transfer student is accepted into the program, they must complete RADI 101 & RADI 102 with a "C" or higher. Failure to receive a "C" or higher in either course as a transfer or sophomore student will result in termination from the program.
Program Highlights
A highly selective, fully accredited program that offers personal attention and low student/faculty ratio.

Two activated classroom laboratories and a CR digitizer on-site.

Clinical rotations through seven unique healthcare settings, including a level I trauma center, cardiac center, and children's hospital.

Opportunities for advanced education and multi-credentialing in specialized imaging modalities.

The program consists of approximately 125 credit hours, including 72 credits of Radiologic Science, 15 credits of Health Science core, 11 credits of Mathematics and Science, and 27 additional credits. You will also complete approximately 1200 hours of clinical experiences.
Program Outcomes
Post-Graduate Employers

Graduates have worked in various settings, including:

Charleston Area Medical Center (CAMC)
Thomas Health Systems
St. Francis Hospital
Presbyterian Hospital – Albuquerque, NM
Georgetown University Hospital – Washington, D.C.

Post-Graduate Schools/Programs

Our graduates attend numerous graduate programs, including:

University of Charleston School of Pharmacy
University of Charleston PA Program
Alderson Broaddus PA Program
Marshall University
WVU

Internships

Internship opportunities are available in the modality chosen by the student during junior and senior years.
Students can join the Radiology Club and enjoy membership that involves community service and fundraising for participation at annual conferences/seminars.
The Bachelor of Science Radiography program at the University of Charleston is accredited by the Joint Review Committee on Education in Radiologic Technology (JRCERT). The program's current length of accreditation is eight years, the most recent review occurred in 2018, and the next site visit will be in 2026.
JRCERT contact information is:
20 North Wacker Drive
Suite 2850
Chicago, Illinois 60606-3182
Phone: 312-704-5300
Email: mail@jrcert.org
Web: www.jrcert.org
Mission Statement
The primary mission/purpose of the Radiologic Science program is to provide challenging academic and clinical education for the development of the student as a compassionate, responsible, and multi-competent radiology professional. The faculty is committed to educating students in a liberal learning environment for a life of productive work as a practicing radiographer, guiding students on their journey to becoming lifelong learners by modeling continued education, and demonstrating the importance of service to the greater Charleston community.
Goals & Student Learning Outcomes
Goal #1- Students/Graduates will demonstrate competence as an entry-level radiographer
Student Learning Outcomes:
1.1 – Students will provide optimal patient care and assessment techniques
1.2 – Students will apply positioning & technique skills to obtain diagnostic images
1.3 – Students will practice radiation safety principles
Goal #2- Students will demonstrate effective communication skills
Student Learning Outcomes:
2.1- Students will demonstrate written communication skills
2.2- Students will demonstrate effective oral communication skills
Goal #3- Students/Graduates will employ critical thinking skills in professional practice
Student Learning Outcomes:
3.1- Students will identify non-routine patients and adapt standard procedures.
3.2- Students will critique images including identifying anatomy to determine diagnostic quality.
Goal #4-Student will model professionalism
Student Learning Outcomes:
4.1-Students will practice according to legal and ethical principles
4.2-Students will engage in professional development activities
| Fall | Credit Hours | | Spring | Credit Hours |
| --- | --- | --- | --- | --- |
| Bio 171 | 3 | | Bio 172 | 3 |
| Bio 171L | 1 | | Bio 172L | 1 |
| Univ 104 | 3 | | Univ 105 | 3 |
| Radi 201 | 3 | | Spch 103* | 3 |
| Radi 201L | 3 | | Radi 211 | 3 |
| Radi 101 | 2 | | Radi 211L | 3 |
| | | | Radi 212 | 3 |
| Humn 1xx | 3 | | Radi 102 | 3 |
| | | | | |
| TOTAL | 18 | | TOTAL | 22 |
| | | | | |
| With Comm 101* | 3 | | | |
| TOTAL: | 21 | | | |
Please note: Courses listed with an * do not count in total student enrollment credit hours in regards to overload. Eligibility requirements for the three-year bachelor's degree: minimum of a 21 on the ACT and an overall GPA of 3.5 on a 4.0 scale. Additionally, an interview is highly recommended with the Program Director to discuss the fast track details and expectations. Each student's three year curriculum plan is individualized to meet the student's remaining credit hour requirements. Transfer credit will modify the student's program plan. For additional information, please contact Kristi Barnett at 304-357-4971 or kristibarnett@ucwv.edu.
Meet the Faculty
Meet the Faculty