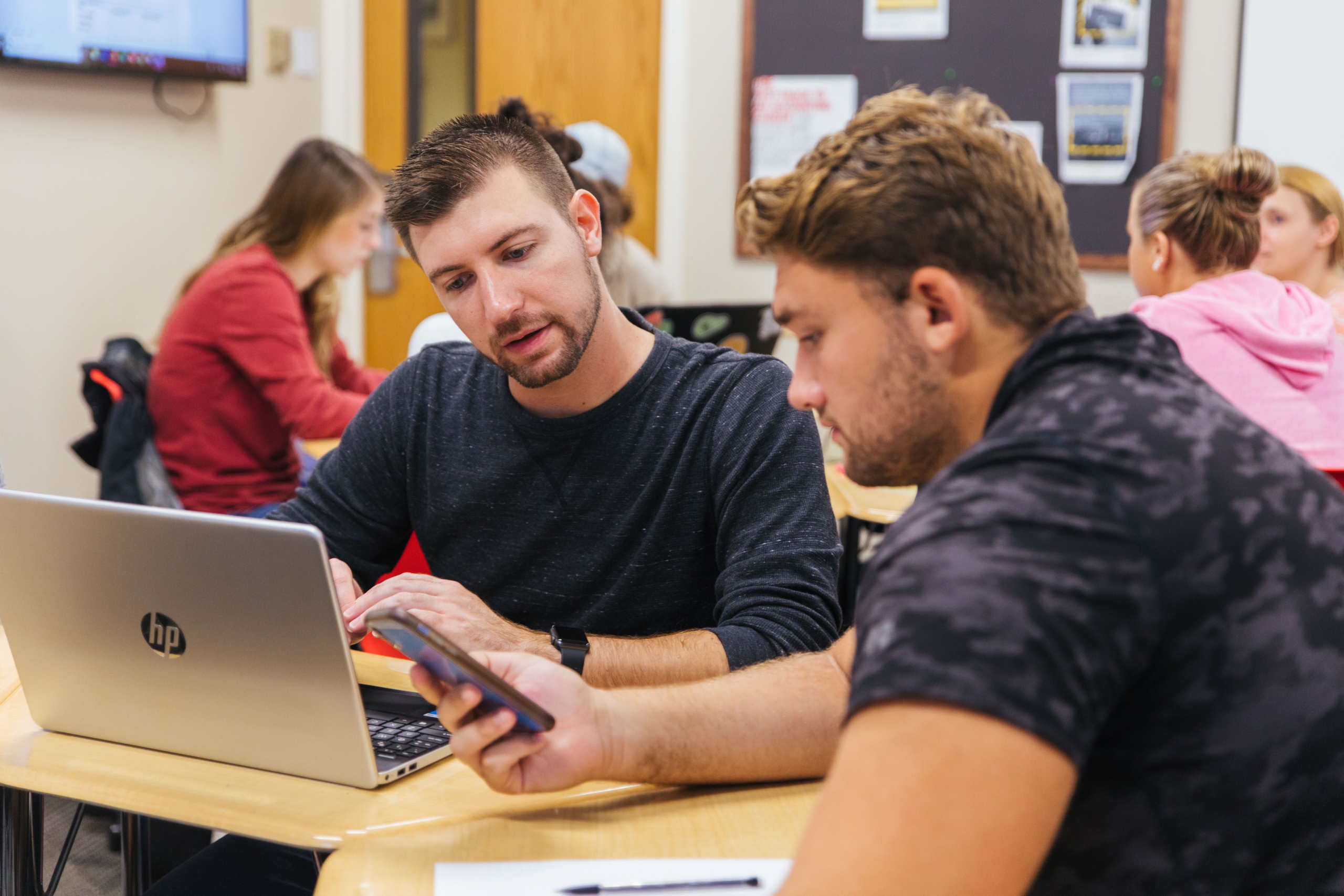 Accounting
4 Years (3 Year Fast Track Available)

In-Seat

Charleston
Program Overview
An Accounting degree offers you any number of professional opportunities. The job outlook for accountants is bright, and you can set yourself apart from others with our unique program. You'll develop skills in problem-solving, critical thinking, communications, and the full knowledge of what constitutes ethical practice, enabling you to pursue your academic and professional goals.
The Bachelor's degree in Accounting at UC offers a comprehensive academic journey into the world of financial expertise. Rooted in a strong foundation of principles and practices, the program equips students with analytical skills, ethical understanding, and practical knowledge to navigate the complex realm of accounting.
Through a dynamic curriculum, students explore financial reporting, taxation, auditing, and managerial accounting. Engaging with real-world case studies and industry-relevant tools, graduates emerge prepared for diverse roles in finance, auditing, consulting, or pursuing advanced studies. UC's Accounting degree molds individuals into adept professionals, primed to contribute effectively in the ever-evolving landscape of global finance and business.
You will develop exceptional knowledge of the accounting profession and develop strong critical thinking skills by focusing on the practical application of accounting theory to problems and cases.
Note: Students receive a Bachelor of Science in Business Administration, with a major in Accounting.

Freshman applicants with a 2.5 or higher high school GPA and transfer students with a 2.0 or higher cumulative college GPA are eligible for general admission to UC, and will gain direct entry into this program. Students may apply online or download the admissions application.
Program Highlights
Develop your knowledge through our unique mentoring program, and gain experience through internships with a variety of business organizations.

With an emphasis on accounting and business casework and problem-solving, you will develop the skills that make you valuable in the business world.

Ethical decision-making takes center stage, with specialized modules exploring the ethical dimensions of financial reporting and auditing, nurturing graduates who not only excel in their profession but also contribute ethically to the financial sector's integrity.

You can complete our fast-track program to graduate in fewer than four years, or complete both your accounting degree and MBA in fewer than five years. We also offer a CPA track so students can sit for the Certified Public Accountant exam upon graduation.

UC's program uniquely integrates sustainability accounting, fostering a deep understanding of how financial decisions impact social and environmental factors, preparing graduates to drive responsible business practices.

You can choose a minor that will further prepare you for opportunities in other industries.

Our curriculum helps prepare you for positions with public accounting firms, private businesses, government, non-profit organizations, or to further your education in graduate school.
Program Outcomes
Internships

Accounting majors have opportunities for courses that allow them to apply classroom theories and practices in the workplace. UC accounting majors have completed internships with a variety of business organizations:

Arnett Foster Toothman, CPAs
Gibbons & Kawash, CPAs
Brown Edwards & Company, CPAs
West Virginia State Auditor's Office
West Virginia Department of Transportation
West Virginia Insurance Commissioner's Office
FORVIS
Real Corp Inc.
Fripp Island Resort
Bowles Rice McDavid Graff & Love
National Travel
Enervest

Employers & Careers of Recent Graduates

Graduates have successfully found employment as accountants with CPA firms, businesses, and government organizations such as:

Arnett Foster Toothman, CPAs
Brown Edwards, CPAs
Harrington Group, CPAs
Limited Brands, Inc.
Charleston Area Medical Center
West Virginia Investment Management Board
Gray Griffith & Mays CPAs
Gibbons & Kawash, CPAs
Primerica
National Travel
MRC Global

CPA Exam

While requirements to sit for the CPA exam differ from state to state, in West Virginia, CPA applicants may sit for the exam with a baccalaureate degree and completion of specific accounting and business courses.
UC students earn CPA Exam Merit and Outstanding Accounting Student Awards
At the recent West Virginia Society of CPAs Annual Committee Day, two top awards were awarded to a UC graduate and a current UC student.
Jason Prince (2020 graduate) was named as the 2021 West Virginia CPA Exam Merit winner (highest score in the state of WV). The Merit Award is given to the individual who, on their first sitting for each of the four parts of the Uniform CPA Examination, makes the highest average passing score on all four parts.
Prince is the third Merit winner from UC in the past six years. Aaron Souza was the 2016 winner and Sarah Henderson was the 2018 winner. Additionally, Sarah was recognized as a 2018 Elijah Watt Sells Award (national award for high scores on CPA exam).
The Society also recognized May 2022 graduate Sean Woody as the WVSCPA Outstanding Accounting student.  This award recognizes students majoring in accounting from colleges and universities across the state. Students must have at least a 3.0 or higher in both cumulative GPA and Accounting, submit an essay, resume and current transcript and provide at least two references.
UC accounting graduates have been very involved in the West Virginia Society of CPAs for many years. UC Alum Judy Hermansdorfer Proctor has been the CEO of the Society for the past decade, and the current President of the Society is UC alum Brian Wadsworth.
The West Virginia Society of Certified Public Accountants is a professional society offering education, support, and other information to help members advance in their careers, provide opportunities to keep up with new information, and more.
Additional Information
Enactus Club
Enactus (formerly SIFE) is a community of student, academic and business leaders committed to using the power of entrepreneurial action to transform lives and shape a better, more sustainable world.
UC's Enactus program is very involved both on and off-campus, and accounting majors have been active participants and leaders. Recent projects address financial literacy and success skills, environmental sustainability, entrepreneurship, business, and personal ethics and market economics.
What is a Bachelor's degree in Accounting?
A Bachelor's degree in Accounting is an undergraduate program that provides a comprehensive education in financial and managerial accounting, taxation, auditing, and related disciplines. It equips students with the knowledge and skills needed to pursue a career in accounting and finance.
What skills will I develop in this program?
Answer: The program hones skills in financial analysis, data interpretation, problem-solving, attention to detail, communication, and ethical decision-making. You'll also gain proficiency in using accounting software and understanding complex financial regulations.
Is a Bachelor's degree in Accounting only for those who want to become accountants?
Answer: No, the degree opens doors to a wide range of careers. It also prepares you for positions in finance, consulting, business analysis, and management roles, as the skills learned are valuable across various sectors.
How does the program incorporate technology and modern accounting tools?
Answer: Our accounting program integrates technology into the curriculum, exposing students to accounting software, data analytics tools, and emerging technologies, preparing them to excel in today's tech-driven accounting landscape.
What's the difference between a Bachelor's in Accounting and a Bachelor's in Finance?
Answer: While both focus on financial aspects, accounting deals with recording, classifying, and analyzing financial transactions, while finance focuses on managing investments, financial planning, and risk assessment. Accounting is more detailed and regulatory-oriented, while finance is broader in scope.
Meet the Faculty
Meet the Faculty