UC Choral Program
Choral opportunities for beginner to advanced singers.
Be a part of our choir family.
UC offers two choral ensemble opportunities: Concert Choir and University Singers. Both choirs allow students to explore a wide variety of choral literature and grant several performances opportunities throughout the year. Our choral program annually have Winter and Spring concerts highlighting each semester's repertoire.
Past special performances collaborations with:
West Virginia Symphony Orchestra's Chorus
River City Youth Ballet
Appalachian Children's Chorus
Additional opportunities:
Participate in the WV ACDA Regional Collegiate Honor Choir held in Morgantown
Volunteer to assist area middle and high school choral workshops
Assist with UC sponsored honor choirs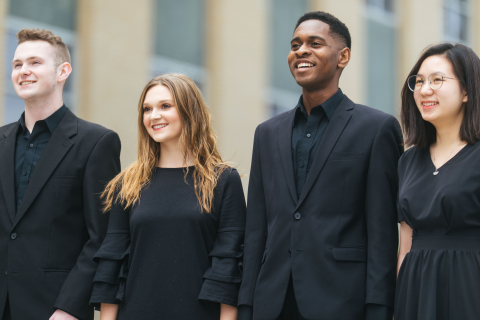 ---
UC Concert Choir
The Concert Choir is open to all UC students and does NOT require prior experience or an audition to join.
University Singers
The University Singers is a select singing organization, whose members are drawn from the UC Concert Choir by audition; therefore, University Singers members must sing in both the Concert Choir and the University Singers.
Performs music that includes classical, jazz, show tunes, and popular music.
Several performances a semester. This group is also often requested to perform by university organizations at various functions.
Members earn one credit per semester for participation.
Rehearsals for the University Singers are Monday, Wednesday, and Friday from 2:00 p.m. until 2:50 p.m.
Performances and Tours
Numerous performances are scheduled during each semester. Annual Holiday and Spring concerts are performed in the Erma Byrd Gallery and attended by both the UC and Charleston communities.
Each year, the Concert Choir and University Singers tour a portion of the U.S. Past tours have included trips to Illinois (Chicago); New York; Maryland; Michigan; Ohio; Pennsylvania; and Washington, D.C.
Choir tours are always fun and rewarding — a chance to meet new friends and cement old relationships. For many talented students, traveling as part of a touring choir is the first time their performance skills have a tangible reward.
Music Scholarships
The University of Charleston offers an automatic $500 tuition scholarship for all students who fulfill the course requirements for signing up choir. Additional scholarship funding is available based on ability level determined by a requested audition.
Auditions
You must audition for the Concert Choir, but students should register before they audition. The audition is simple, and most (though not all) who attempt it are successful. If you are really good and have the interest and time to perform with the best, you can also audition for the University Singers.
During your audition, the conductor will:
Lead you through simple warm-up style vocalizations to determine the range and beauty of your voice and ability to sing in tune
Clap rhythms and ask you to echo them
Play short melodies and ask you to echo them on a neutral syllable
Listen to a prepared song you might wish to sing (This item is not required.)
Discuss the choral program at UC and answer questions as needed
Music Scholarships
The University of Charleston offers various levels of scholarship based on ability and participation in our ensembles.
Students wishing to audition for a music scholarship will be asked to:
Perform simple warm-up style vocalizations to determine the range and beauty of their voice and ability to sing in tune
Echo rhythms that are clapped
Echo short melodies on a neutral syllable
Perform a prepared song
Take part in a discussion about the UC choral program