Choral Opportunities
Students with a passion for song have a great opportunity on campus.
If your voice is your instrument, you are invited to join the University of Charleston's premiere vocal ensemble.
UC students can perform in the Concert Choir, the University Singers, or both. (Members of the University Singers are chosen from the Concert Choir.)
Both groups offer several performances during the year and tour a portion of the U.S. The annual Holiday and Spring concerts held on campus are a 'standing room only' UC tradition.
---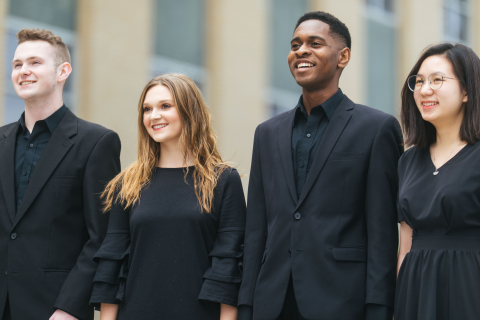 Be part of a community
The music department at UC is more than a group – it's a family.
---
UC Concert Choir
The Concert Choir is a select singing organization, with membership open to all UC students by audition. The Choir performs a wide variety of choral literature, with two to three performances each semester, and a performance tour at the end of the spring semester.
Rehearsals are Tuesday, Wednesday and Thursday from 3 p.m. until 4:15 p.m. Participation is free, and the required outfits for members are provided by the University. In addition, costs for the annual tour are covered.
Members of the Concert Choir earn one credit per semester for participating.
University Singers
The University Singers is a select singing organization, whose members are drawn from the UC Concert Choir by audition; therefore, University Singers members must sing in both the Concert Choir and the University Singers.
Rehearsals for the University Singers are Monday, Wednesday, and Friday from 2:00 p.m. until 2:50 p.m.
The University Singers perform music that includes classical, jazz, show tunes, and popular music. They have several performances a semester and are often asked by University organizations to participate as entertainment at their functions. There is no fee for participating in the University Singers and outfits for the members are provided by the University.
University Singers members earn one credit for participation per semester.
Auditions
You must audition for the Concert Choir, but students should register before they audition. The audition is simple, and most (though not all) who attempt it are successful. If you are really good and have the interest and time to perform with the best, you can also audition for the University Singers.
During your audition, the conductor will:
Lead you through simple warm-up style vocalizations to determine the range and beauty of your voice and ability to sing in tune
Clap rhythms and ask you to echo them
Play short melodies and ask you to echo them on a neutral syllable
Listen to a prepared song you might wish to sing (This item is not required.)
Discuss the choral program at UC and answer questions as needed
Performances and Tours
Numerous performances are scheduled during each semester. Annual Holiday and Spring concerts are performed in the Erma Byrd Gallery and attended by both the UC and Charleston communities.
Each year, the Concert Choir and University Singers tour a portion of the U.S. Past tours have included trips to Illinois (Chicago); New York; Maryland; Michigan; Ohio; Pennsylvania; and Washington, D.C.
Choir tours are always fun and rewarding — a chance to meet new friends and cement old relationships. For many talented students, traveling as part of a touring choir is the first time their performance skills have a tangible reward.
Music Scholarships
The University of Charleston offers various levels of scholarship based on ability and participation in our ensembles.
Students wishing to audition for a music scholarship will be asked to:
Perform simple warm-up style vocalizations to determine the range and beauty of their voice and ability to sing in tune
Echo rhythms that are clapped
Echo short melodies on a neutral syllable
Perform a prepared song
Take part in a discussion about the UC choral program
---