Learn More About Pharmacy
How do you know if pharmacy is right for you? We can help.
While many people picture a pharmacy career as a retail pharmacist, there are many more options with a pharmacy degree.
You could be on the team that creates a life-saving drug – or make sure that a new drug is safe for the general public. You could work as a veterinary pharmacist. Teach. Develop better ways to get life-saving medicines to more people efficiently. You can become a writer for technical and medical journals. Create drug prevention programs. And more.
Pharmacists can and do work in a variety of settings, including retail pharmacy, research and drug development, education, veterinary, government agencies, and more. And they can specialize in a variety of areas.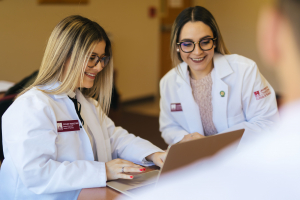 Pharmacists change lives, whether they are behind a retail counter, in a lab, or providing professional guidance and support in a large range of professional settings. And pharmacists are regularly named as one of the most trusted health care professionals.
UCSOP Graduates are employed in various areas of practice:
Community Pharmacy 59%
Hospital & Long-Term Care 15%
Post-Graduate Training Positions 10%
Other 16%
We also offer two opportunities for you to come and see what pharmacy – and the UC School of Pharmacy – is all about. Learn more about ExRx:
ExRx – Experience Pharmacy at UCSOP – is an interactive Open House that is designed for high school seniors and college undergraduates who are interested in pursuing a doctor of pharmacy degree.
Participants have the opportunity to learn about various pharmacy career paths, participate in activities in the compounding, simulation and IV labs, and tour the School of Pharmacy.
Learn more about careers in pharmacy
Enjoy a Q&A luncheon with students, faculty and staff
Participate in hands-on activities in our compounding, simulation and IV labs
Tour the School of Pharmacy building
For more information, call 304-357-4889.
For a more immersive experience, our summertime three-day intensive pharmacy experience, ExRx (Experience Pharmacy) Bootcamp, includes:
Activities in our compounding lab
Hands-on work in our IV and simulation labs
Mock patient consultations
Interactions with licensed pharmacists and UCSOP faculty
Informational sessions on applying to pharmacy school
Assistance with personal statements (and mock interviews)
History in pharmacy exploration
Service projects and evening activities
And much, much, more!
This summer camp experience is designed specifically for high school students who will be entering their junior or senior year of high school in the fall and are interested in pursuing a pharmacy degree. Camp faculty includes pharmacy faculty and professional pharmacy students as well as members of pharmacy student organizations.