Commencement
Celebrating the hard work, academic successes and personal growth of our students
Graduation is a huge achievement and we are proud of every one of our graduates.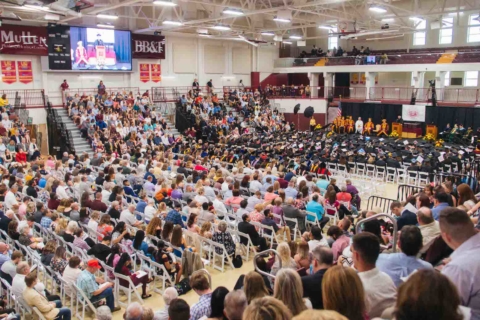 The University of Charleston has two ceremonies each year, one in December and another in May.  Dates, times and locations are listed below (subject to change):
Commencement Ceremony for Saturday, December 7, 2019
The December ceremony will be held in the Geary Auditorium, located in Riggleman Hall on our Charleston campus at 10:00 a.m.
Download the FAQs for December's Commencement Graduation.
Commencement Ceremony for Saturday, May 2, 2020
Our May Commencement will be held in the H. Bernard Wehrle Athletic Arena, inside our Innovation Center. There are separate commencements for our undergraduate and graduate level students. Graduate level commencement/hooding of candidates will take place at 11:00 a.m., and undergraduate commencement will be at 5:00 p.m.
Each Academic School will host a reception between the two commencement ceremonies
Academic Honors Ceremonies
Several of our professional programs hold pinning or other ceremonies specific to their academic traditions around the commencement dates. These will be announced once they are scheduled.
---
Commencement Program
Academic Programs
Nursing Pinning Program
Occupational Therapy Assistant Pinning Program
Radiologic Technology Pinning Program
PA White Coat Ceremony Program
School of Pharmacy Oath Taking Program
Do I need a ticket to attend graduation?
If you are attending our December ceremony, you do not need a ticket. This is generally a smaller ceremony, and we have plenty of room.
If you are attending our May ceremony, you will need a ticket/wristband to get in to the Arena. Your graduate will be given a specific number of tickets/wristbands (based on the number of students graduating) to give to family members.
Is there reserved seating?
No, seats for both ceremonies are on a first-come, first served basis.
What if we don't have tickets for the whole family?
We have designated overflow seating throughout the campus, where family members can enjoy the ceremony through live stream video.
What time do doors open?
Doors for both ceremonies will open a half hour before commencement begins. If you have a handicapped member of the family, or someone who needs extra help to get seated, there are ushers stationed throughout the area to help.
Can I take photos?
We do ask that families not rush to the stage to get photos. We have a professional photographer who takes photos during the event, and you can visit his website at www.mypicturesnow.com.  Before and after the ceremony, we invite graduates and their families to take group photos out on our beautiful riverbank.
I am from out of town, where can I stay?
There are several hotels near campus, and we have a list of those that offer visiting UC families a discount: see Where to stay
Will the Bookstore and Coffee Tavern be open?
Both will be open on the day of Commencement from 10:00 a.m. – 2:00 p.m.