Commencement
Celebrating the hard work, academic successes and personal growth of our students
Graduation is a huge achievement and we congratulate each of our students who have successfully reached this goal in their academic journey.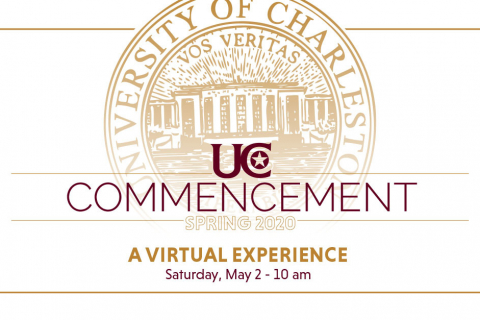 Spring Commencement Ceremony
Saturday, May 2, 2020
10 am
Of all of the decisions we have had to make during the COVID-19 crisis, postponing the May 2020 Commencement and related professional ceremonies were the toughest. Because all of us look forward to the day when our students walk across the stage in their regalia, receive their well-earned diploma, hear the cheers from family and friends, and celebrate this important milestone. We were hoping that we would be able to celebrate your special day together on campus, but due to regulations prohibiting gatherings and our priority to keep our students, their families, and friends, as well as our faculty and staff safe, we have had to rethink graduation this year.
We pledge to make it remain special…and while it will not be the ceremony we were all expecting, we will still celebrate your graduation at UC.
The opportunity to walk in December
A December 2020 Commencement Ceremony on the Charleston campus will be available for all students eligible for the May 2020 ceremony.  We appreciate how important commencement is for you, your classmates, and loved ones.  Any May 2020 graduate that would like to walk across the stage, shake hands with the President, and experience a UC graduation ceremony with family and friends on campus is welcome to participate.  All professional school hooding and pinning ceremonies are also being rescheduled for December.  More details will become available as social restrictions change.
---