Commencement
Celebrating the hard work, academic successes and personal growth of our students
Graduation is a huge achievement and we congratulate each of our students who have successfully reached this goal in their academic journey.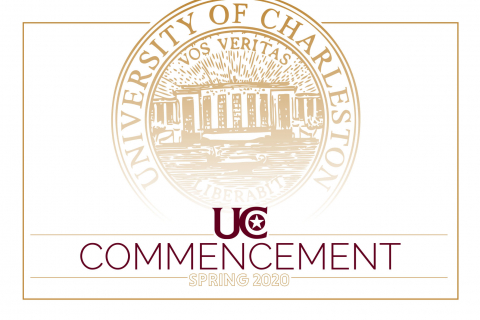 Spring Commencement Ceremony
Saturday, May 2, 2020
*Update 3.24.2020
Of all of the decisions we have had to make during the COVID-19 crisis, postponing the May 2020 Commencement and related professional ceremonies were the toughest. Because all of us look forward to the day when our students walk across the stage in their regalia, receive their well-earned diploma, hear the cheers from family and friends, and celebrate this important milestone. We were hoping that we would be able to celebrate your special day together on campus, but due to regulations prohibiting gatherings and our priority to keep our students, their families, and friends, as well as our faculty and staff safe, we have had to rethink graduation this year.
We pledge to make it remain special…and while it will not be the ceremony we were all expecting, we will still celebrate your graduation at UC.  Here is the current plan:
The opportunity to walk in December
A December 2020 Commencement Ceremony on the Charleston campus will be available for all students eligible for the May 2020 ceremony.  We appreciate how important commencement is for you, your classmates, and loved ones.  Any May 2020 graduate that would like to walk across the stage, shake hands with the President, and experience a UC graduation ceremony with family and friends on campus is welcome to participate.  All professional school hooding and pinning ceremonies are also being rescheduled for December.  More details will become available as social restrictions change.
A virtual commencement on May 2, 2020
So we don't have to wait until December to start celebrating, we will broadcast a Virtual Commencement on May 2nd.  This will allow students returning home or starting a new job with the opportunity to be virtually recognized for their achievements. This event allows May 2020 graduates with a chance to share your well-earned accomplishment with family and friends.
To help us celebrate you, we are asking each senior to upload a photo to be displayed virtually during our broadcast. This photo can be of just you, you and your family, you and your dog – if it's special to you, it's special to us, and we want to display it. Information on accessing the form to submit your photo will be coming soon.
Caps & gowns
Caps and gown should arrive on campus next week.  We cannot distribute them on campus at this time.  Information on having your regalia shipped to your current location will be coming soon as well.
You'll always be a Golden Eagle and we are thankful for the time that we have had together on campus over the last few years. We appreciate your patience and understanding as we do our best to serve you during these challenging times.
Stay healthy and focused as you complete your Spring courses!
Best regards,
Martin S. Roth
President
---