New Communications and Marketing Personnel Announced
The University of Charleston welcomes two new members to its Office of Communications and Marketing – Ella Curry, UC's new Vice President of Communications and Marketing, and Connor Isner, Digital Content Manager for the university.
Following a national search, Curry was named Vice President of Communications and Marketing in December 2022. She comes to UC from Marshall University, where, for the past decade, she held roles of increasing responsibility in admissions and recruitment. She was Assistant Director from 2009-18, Associate Director from 2019-21, and most recently served as Director. She led all outreach and engagement activities with prospective students and families, including marketing, social media, and website content and distribution. Her experience also includes leading and contributing to successful data management and technology-driven strategies, event hosting, and staff productivity and retention.  Prior to her work in higher education, she held information and press roles in state government. Ella earned both bachelor and master's degrees in journalism and is active in various professional organizations.
"Ella brings to UC all of the characteristics we were looking for in our next Communications and Marketing Vice President," according to UC President Marty Roth.  "She is an inspirational leader, strategic decision-maker, and results-driven manager. Her deep understanding of student audiences of all ages and backgrounds and the best ways to reach them effectively and efficiently will be of great value as we continue to innovate and grow our programs. She is deeply committed to student success, creating the best quality work, and being part of a high-achieving and inclusive community, all of which are consistent with UC's core values. Her vision to continue propelling the UC brand through creative and powerful content will be a terrific asset as we embark on our new strategic plan and keep UC on its path of growth and success."
Digital Content Manager Connor Isner will serve as the University's photographer, videographer, and social media manager. He will be responsible for creating and producing high quality multimedia assets and oversee their distribution throughout a variety of digital and print outlets. A graduate of Fairmont State University, his resume includes work for the Ripley Convention and Visitors Bureau, as an Assistant Digital Content Creator at Fairmont State University and as a multimedia specialist for the Governor's Honors Academy.
"We are thrilled to have Connor join the team. His experience and enthusiasm will help us continue to provide the engaging content needed achieve our goals," said Curry.
Ella Curry
Vice President of Communications and Marketing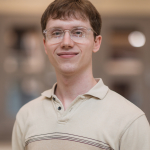 Connor Isner
Digital Content Manager