Kappa Delta Rho Lives the Mission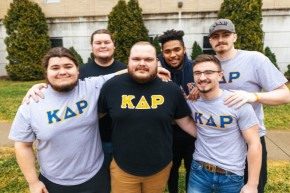 The UC fraternity Kappa Delta Rho recently spent time living the UC Mission by actively serving and delivering blankets, food, and water to individuals and families in need around Charleston.
With a focus on the homeless population, the fraternity members were accompanied by local law enforcement and Taryn Wherry, the Director of Charleston's Coordinated Addiction Response Effort (CARE).
"I believe the relationship the Fraternity is building with the Charleston CARE team will help for years to come," said Derek Hudson, UC Alumni President of Kappa Delta Rho. "The guys served in a meaningful way and engaged in conversations to learn more about the struggles of the less fortunate."
To truly get an accurate picture of needs in our community, the outreach occurred when challenges were the greatest – late at night when spring weather in West Virginia is often frigid.
"We want to make sure our less fortunate neighbors know that we see them," said Daelan Boggs, current UC student, and Kappa Delta Rho President. "We are here to help without judgment. Everyone deserves a second chance and fair treatment."
The group is planning another outreach event this spring.