I3 Innovation Days Winners Announced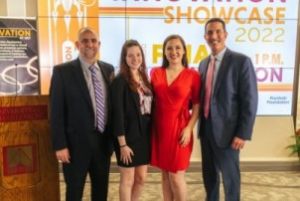 (Pictured, L to R: Innovation Center Director Dave Ramsburg, Logan Bossert, Kaylee Nott, and UC President Marty Roth)
The University of Charleston's annual I3 (ideas, Innovation, Inspiration) Day wound up its competition with five finalists presenting their entries in a live event held in UC's Innovation Center. The culmination of the event was the announcement of our 2022 winners:
1st place: Kaylee Nott – Fabricating the Future: A Stitch at a Time
2nd place: Logan Bossert – Analysis of the Charge Transfer from Aromatic Compounds to Uranyl (VI) using UV-Vis and Fluorescence Spectroscopies
Finalists were the first-place winners in the student categories from the first round of the showcase. In addition to Nott and Bossert, other finalists included:
Joel Braswell, "The Importance of Portfolio Diversification" – Case Study Winner
Eli Hughes, "E's Everlasting Tees" – Product or Service Winner
Colton Webb, "Mindfulness in Sport" – Research Winner (Tie)
Community judges rated the presentations and declared the winner.
As Grand Champion, Nott won $2,000 and 1st Runner Up Bossert won $1,000.
Sponsors of the event include Assured Partners, United Bank, Melinda Taylor State Farm Insurance Office, and Pianfetti Foundation.
The i3 Day Showcase is an annual event at UC, encouraging participants to create new and innovative applications to a problem, a new product, artwork or presentation, and more. Presentations are divided into Student and Faculty/Staff competitions. Entries are judged by a panel of external community judges. The top 3 finishers in each category receive cash prizes.