Chi Sigma Alpha Inducts 111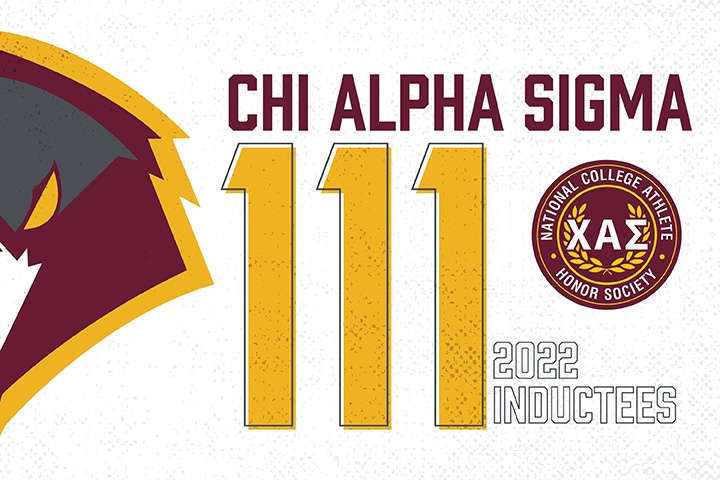 The National Athlete Honor Society, Chi Alpha Sigma, recently inducted 111 UC student-athletes.
These students earned an overall GPA of 3.4 or higher, completed 60 hours of degree credit, and have the recommendation of their respective head coaches.
The ceremony had been delayed for two years due to Covid-19, so this one was very special, as are the students who were honored for their outstanding performance in the classroom and on the field of play.
Full List of Inductees
Women's Volleyball
Erin Thomas, Gianni Blundell, Jaxin Melby, McKenzie Carpenter, Corie Young, Brianna Washburn, Morgan Walter, Alexandra Fisher
Women's Track
Amara Mason, Myra McLaughlin, Lillian Dowdell, Kasey McNamara, Arriana Felix, Morgan Turner, Mista Smarr
Women's Tennis
Raeanne Reed, Mathilde Simon, Emelina Alvarez, Regina Lopez, Haarini Balakrishnan, Meggan William
Women's Softball
Danielle Bauer, Emma Groe, Morgan Hoppe, Rebekah Woody, Allysa Lake, Mackenzie Brown, Alyssa Yungwirth, Kaylee Hotchkiss, Allison Donato, Kaitlyn Griffithl Jade Espinosa
Women's Soccer
Balie Destefano, Laura Vierhout, Eddy Kate, Lotte Bovij, Keira Hill, Jessica Seaton, Roberta Pomi, Brooke Lucas, Sydney Cavender, Sydney Wheeler, Katelyn O'Reilly
Women's Lacrosse
Olivia Esposito, Kayleigh Burns
Women's Golf
McKenzie Dietz, Leah Loudermilk
Women's Basketball
Embla Andersson, Sierra Davis, Anna Cardwell, Trinity Palacio, Abigail Lee, Clarrissa Francis, Dakota Reeves, Margaret Stephenson, Shamiah Bridges
Men's Volleyball
Garret Schnitker
Men's Track
Joao Pereira, Colin Hunkele, James Shamblin, Anthony Bradford, Daniel Mullenax, Michael Garrett, Kevin Olivas Rodriguez
Men's Tennis
Adrian Heidelberger, John Giesberts, Robert Shaak
Men's Soccer
Sean Hill, Manuel Silva, Marc Torrado, Nolan Ross, James Raptis, Gerard Albert-Feliu, Paul Caliari, Eduardo Barros, William Stille, Michal Serdynski, Stewart Perry
Men's Golf
Seth Hoffman, Dylan Prasad, Fredrik Andersen, Zachary Katzenstein, Robin Haesslich
Men's Basketball
Jeremiah Keene
Men's Baseball
Anthony Gonzalez, Eric Chartier, Tyler Dellerman, Justin Boggs, Trey Ritchie, Matthew Mills, Jess Kuhl, Griffin Adkins, Jared Armstrong, Andre Martinez, Andrew Klaserner, Bryce Toussaint, Ryan McWilliams
Football
Taylor Green, Michael Perry, Ross Arroyo, Niko Kausky, Dekavis Preston, Micah Hancock, Grayson Lester, Kadin Jarrouj, Paul Miller, Duane Bland, Isaac Isabell
Cheerleading
Ixel Quezada, Cintera Donaldson, Sydney Daniels