UC Pharmacy Student Wins National Honor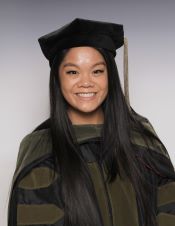 UC School of Pharmacy student Ashley Lam has been selected as one of the Top Ten recipients of the United States Public Health Service Excellence in Public Health Pharmacy Award. Only 90 pharmacy students in the US are recognized for the award each year.
The award was established to recognize pharmacy students that make significant contributions to public health, including advancing the objectives of Healthy People 2030, the Surgeon General's priorities, and the pharmacy profession.
In a letter to Lam congratulating her on her award, Rear Admiral Ty Bingham, US Assistant Surgeon General, wrote "Your achievements that clearly support public health illustrate the importance of incorporating core public health principles into today's pharmacy practice. Furthermore, your demonstrated passion and dedication to advance public health and the profession of pharmacy is truly impressive."
Lam, from Ellicott City, MD, is a P4 student at the UC School of Pharmacy.
The Excellence in Public Health Pharmacy award is issued by the Pharmacist Professional Advisory Committee (PharmPAC) of the United States Public Health Service (USPHS).  The USPHS is led by the Surgeon General and is made up of more than 6,100 Commissioned Corps officers that work on the front lines of public health – fighting disease, conducting research, and caring for patients in underserved communities.  This diverse team of highly-qualified healthcare professionals is driven by a passion to serve the underserved, and these men and women fill essential public health leadership and clinical service roles within the Nation's Federal Government.
For more about the program, visit