Profile: Joseph Janisch
The only thing better than singing… is more singing – Ella Fitzgerald
From a traditional Quaker hymn to Queen's Bohemian Rhapsody, Dr. Joseph Janisch has brought music to his UC students – and the rest of us – for a 'noteworthy' twenty years.
Dr. Janisch serves as an Associate Professor and Director of Choral Activities at UC. He conducts both the UC Concert Choir and the University Singers.
When Dr. Janisch arrived on campus, the university offered a music major. While UC no longer offers the major, the groups under his direction are thriving.
"Since the closure of the major, the focus of the groups has been more social and performance-based," explained Dr. Janisch. "When there was a music major, the groups were responsible for teaching the music literature canon.  Since the major has closed, we can perform a wider variety of music with a focus on entertaining the audience."
The Concert Choir has 22-26 members and performs two concerts in the fall semester, three in the spring, and a week-long tour following the spring semester.  The University Singers has 12-14 members and performs five concerts in the fall semester, eight in the spring, and a week-long tour following the spring semester.
There is no cost for students to join either group. Choir outfits, music, and costs associated with a tour (excluding spending money) is provided by UC. Participating students are also eligible for scholarship opportunities.
Both groups perform a wide range of music – from Mozart to John Lennon, from traditional to current trends. To select the music performed, Dr. Janisch asks the students what songs they would like to sing, then develops an exciting program based on their suggestions, adding pieces to develop a concert program that features a variety of tone colors, tempos, and languages.
When asked why music is important to the vitality of the University as a whole, Dr. Janisch responded: "According to Bennet Reimer, a music educator and philosopher, music has the ability to capture and refine emotions.  What was "your song" when you were dating your partner? When you hear that song, you remember what it felt like to be in that relationship.  Audience members, as well as performers, remember events and feelings that are associated with holiday songs, with patriotic songs, with athletic events, and with hymns.  Athletes who want to pump us up before a game, play music.  People who are suffering find comfort in music.  The elderly whose memory has failed them can often remember the songs they learned as a child.
"Music speaks to our souls and the very foundation of our humanity.  It brings us together and heals us.  That is why during the current health crisis people are turning to music for comfort."
We can't wait to hear what musical selections these groups have in store for us in the upcoming school year!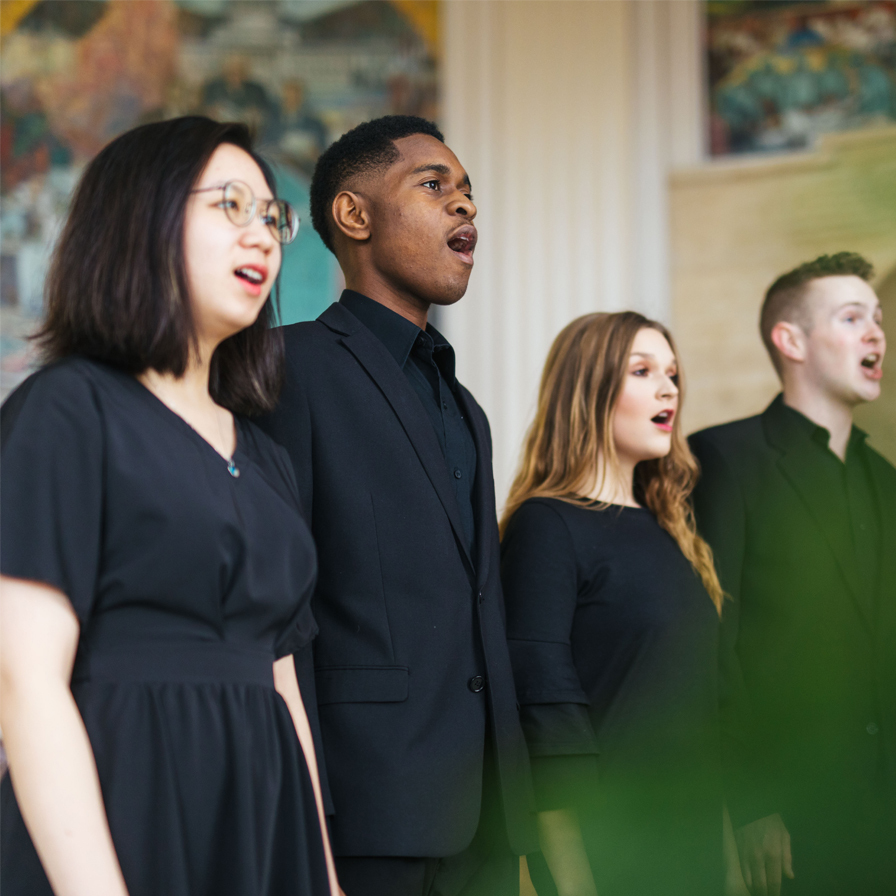 ---