Student Success
The spirit of innovation thrives on our campus. Our students pursue their passions, generate new products, follow dreams, and rise to the challenge of making the world a better place through their ideas. 
Success can be measured many ways, but we define it as having the courage to try – to do something that hasn't been done before, to think in new directions, to pursue a goal. And to always strive for success. 
Austin Davis, third year Innovation Scholar organized a community innovation outreach program in Williamson, WV, to give innovation exposure to children who otherwise would not have had the opportunity.
Emily Thomas is a second year Innovation Scholar. She is the Innovation Labs project manager, a new program that brings innovation curriculum both virtually and in person to high schools throughout West Virginia.
During West Virginia's Annual Undergraduate Research Day at the State Capitol, five UC undergraduate students were selected to present their research. Zachary Blake, Allison Jones (both Biology), Levi Phillips (Chemistry), Shelby Bayliss (Political Science) and Heather Connery (Psychology), presented their research to legislators, representatives from other higher education institutions and the public.
And Eric Constant, along with a few fellow students, used the Innovation Center to provide the WV National Guard with hospital masks created utilizing our 3D printers early in the coronavirus pandemic.
---
Austin Davis Achieves Innovation Certification
University of Charleston Innovation Scholar Austin Davis has passed the Certified Professional Innovator Exam. Davis earned a 95% score on the exam.
"Austin is now, as we understand it, West Virginia's first Certified Professional Innovator," stated Terry Cyfers, Assistant Director of Innovation at UC.
Davis is a graduate of Mingo Central High School and is a third year Innovation Scholar majoring in biology, chemistry, and nursing.
"I'm honored to have been the first to be able to have this wonderful opportunity," said Davis. "I look forward to being able to mentor others to expand West Virginia as a certified center for innovation!"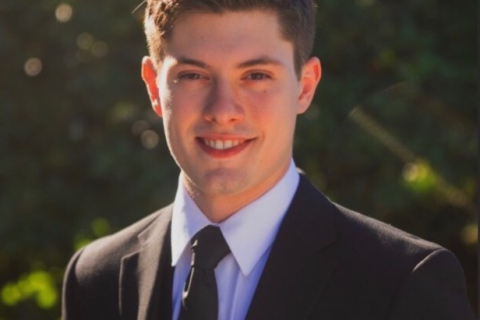 ---
Sarah Ball - Business Model Competition Winner
Sarah Ball, of Sissonville, and a current Innovation Scholar at the University of Charleston, placed third in Marshall University's business model competition held in April. Her prize for winning was an all-expenses paid trip to California.
While in Silicon Valley and San Francisco, California, Ball met Brad Smith, the former CEO of Intuit, and Scott Cook, the co-founder of Intuit.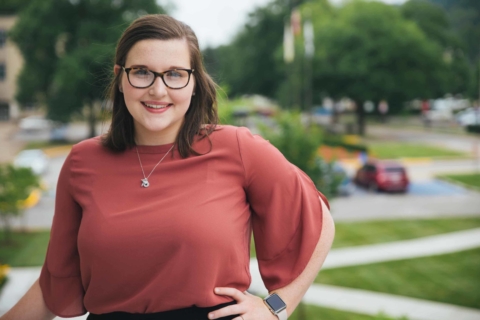 ---
Andrew Van Deusen - App Creator
Former University of Charleston Pharmacy student Andrew Van Deusen, created StudyLex, a study assistance application utilizing the Amazon ECHO voice controlled speaker.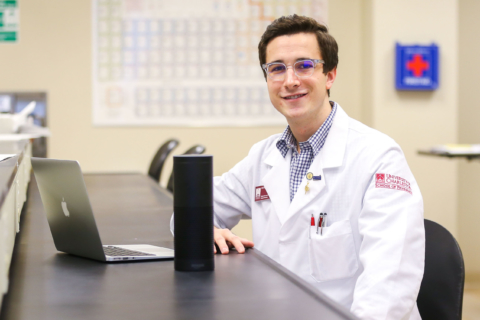 ---
Glenn Schiotis - Public Health Excellence
University of Charleston School of Pharmacy (UCSOP) Class of 2020 student, Glenn Schiotis was named a recipient for the United States Public Health Service Excellence in Public Health Pharmacy Award. Schiotis was awarded this honor among 89 recipients from across the country and earned a place in the top ten. The United States Public Health Service awarded Schiotis this honor based on his volunteer contributions to public health.
A majority of Schiotis's volunteer activities circled around substance abuse disorders and the opioid pandemic occurring in West Virginia and across our nation. Schiotis volunteered at the Harm Reduction Clinic offered through the Kanawha-Charleston Health Department which inspired him to team up with fellow student pharmacist, Tyler Leroy, to create the Change the Stigma Conference in February 2019. This interprofessional event aimed to educate and help overcome the stigmas attached to substance abuse disorders and how to best provide care for the affected patient population.  The American Society of Health-System Pharmacists granted the Outstanding Professional Development Project Award to this project.
---
Alexander Sypolt - Pursuing a DREAAM
In August 2019, DREAAM, a UC student-run organization, was created to offer communication and graphic design training opportunities across various programs and future professions. The journey from idea to organization has been led by Alexander Sypolt, a current UC Innovation Scholar from Charleston.
DREAAM focuses on design, research, entrepreneurship, analytics, applied computer science, and marketing. It hosts events, such as monthly workshops to educate its members on how to create and design digital media utilizing Adobe software. In fact, the organization is part of the Student Group Ambassadors Creative Club Network, giving UC students access to free editing software and training. The Adobe Network is a partnership with university clubs/organizations who can focus on creative ways to make Adobe approachable to every student on campus. UC is one of only about 50 higher education institutes (mostly DI schools) to offer this experience.
The DREAAM organization also supports students who are interested in learning about event planning, a skill they can utilize after they graduate.
"I'd love for DREAAM to expand beyond our campus and spread to every school in West Virginia," said Sypolt. "DREAAM is an organization is for everyone. Anyone should be able to join and quickly go from beginner to more advanced designer, by learning from their other peers and institutional faculty."
DREAAM Studio finished the year in second place in the Adobe Network partnership participation.  While UC Berkeley took the top spot, UC DREAAM had more participants at its workshops, tabling events, and social media activities than UCLA, U of Florida, U of Georgia, and quite a few other large D1 schools. Most recently, Adobe reached out to DREAAM to say how impressed they were with the Sticker tutorial page and video created and asked to include it in their remote learning kit.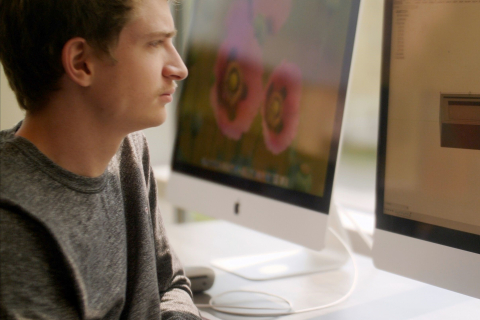 ---