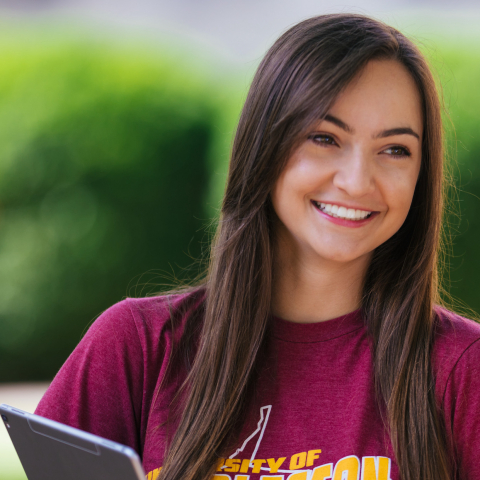 IDEA Scholarship
Create your way to a UC scholarship!

About the Program
As an accepted UC student, we already know you will be an asset to our campus. Now, we'd like to know more about you – and help you earn a scholarship in the process!
Apply for our unique offering, the IDEA Scholarship (Innovate. Design. Explore. Achieve.), where you can respond to a specific topic, show your passion and creativity and be rewarded with a UC scholarship ranging from $500 to $1,500.
Each month (January – April 2021), we will announce a topic for you to respond to. Write an essay, a letter to the editor, a poem, or a story. Create an art piece. Write a song. Make a presentation or create a video. Whatever your strength, we want to see it. Be creative, innovative and most of all, be yourself.
Information on 2022 Topics
Coming soon!
Submissions Guidelines
Submit your entry to scholarships@ucwv.edu. Documents need to be in a word or PDF file, and videos should be sent as a YouTube link.
Next Entry Deadline: TBD
Things to Keep in Mind
This scholarship opportunity is only open to accepted UC students applying for in-seat programs on our Charleston campus (excluding our ADN and OTA programs).
Submissions will be judged on quality and creativity. They will be ranked by a UC committee. Scholarship award amounts will be based on the ranking of the submission as well as the student's total scholarship package and campus residency status.
We will request a release from students who submit the top entries so we can show them off on our website and social media platforms.
Winners will be announced monthly through April. Students who are not winners have the option to participate in the following months' topic.