Stephen J. Cook, Pharm.D.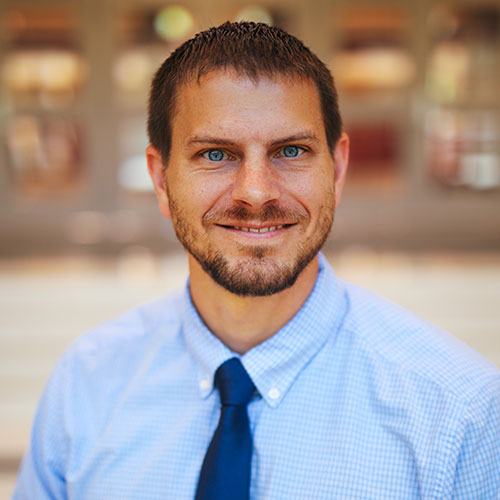 Contact Info
304-357-4347
Assistant Professor
Concord University: Pre-pharmacy 2003-2006
University of Charleston: Doctorate of Pharmacy 2006-2010
Cooks SJ and Flaherty DK. Review of the persistence of Herpes Zoster vaccine efficacy in clinical trials. Clin Ther 2015 November; Vol. 37(11): 2388-97.
Riley BL, Cooks SJ, and Wolcott J. Pharmacist Involvement in the Emergency Room in Selecting Antibiotics for Trauma Patients. SOJ Pharm PharmSci 2013 December; 1(1): 1-4.
Testman JA, Teichman AE, Cook SJ, Kimble A, Riley BL, Robinson J, and Snodgrass B. Pharmacist interventions throughout care transitions: a review of current practices. ICPJ 2013 September; 2(10):159-164.
Cook S and Confer J. Assessment and treatment of fungal lung infections. US Pharm 2011 July; 36(7):17-24.
Testman J, Cook S, and Acree L. Accuracy of patient reported medication lists following hospital discharge. West Virginia Rural Health Association Annual Conference, Roanoke, WV. October 2015.
Reardon D, Acree L, Cook S, Dodd M, Latif D, and Siddig A. The development and assessment of a diabetes education and the patient elective course at a Doctor of Pharmacy program. Research poster presentation. West Virginia Rural Health Association Annual Conference, Morgantown, WV. October 2014.
Buhdam Z, Cook S, Hill H, Young N, and Testman J. Accuracy of home medication reconciliation in the ED. Research poster presentation. Charleston area Medical Center Research Day, Charleston, WV. April 2014.
Confer J and Cook S. Effects of mono and dual vasopressor therapy in hypotensive medical intensive care unit patients. Resident platform presentation. Eastern States Residency Conference, Hershey, PA. May 2011.
Wolcott J, Riley B, and Cook S. Pharmacists Involvement in the emergency room in selecting medications for trauma patients. Resident poster presentation. American Society of Health-System Pharmacists Mid-Year Clinical Meeting, Anaheim, CA. December 2010.
Stephen J. Cook, PharmD, BCPS is an Assistant Professor at the University of Charleston School of Pharmacy. He currently practices as an Internal Medicine Clinical Pharmacy Specialist at Charleston Area Medical Center Memorial Hospital. He graduated in the inaugural class at the UC School of Pharmacy in 2010, and completed a Pharmacy Practice Residency at Cabell Huntington Hospital, Huntington, WV. Dr. Cook is appointed as the Central Region Vice President for the West Virginia Society of Health-System Pharmacists.