Sandra S. Bowles, Ed.D., R.N., C.N.E.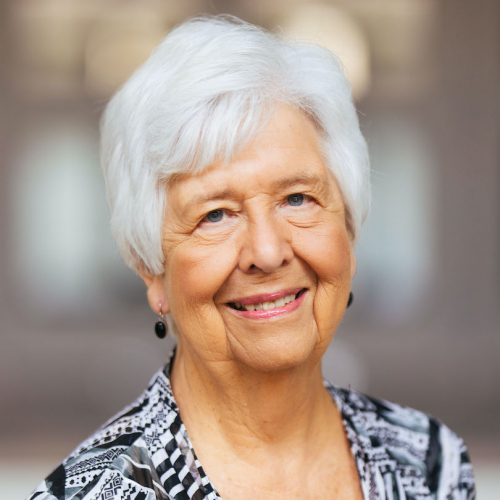 Contact Info
304-357-4376
Dean Emeritus, Bradford Division of Health Sciences
Director of Special Projects, School of Pharmacy
Professor of Nursing
Bachelor of Science in Nursing, University of Pittsburgh, 1961
Master of Science in Nursing Education, University of Pittsburgh, 1963
Doctor of Education (Higher Education Administration), Vanderbilt University, 1985
American Association of Colleges of Pharmacy (AACP)
"Focus Groups: Using Real Life Feedback Opportunities in the School of Pharmacy", Webinar  Presentation, 2015
American Association of Higher Education (AAHE)
"Taking Assessment off the Shelf" – Boston, 2001
"Dancing the Dance with Changing Partners" – Seattle, 2003
Association for Assessment of Learning in Higher Education (AALHE)
"Retro-Reflective Assessment: Validation of Where/When Students Perceive They Learn Curricular
Content", Albuquerque, 2012
"Hitting a Moving Target: Maintaining Effective Assessment in Times of Institutional Change", Lexington, 2013
Higher Learning Commission Annual Meeting- Chicago (HLC)
"Taking Assessment off the Shelf-Making it Reality", 2002
"Transitioning Transfer Students into an Outcomes-Based Curriculum", 2004
"Changing the Campus Culture of Assessment" ,  2005
"Preparing to Seek Initial Candidacy-Writing the Self-Study", 2009
"Preparing for the Site Visit", 2009
"Focus Groups: Using Real-Life Feedback to Assess Course and Program Effectiveness, 2012
Bowles, S.S. (2004). Transitioning transfer students in an outcome-based curriculum. A collection of papers on self-study and institutional improvement, 2004. Vol 2: The learning environment.  Chicago: The Higher Learning Commission.
IUPUI Assessment Institute – Indianapolis
"Development of an Annual Faculty Appraisal System", 2003
"Providing Leadership for Assessment", 2005
"Developing a Culture of Assessment", 2005
Academic Chairperson's Conference
"Faculty Appraisal – No Pain, No Gain" – Orlando, 2003
"Developing Faculty Expertise in Assessing Student Achievement of Program Outcomes" – Orlando, 2003
University of Charleston Annual Assessment Conference for Small Colleges
"Using the Assessment Matrix as Tool for Developing Appreciation for Assessment, 2004
"Basic Assessment and Beyond", 2004
"Faculty Appraisal Systems", 2004
Assessment of Programs/Major Reviews, 2005
Using the Outcomes-Based Curriculum to Identify Alternative Credit Opportunities, 2005
Creating a Culture of Assessment on Your Campus, 2006
Assessment
Accreditation – Institutional and program specific
Faculty Development
Adult Coloring – My latest escape from reality!
Cooking – nothing exotic!
Travel – On my "bucket list" this year I want to complete    travel to all 50 states and still need: Hawaii, Idaho & Nevada
Growing up in New Martinsville, West Virginia I graduated from Magnolia High School.  I attended WVU for two-years before transferring to PITT to complete a five-year nursing program.  After graduating from the BSN program, I worked for the Allegheny Visiting Nursing Association doing home nursing in communities on the east end of Pittsburgh.  After two years of work with the VNA I returned to PITT to do a master's degree in Nursing Education and upon completion had the opportunity to join the faculty there.  My husband on the other hand, wanted to return to West Virginia and when he accepted a position in physical therapy at what was then Memorial Hospital, I agreed to come to Charleston for "one year"—that was now 52 years ago and we are still here!!
Coming to Charleston in the spring of 1964, I worked one year teaching in the Charleston General Hospital School of Nursing.  I was hired by Dr. Leonard Riggleman as the first faculty member in the Associate Degree Nursing program here at what was then Morris Harvey College.  Working with Dorothy Brooks, we developed the curriculum, policies and procedures, selected uniforms, etc., and delivered classes for the first class of twenty-seven students. We graduated our first class in 1966 (with 100% board passage) and attained initial accreditation with the National League for Nursing in 1966.  Working through this process awakened my interest in accreditation and in 1968 I began service as a peer reviewer for the NLN, continuing in this role until 2000.  During this time I served multiple terms on the Accreditation Review Board and the NLN Assessment Committee.  I served as the Chairperson for the NLN Council of Associate Degree Programs and NLN Board of Governors for 1995-1997. I served two terms on the State of West Virginia Board of Examiners for Registered Nurses and was a founding member of the West Virginia Association of Deans and Directors of Nursing Education.
In 1978 I went back to graduate school at Vanderbilt University to complete a doctorate in Higher Education Administration and during the four years I was in Tennessee, taught in the Associate and Baccalaureate programs in Nursing at Austin Peay State University.
In 1990 I began serving as a consultant-evaluator for the Higher Learning Commission and over the years in addition to being a CE have served on multiple review panels, special review teams and multiple terms on the Eligibility Committee.  I continue to do 3 to 4 reviews for the HLC during each academic year.
I attained certification as a Certified Nurse Educator in 2008 and renewed this certification in 2013. After serving UC in multiple roles and for 23 years as Dean of the Bert Bradford Division of Health Sciences, I "retired" to the School of Pharmacy in 2008 to become the Assistant Dean for Assessment and Special Projects.  In this role I also teach Ethics throughout the Pharmacy curriculum, including an on-line course for the P4 students as they are on APPE rotations.  Going back to my interest in faculty development and mentoring of new faculty (my doctoral dissertation at Vanderbilt), in 2014 I instituted a New Faculty Orientation and mentoring program in the School of Pharmacy.  During 2015 I provided initial direction for the development of an ePortfolio for documentation and assessment of the co-curricular experience of our Pharmacy students.
While I have had many opportunities to leave MHC/UC, I am often asked why I have stayed here so long?  My reason is basically why I came here in the first place and that was to "make a difference" and Charleston has been a good place to live and raise our family!
My husband, a retired physical therapist, and I have two children.  Our daughter, Beth, graduated from Wofford College and Vanderbilt University with degrees in Spanish and French and after teaching in private schools in St. Martin and Orlando, currently serves as the Hispanic Outreach Coordinator and  librarian for the City of Greensboro, NC.  Dan completed an undergraduate degree in Chemistry at West Virginia Wesleyan College and the PhD in Chemistry from the University of Kentucky.  Following completion of a post-doc year at the Research Triangle Institute in North Carolina, he was employed in research and development by Pfizer Pharmaceuticals for a number of years. He currently serves as Senior Director of Chemistry for PharmaCore, Inc. in High Point, NC.  Dan and his wife, Leslie, are the parents of our two grandchildren, Macy, age 11, a cello and volleyball player and Emerson, age 8, a basketball player—both girls are outstanding students!
Our current lives are "ruled" by three "rescued" cats – O'Malley, Bucky, and Callie.